Note: This post contains affiliate links. This means we may make a small commission if you make a purchase. This doesn't cost you any more, but it does help us to continue publishing helpful content. Thank you for your support!
In Part 2 of our European Adventure, we left Iceland (read about our visit to Iceland) and headed back to the continent through Munich, Germany. The city is the 3rd largest in Germany and the 12th in Europe and is well-known for its beer, pretzels, sausages, and Bavarian heritage. But most of all, Munich is chock full of activities for families with kids.
Munich – The Capital of Bavaria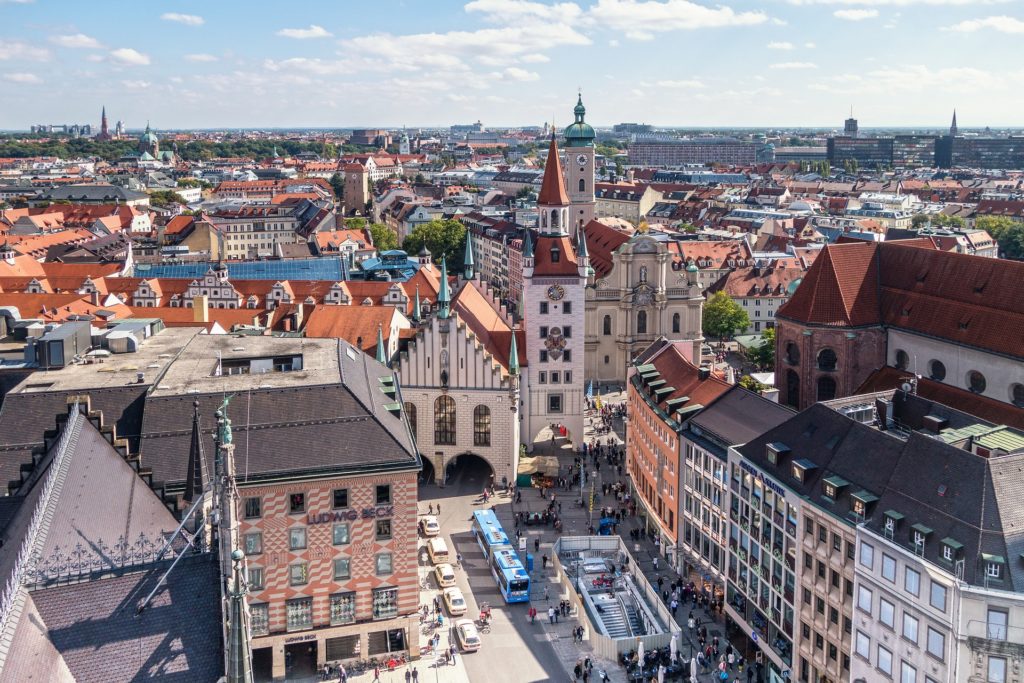 Munich traces its origins as far back as 1158 (but maybe even further back) when its first settlements were built to support the region's salt mining in Salzburg, Austria. The city came to full prominence as the capital of unified Bavaria in 1506. It was then that it became the center of arts, science, politics, and the Bavarian Royal Court.
Today, Munich is the 3rd largest city in Germany, but it has a decidedly different feel from Berlin, Frankfurt, or Hamburg. Although a relatively large city, Munich retains its small-town feel and family-friendliness. The city main attractions are easy to reach through the U-Bahn (subway) or S-Bahn (surface trains) systems. Even some further away destinations are easily accessible from Munich city center.
For our trip, we decided to stay in the city center at Hotel Stachus. Stachus has an ideal location in proximity of shops, restaurants, and transportation (within steps from Munich Hauptbahnhof). The rooms are nicely appointed and spacious, making it ideal for families with kids in Munich.
Money-Saving Tip: For the best deals on hotels and tours, go to Expedia.com. You'll save at least 10%-15% on hotels and rack up Expedia points that you can use for more savings in the future.
Things to Do
There literally is a plethora of things to do in Munich, and most of it is well-suited for families with kids. These are the ones we were able to fit in in our short 3-day stay in the Bavarian capital. Start your exploration in the city center and fan out from there.
Old Town – Marienplatz, Frauenkirche, Peterkirche, and Viktualienmarkt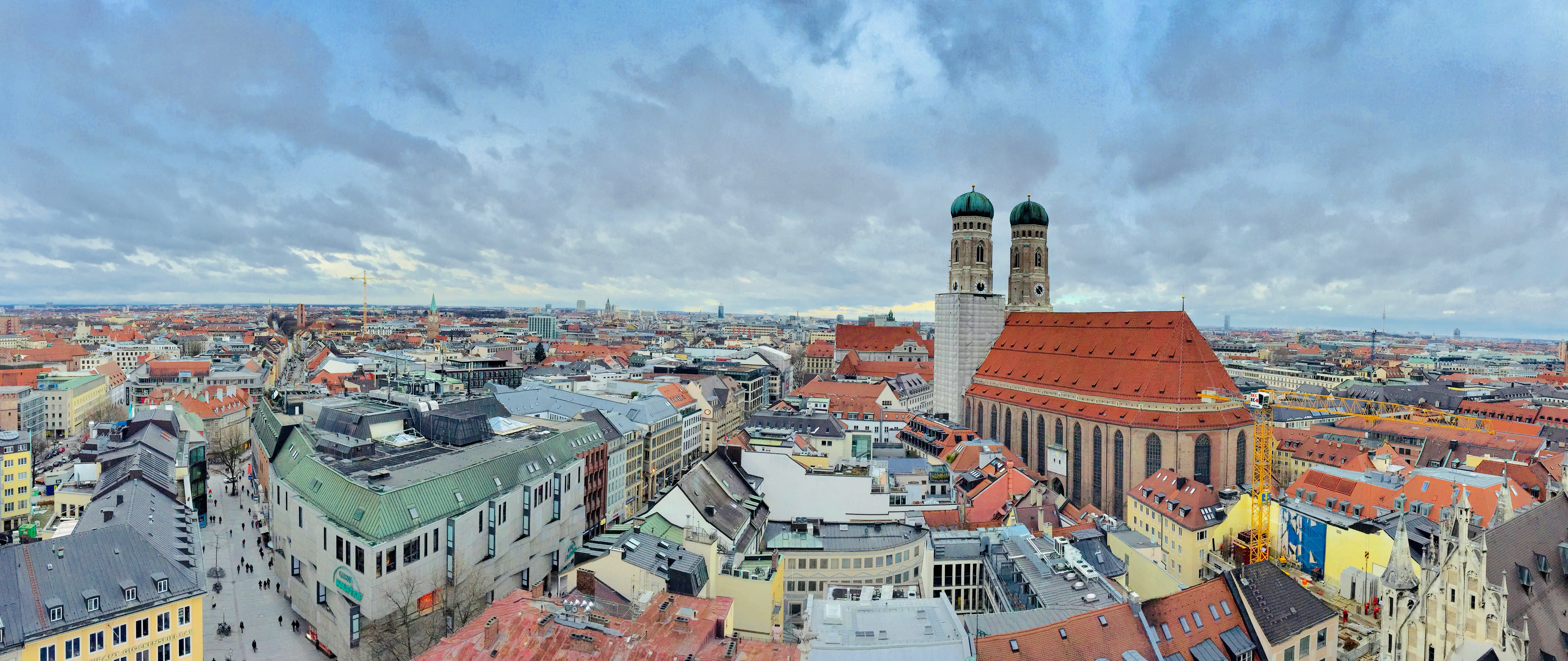 As the former capital of reunited Bavaria, Munich has a long history. And nowhere is it best displayed than in the city's Old Town center. Along the cobblestones and narrow alleyways are the towering structures of the 12th century. Stretching from Karlsplatz to Marienplatz, Munich's Pedestrian Zone is easily accessible through the city's U-Bahn and S-Bahn system.
Marienplatz (Mary's Square) has been the city's central and main square since 1158. It's there that you'll find the Old City Hall (Altes Rathaus), the New City Hall (Neues Rathaus), and lots of shops and cafés all around. At the top of the New City Hall, the kids will find the famous Rathaus-Glockenspiel. The Glockenspiel is a mechanized "puppet show" where tiny knights joust and miniature jesters twirl in a carillon performance that rings at 11 am, noon, and 5 pm. Make sure you stop by, so the kids can get a peek at the show.
From Marienplatz, you can visit Frauenkirche and Peterkirche. The former with its double-onioned domes is a well-known symbol of Munich. But it's from Peterkirche or the New City Hall that you can get the best views of the city (and Frauenkirche's domes).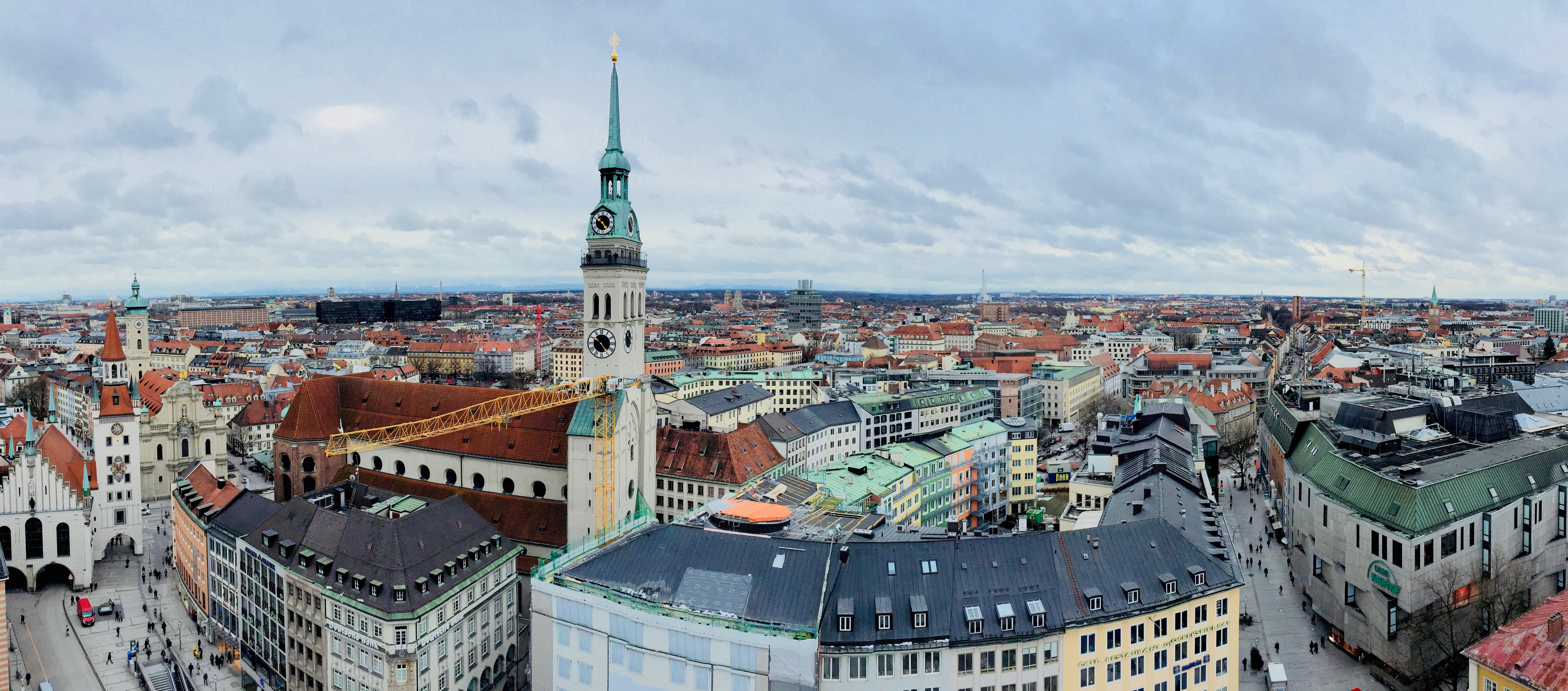 Also, a couple of blocks away from Marienplatz and just around the corner from Peterkirche is Viktualenmarkt, one of Munich's open-air farmer's market. There are tons of food and drinks options to choose from. You can't do Munich with kids without trying some of Bavaria's specialties like Weißwurst (white sausage), often served with Bavarian (sweet) mustard and freshly baked pretzels, or Glühwein (mulled wine) if you happen to be there around Christmas (Christkindlmarkt) time like we were. There's no need to be selective though. Sample as much as you can everything from unusual cuts of meat to local cheeses.
Beer Gardens
Most people know that Germany, Bavaria, and Munich are all associated with a longstanding beer tradition. Munich is home to the original Oktoberfest, first held on October 12, 1810, in honor of the marriage of Crown Prince Ludwig to Princess Therese of Saxe-Hildburghausen. The city is also where beer gardens originated in the 19th century. And there are many of them around town. Now, here's something you might not know. Beer gardens in Munich are well suited for families with kids. Most beer gardens even have a playground.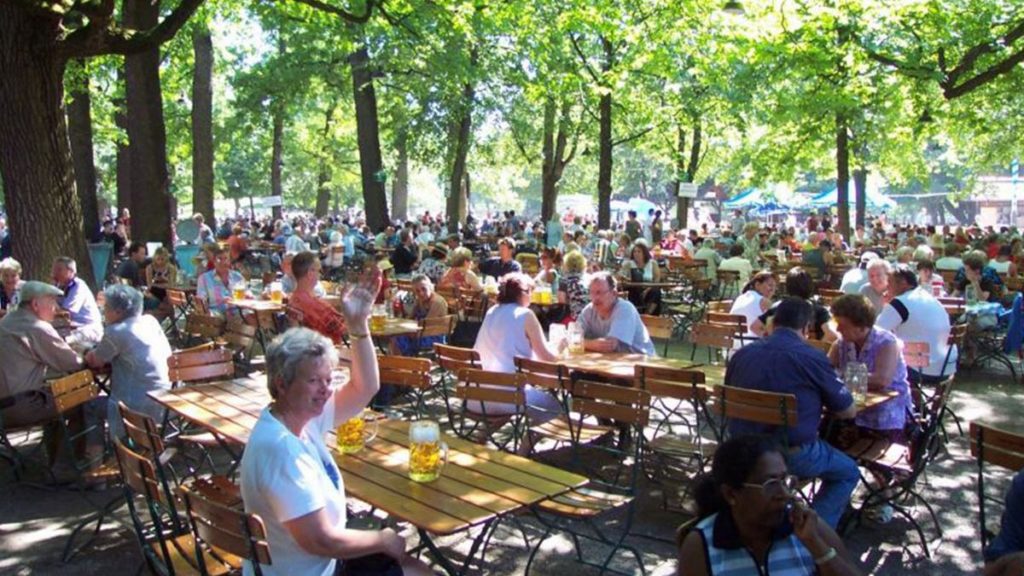 Heading 2 blocks northeast from Viktualenmarkt, you'll find Hofbräuhaus am Platzl, arguably the most famous beer hall worldwide. But it's certainly not the only beer garden around. We went to Augustiner Bräustuben and had a nice Bavarian meal including pork roast and Wiener Schnitzel. Another great option is Hirschgarten, the largest beer garden in the world, seating 8,000 people. It even has a petting zoo for the kids.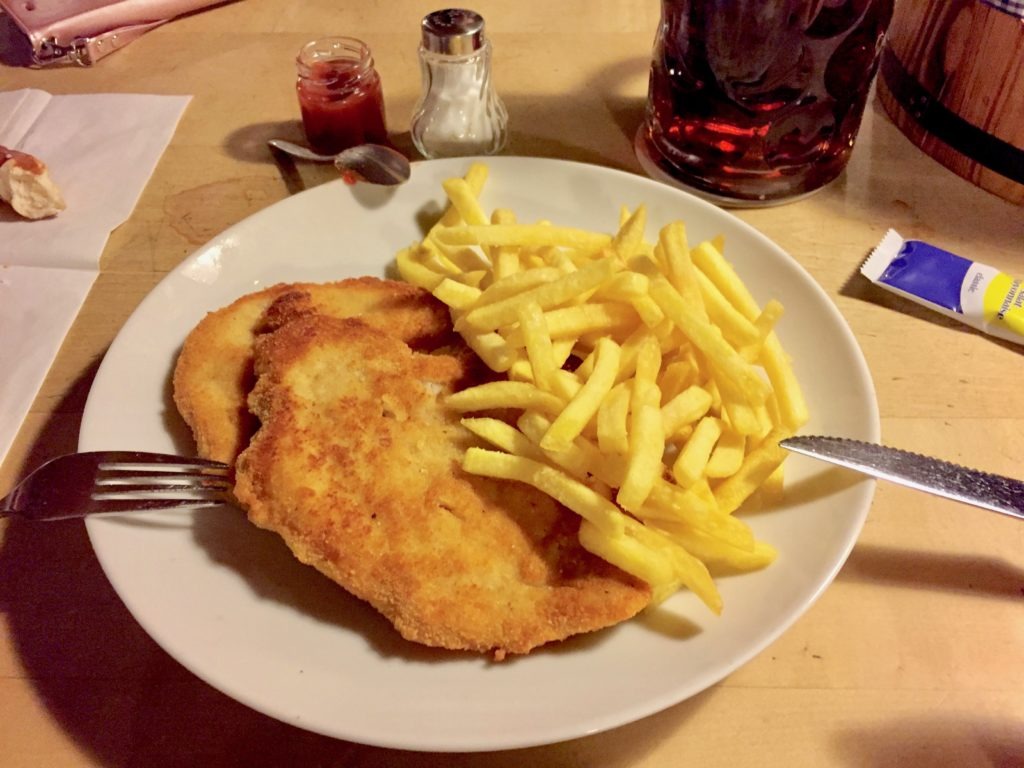 BMW Welt, Museum, and Plant Tour
Part history, part science, and part car lover's paradise, the BMW Welt is a great Munich attraction for kids and adults alike. Munich is also the birthplace of BMW (Bavarian Motor Works) and where the company headquarters.
At the BMW Welt (World), you'll find a lot of the history of BMW with interactive displays for the kids, a shop, a restaurant, and motorcycles that kids can sit on and pretend to ride at 100 mph. Admission to the Welt is free while the Museum and Plant Tour are paid attractions. For €12 ($13.50) per adult and €9 ($10) for children 0-18, you can take a plant tour and see how BMWs are made up close and personal.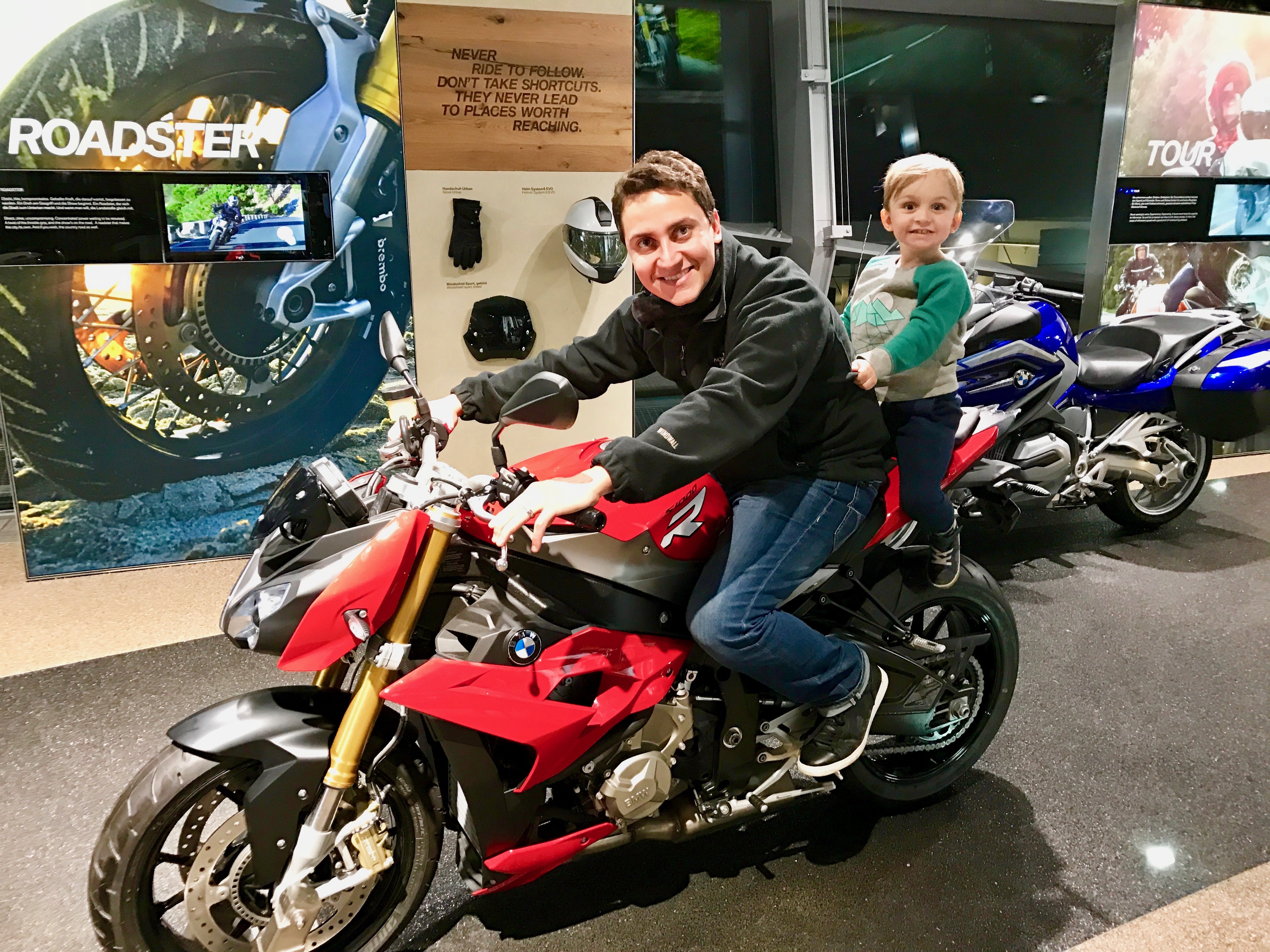 You can reach the BMW Welt (or Olympiapark below) via U-Bahn's Olympiazentrum station.
Olympiapark
Just a five-minute walk across the street from the BMW Welt is Munich's Olympic Park. Built to hold the 1972 Olympics, the park was repurposed with sprawling green spaces and lots of activities for kids.
At the Olympia Schwimmhalle (swim hall), families can swim in the same pool where U.S. swimmer Mark Spitz earned a then-record seven gold medals. Or you can head over to Sea Life Munich and see over 10,000 sea creatures swimming around the aquarium. If land sports are more your thing, Olympic Stadium is worth a visit. Kids 10 and up can join a guided rooftop climb and come down the Flying Fox, a zip line that spans the length of the stadium.
The Olympic Park is also home to the Olympic Tower, standing at an overall height of 955 ft. Near the top, there is a revolving restaurant where you can grab dinner and an observation platform where you can see gorgeous views of the city and surrounding areas.
Englischer Garten (English Garden)
One of our favorite activities anywhere in the world is to slow down, take it easy, go to a park, take in the sights and sounds, and let the kids have some fun of their own. The English Garden in Munich is the perfect place to let the kids run and play.
The park's 900 acres make it larger than even New York City's Central Park. And there's plenty to do there from trails to babbling brooks, from giant open fields to playgrounds, and even three beer gardens. At the center of the Garden sits one of these beer gardens at Restaurant Seehaus on the banks of the Kleinhesseloher Lake. There, you can bask in the sun with a drink as the kids play on the playground or enjoy the nearby paddleboat and bike rentals at Mike's Bike Tours. Mike's has bike sizes for the whole family.
Munich's English Garden is also home to a very peculiar activity. Munich is not a coastal city (if you didn't already know), but you can find plenty of surfing there. Surfers in wetsuits wait for their turn to pick up the perfect wave on the Eisbach River where an artificial break provides year-round surfing.
The English Garden is located in Schwabing, Munich's bohemian neighborhood. If you happen to be there around dinnertime, you'll find some of the city's most diverse dining options like Italian, Vietnamese, Mexican, Japanese, and of course German.
Know Before You Go: It's very common to see locals sunbathing on the banks of Eisbach or Kleinhesseloher Lake — topless!. Don't let it discourage you from going. Just be prepared to block little eyes or tell a good story.
Nymphenburg Palace
Nymphenburg Palace, west of Munich, was the Summer residence of Bavarian monarchs for at least 5 generations of Wittelbachs (the Bavarian royal family). The palace was commissioned by Prince Ferdinand Maria in 1664 as a gift to his wife, who had just given birth to their son Max Emanuel. Nymphenburg is one of the largest royal palaces in all of Europe and a must-see when visiting Munich with the kids.
In the interior of the palace, you'll find that some rooms still have the original Baroque decor intact. You'll also catch a glimpse of what it was like to live like royalty in those days. Don't forget to stop by Ludwig I's Gallery of Beauties and the room where King Ludwig II was born.
But it's outside that your family can explore 490 acres of perfectly manicured gardens that surround the palace and visit the Museum of Man and Nature (Naturkundemuseum Mensch und Natur), a Munich favorite with the kids.
Although it's open to the public, Nymphenburg continues to be a home and chancery for the head of the House of Wittelsbach, the Duke of Bavaria. The Duke traces his lineage down through the legal heirs of James II of England. As such, the head of the House of Wittelsbach is the legitimate heir to the thrones of England, Scotland, France, and Ireland, but this claim is not being actively pursued.
Royal Castles
Munich is also a great launch point to explore other destinations around Bavaria, most of them close enough for day trips. We took full advantage of Munich's privileged location and visited a few sights in the area.
First on the list were the Royal Palaces of Linderhof, Hohenschwangau, Neuschwanstein, and Herrenchiemsee, all of which were residences of King Ludwig II. The palaces are roughly 1.5-2 hours away from Munich by bus or car. We chose to join a tour (booked through Expedia.com). There are several of them, but most include a stop at the quaint village of Oberammergau on the Alps foothills.
Linderhof Palace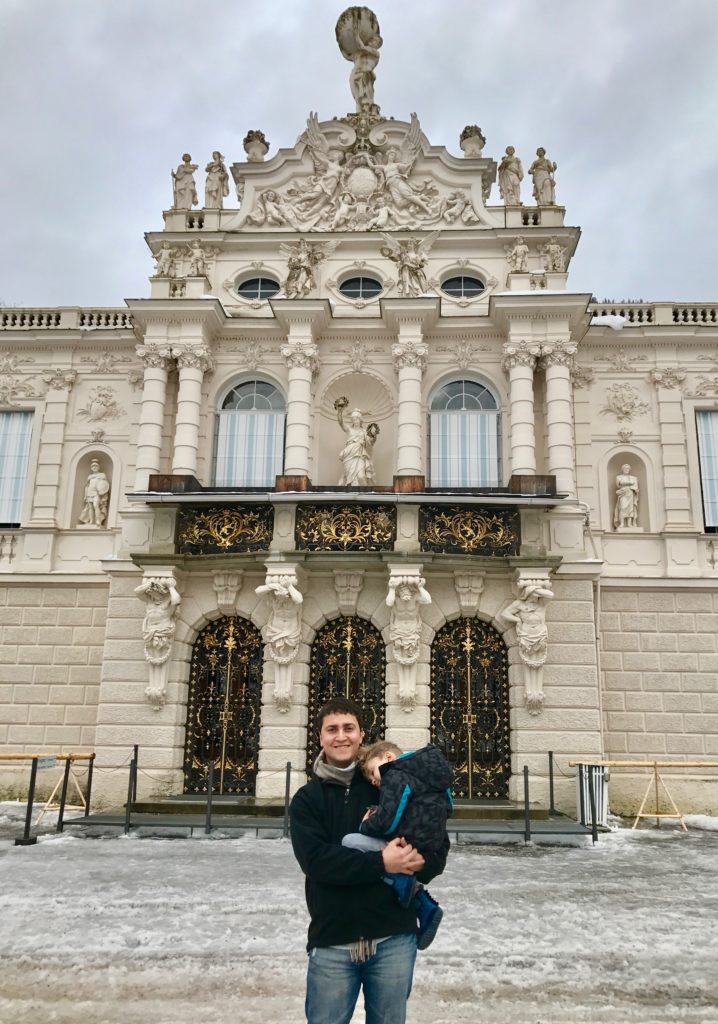 Linderhof is the smallest of the 3 palaces built by Ludwig II and the only one he lived to see completed. Built as a royal hunting lodge, the palace was never intended to host the full Bavarian royal court. The Palace is inside a park in the Ammer Valley where the Alps are a constant backdrop. Access to the palace is a short walk from the main entrance.
Hohenschwangau Castle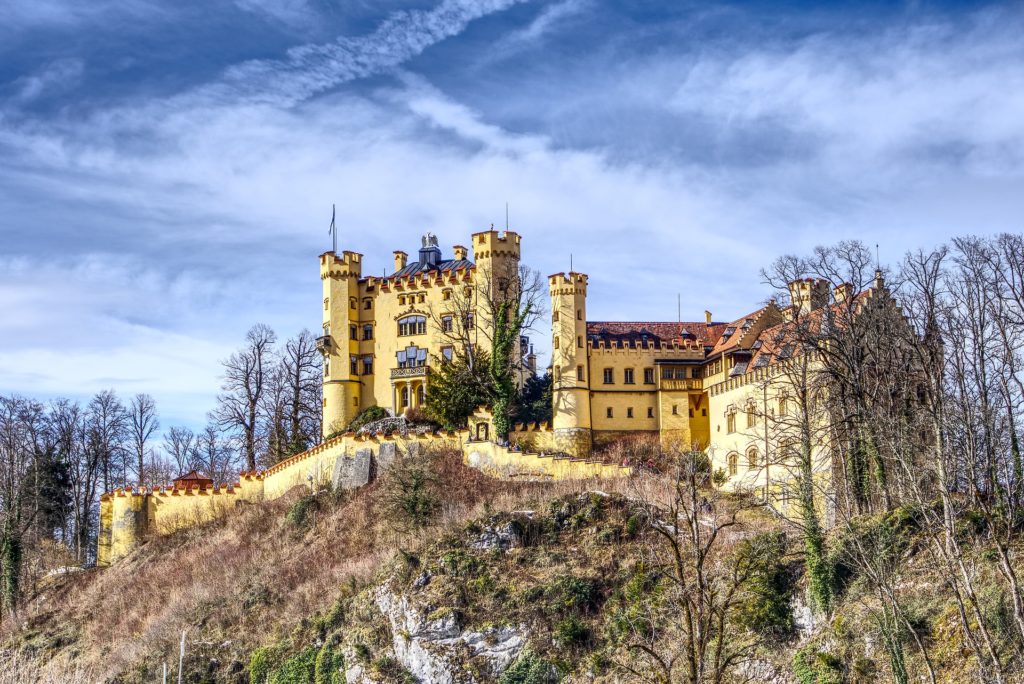 Hohenschwangau was actually not built by Ludwig II. It was instead built by his father Max II, but it was Ludwig's childhood residence. The original Hohenschwangau dates from a much earlier era and was built on the rock where Neuschwanstein sits today. In addition to Ludwig II and his family, several Bavarian royals used the Castle as full time or Summer residence, including the current Duke of Bavaria. Hohenschwangau is "down the street" from Neuschwanstein Castle.
Neuschwanstein Castle
Neuschwanstein Castle is magnificent! It sits atop a small mountain that's more like a very large "rock" (a stein) from which it derives its name. The Castle is one of the emblems of the Bavarian countryside and the inspiration for Disney's Sleeping Beauty Castle.
Because the Castle in on top of a mountain, you must get up the mountain to see it. There are two options to do so: walk or ride a horse-drawn carriage. I suggest taking the carriage, especially if you have little ones traveling along. Tickets go quickly, particularly in the Summer months, so book ahead if possible.
Herrenchiemsee

Near the Austrian border, Herrenchiemsee was largely modeled after France's Palace of Versailles built by King Louis XIV (the Mad King Ludwig II was obsessed by Louis XIV). Herrenchiemsee was built on Herreninsel, an island on the Chiemsee Lake and is the largest of all of Ludwig's building projects. The Palace was left mostly unfinished with 50 out of 70 rooms incomplete.
Money-Saving Tip: If you're planning on visiting more than one palace, you can buy multi-palace, multi-day tickets from the Bavarian Palaces website.
Day Trips
With so much to do in Munich, you may not have enough time to go elsewhere and visit some of the neighboring cities. If you do have time, however, Munich is a great launch point.
Dachau Concentration Camp
You want me to visit a concentration camp with my kids? I know it sounds eerie, but the answer is "absolutely". There have been very few experiences like it in all of our travels. Traveling, as with most of life itself, is a great way to experience and learn. Dachau is one of these opportunities where experiencing and learning are unequaled, especially for the kids.
Dachau (pronounced Dah-how), located just 20 minutes from Munich, is home to Dachau Concentration Camp (now Memorial Site). It was the first permanent concentration camp to be built by the Nazi Party and served as a backdrop to the horrors of World War II. At Dachau, you can roam the reconstructed barracks, gas chambers, and other rooms and halls.
There are plenty of tours you can book with transportation from central Munich. Getting to Dachau is fairly easy and admission to the Camp is free, so that's what we did. From Munich, you and the kids can take S-Bahn S2 train towards Dachau/Petershausen until you reach the Dachau station. Once you get to Dachau train station, take bus 726 towards "Saubachsiedlung" to the entrance of the memorial site ("KZ-Gedenkstätte").
Money-Saving Tip: At the Camp, you can roam around on your own or pay €3.50/person ($4) for the guided walking tour. The transportation and guided tour are exactly the same as with a paid tour from Munich, only for 10% of the cost.
Austria: Salzburg and Innsbruck
As I've already mentioned, Munich is an excellent launch point for day trips into Austria as well, especially to Salzburg and Innsbruck. Both cities are incredible and within 1-1.5 hours by train from central Munich. Salzburg, in particular, is a hit with the kids (or the inner kid) because it was there that most outdoor scenes in the musical production Sound of Music were filmed.
Other day trips include:
Nuremberg
Ingolstadt
The Schleissheim Palace Complex
Passau
Rothenburg
Berchtesgaden and Eagle's Nest
Mount Eckbauer
Chiemsee
Walchensee
Partnach Gorge
Regensburg
---
We leave Munich behind (for now) and head south to Salzburg, Austria in Part 3 of our European Adventure.