Note: This post contains affiliate links. This means we may make a small commission if you make a purchase. This doesn't cost you any more, but it does help us to continue publishing helpful content. Thank you for your support!
Iceland is an adventurer's dream destination. It has become super popular, and now it's on most travelers' bucket lists. The sights, volcanoes, glaciers, rugged terrain, the northern lights are just so captivating. There are so many things to do in Iceland for adults and kids that it's hard to see it all in just a few days.
For families on a budget, Iceland is expensive though. The country produces relatively few goods, and most consumables have to be imported, mostly from Scandinavia. With that in mind, we used a few different strategies to reduce our costs to make it possible to visit Iceland on a budget.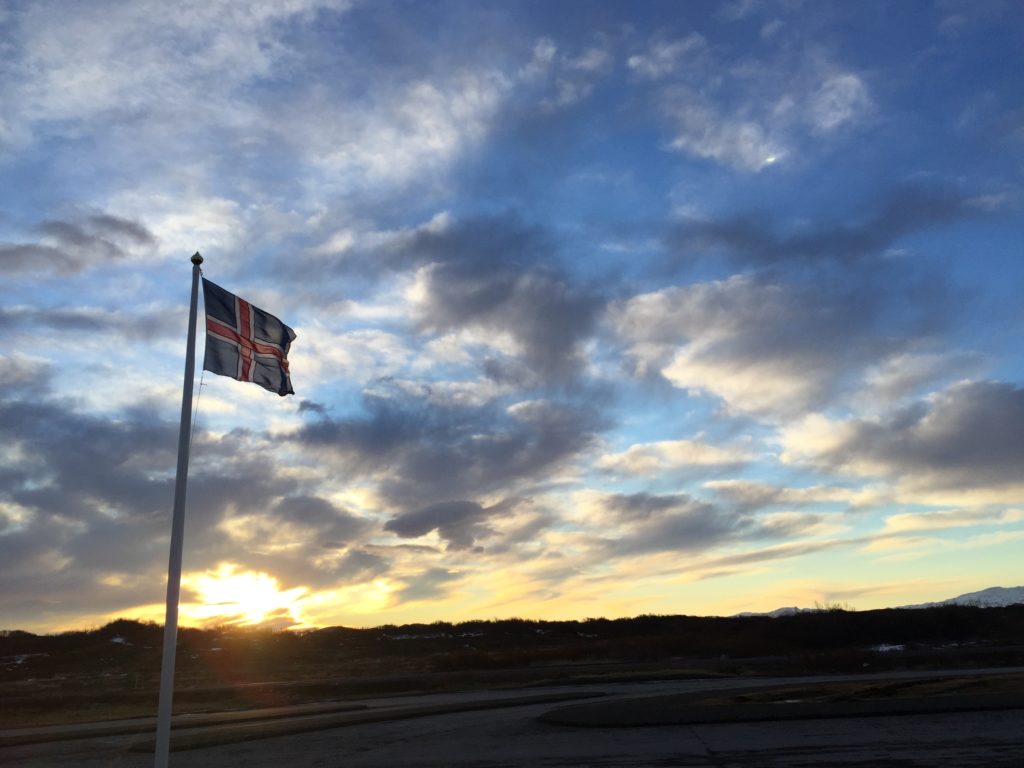 Iceland and Reykjavik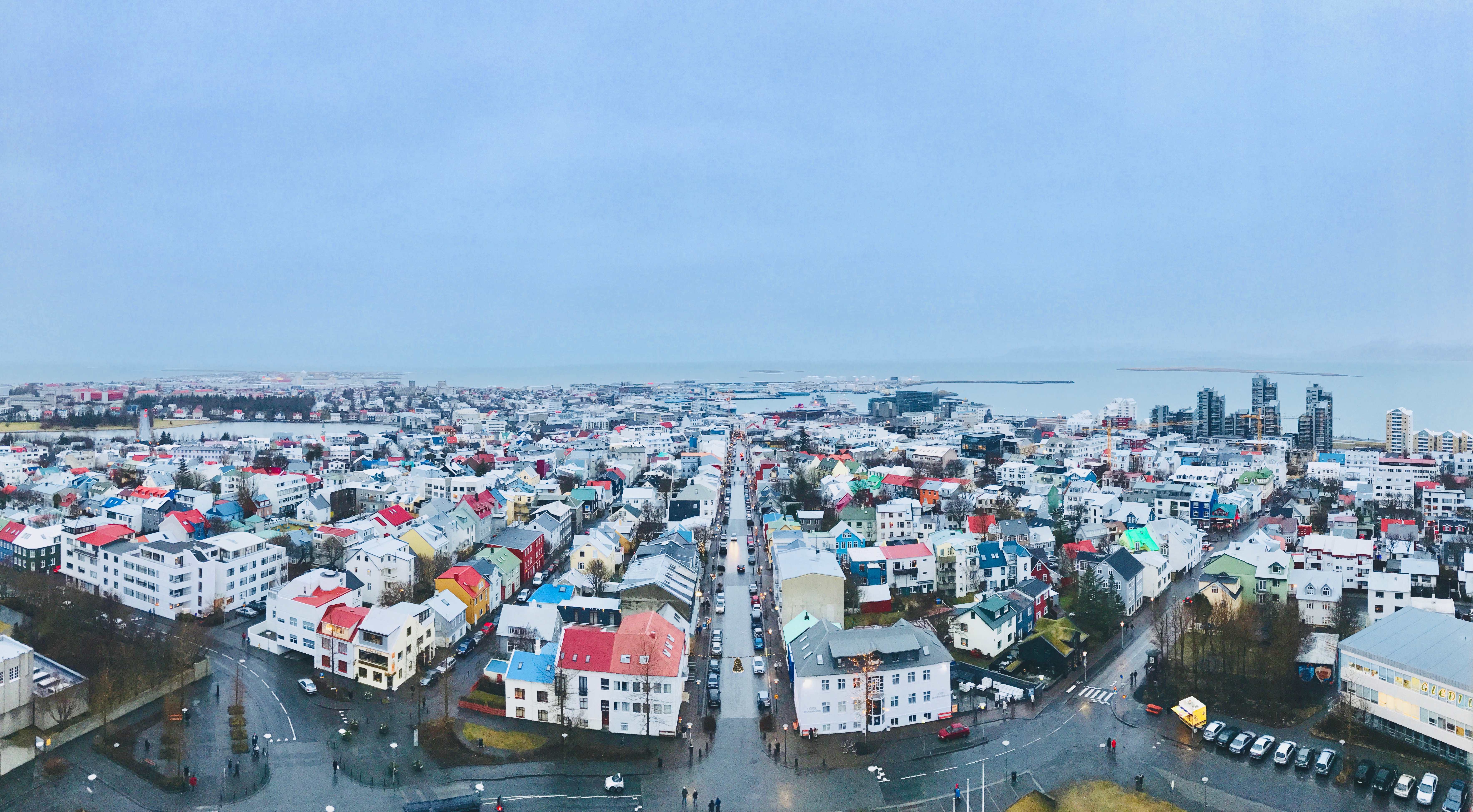 Like most island countries, there aren't that many people in Iceland. There are only a little over 350,000 Icelanders living on the island, and 75% of those live in the capital area of Reykjavik. Icelanders are some of the happiest people in the world though (in fact, it's the 4th happiest country in the world).
Make no mistake. Iceland isn't as cold as it sounds. Because of all the volcanic activity and proximity to the ocean, Iceland has "mild" weather compared to the U.S. When we visited in January, the temperatures hovered around 37°F while they were in the 20s back in the U.S.
Oh, and if you think that Vikings gave Iceland its name to discourage other people from coming and pillaging the place, think again! The whole thing is a myth. But it does make for a good story to tell the kids about Iceland.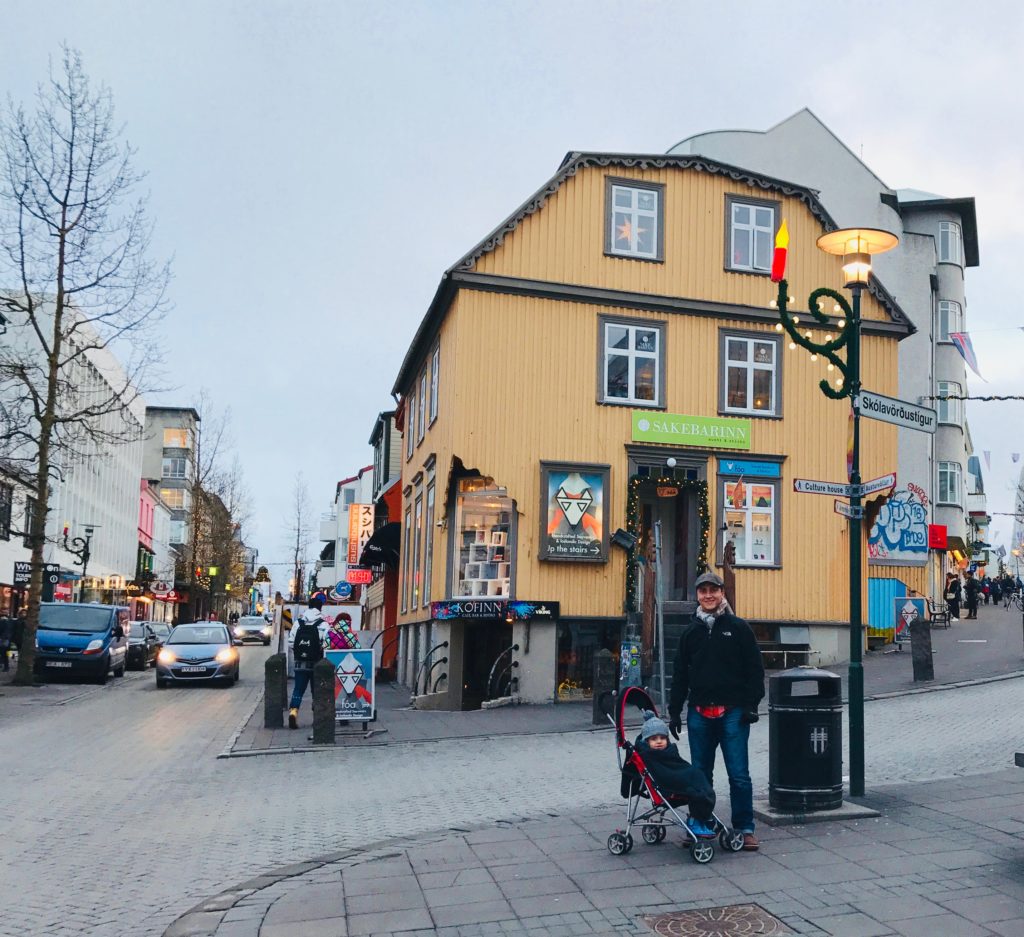 Iceland's main city is Reykjavik, and where most tourists enter the country. Reykjavik is as peaceful a capital city as you'll ever find anywhere in the world. So peaceful that it's common for mothers to leave their babies outside to nap while catching up with friends inside a café.
The city also has a robust nightlife and live music scene. But ultimately the country's focus on families makes it easy to visit Iceland with kids.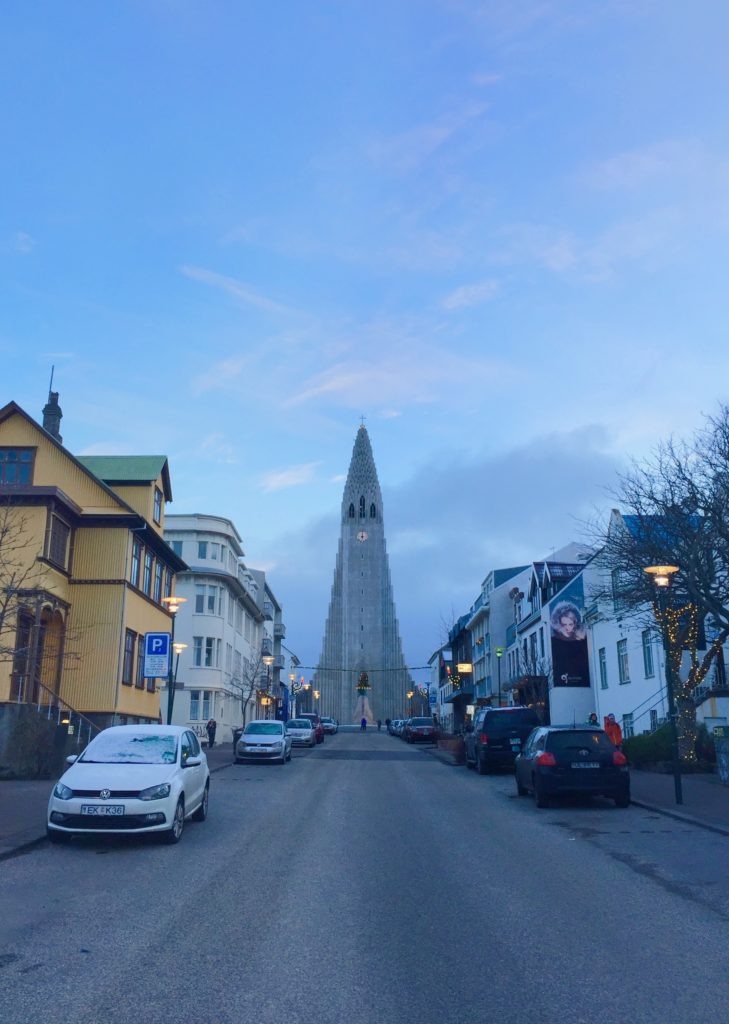 Getting to Iceland
Truth be told. Initially, we were not planning on visiting Iceland. I was looking for tickets to Europe for a 3-week Winter trip to Central Europe. It just so happened that I found some pretty inexpensive tickets to Munich through IcelandAir.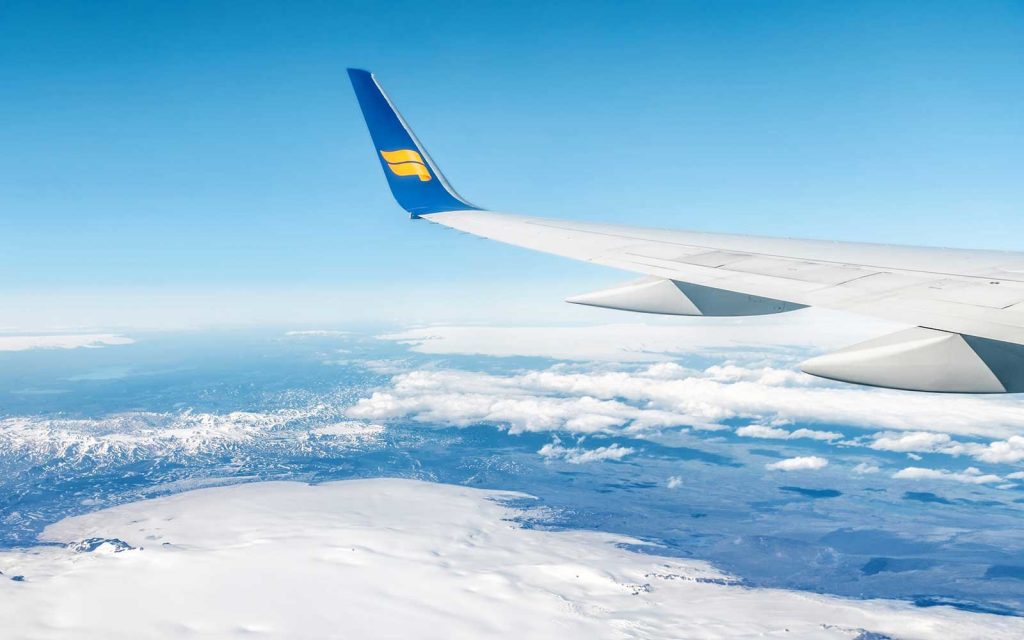 The cool thing about IcelandAir is that you can actually plan a stopover in Reykjavik for up to 7 nights for no additional cost. So we ended up adding one more country to our list without having to buy additional tickets.
Tickets to Iceland are still pretty cheap. You can easily book roundtrip, nonstop tickets from Chicago, Boston, or New York City in the low $300s. Or from other cities in the $500s.
Where to Stay
The vast majority of attractions in Reykjavik are in and around the city center (downtown area). Without a doubt, you're better off staying in the city center.
Hotels in Iceland tend to be at least twice as expensive as elsewhere in Europe. So it's a smart choice to find alternatives.
Short-term Rentals
We opted to stay at Apartment K off of Bankastræti. Bankastræti is what Laugavegur turns into as it gets closer to the old city center, so it's a great location. By staying there, we saved $150/night and had more space and comfort than a traditional hotel room. As it turns out, our set-up in Iceland was actually better for families with kids.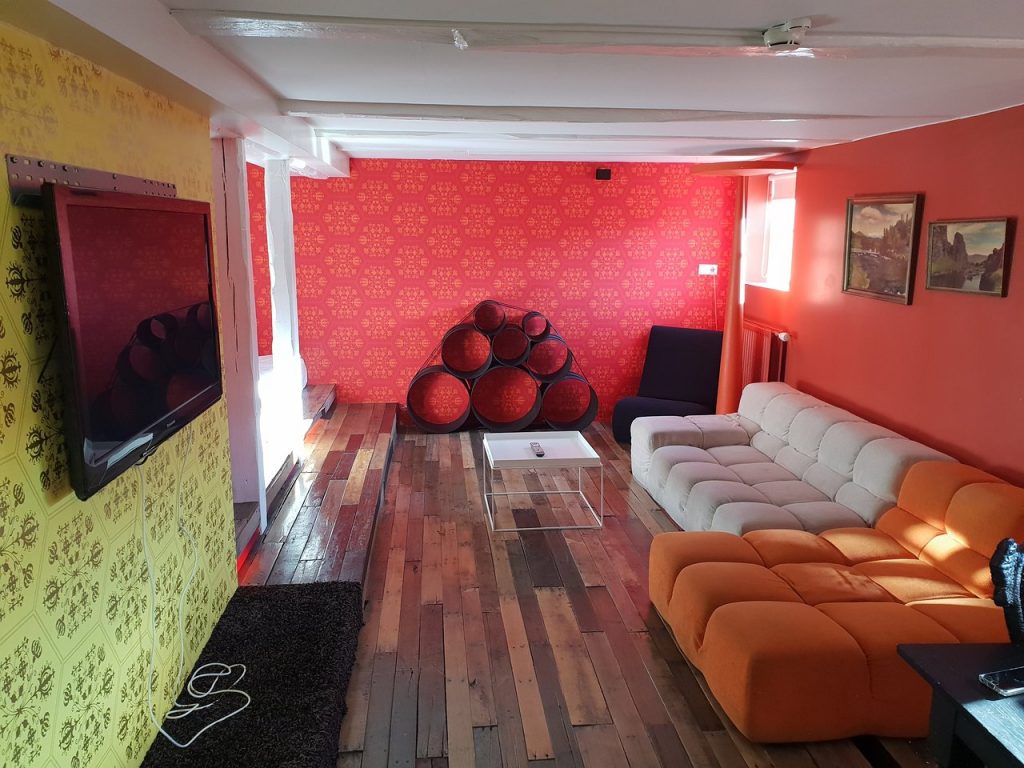 Apartment K is an apartment building with units that are set up for short-term stays. But don't panic. There are no "residents." As far as we could tell, it's just like a hotel… but different. It doesn't have the same "amenities" like daily housekeeping and a restaurant. But it's still private and safe and very spacious.
Our unit, for example, had a bedroom, bathroom, living room, and a kitchen equipped with the essentials (no need to bring or buy plates, cups, etc.). The fact that our place had a full kitchen allowed us to save a ton on food by eating in. Also, we could be a little more flexible which worked out great because Rachel was pregnant during our trip (hello, random food choices…).
Airbnb
Another great alternative is booking a stay through Airbnb (Apartment K is also advertised on Airbnb by the way). If you've used Airbnb before, you know you can get great deals by renting other people's homes. If you haven't used it before, it's completely safe and there's no weirdness.
Money-Saving Tip: You can use our Airbnb discount code to save 15% off on your next booking (up to $400 off). You'll also get $15 toward an Airbnb experience of $50 or more.
Where and What to Eat
Food costs in Iceland are high by most standards. A basic soup will typically set you back about $10. A coffee or a hotdog will cost you $5 each. And if you're planning on getting a proper meal, plan on spending at least $30/person.
But you can save as much as 50%-60% by buying food at the supermarket and cooking at "home." We could also control what we ate a little bit better and make sure we were eating relatively healthy. In Iceland, it's a good idea to stock up on the things you and your kids like, so you're not tempted to eat out all the time.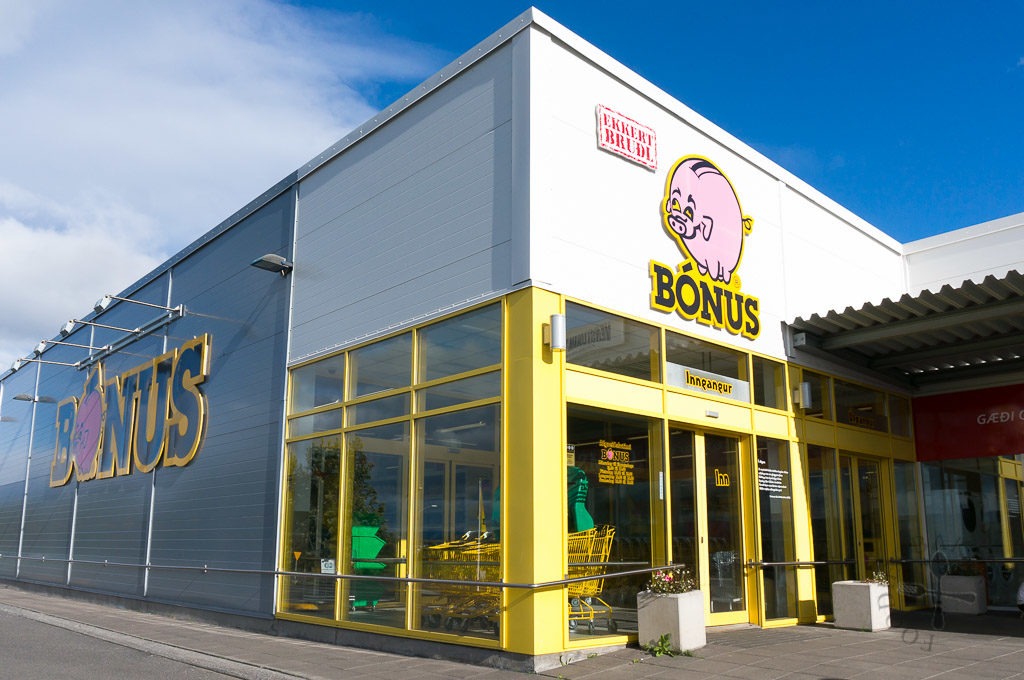 We shopped primarily at two markets around our place. The food selection was somewhat limited but adequate. There were also plenty of Icelandic foods to try, like skyr.
Now, just because you're eating in most of the time, it doesn't mean you can't try local foods and treats. We ate Icelandic lamb soup, Icelandic fish and chips, the best hot dog in town, and dried haddock (traditionally served with butter) among other stuff. Have fun with it (there's no other way to do Iceland with kids).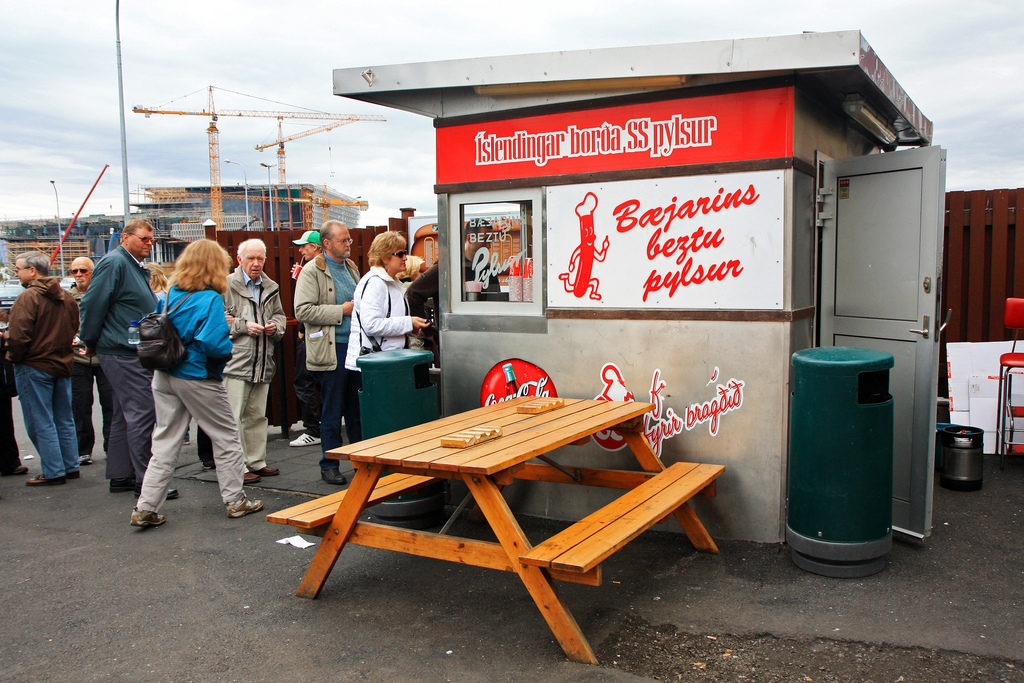 Getting Around Iceland
Since we planned on seeing both the city and the countryside, we needed to think about how we were going to get around. Although Iceland has an extensive public bus network, it's not very practical to travel by bus to Gulfoss for example, especially with kids.
Can you imagine waiting at a bus stop in the middle of nowhere? In the dead of Winter? There are better ways though.
Airport Transportation
Reykjavik is served by Keflavik International Airport (45-60 minutes from the city center) for most international airlines. Transportation from and to the airport in Keflavik is expensive. Transfer buses from KEF to Reykjavik run anywhere between $30-$50/person.
If you're traveling with 3 or more people, it'll be way more economical to rent a car for $50/day than to pay for airport transportation.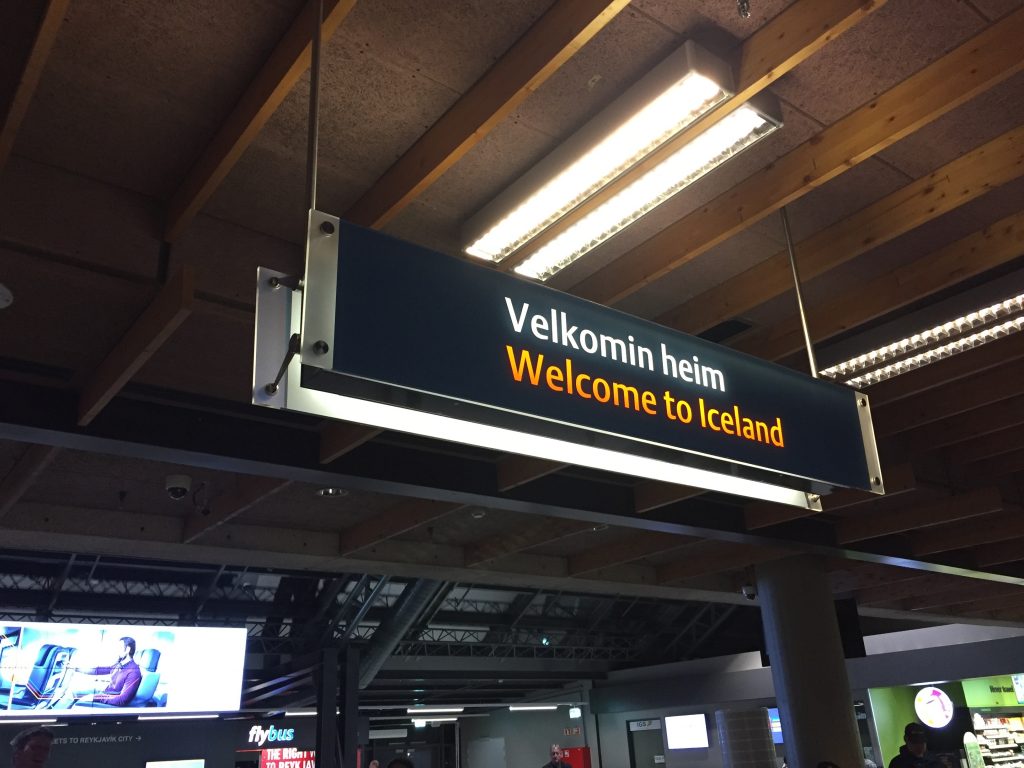 The airport transfer only gets you to and from the city center. If you plan on exploring the rest of Iceland, you'll have to hire a van or tour which will run you a few $100s, especially with kids.
Plus, if you have a vehicle, you'll be able to drive to Thingvellir, Gullfoss, and out of Reykjavik to see the Northern Lights, all on your own without having to pay for guided tours.
Around Reykjavik
Reykjavik is fairly compact and most (if not all) attractions are in the city center, so you can get around fairly easily and conveniently on foot. Like most European cities, it's a little more difficult to find parking in the city center. So you'll be better off not driving around from attraction to attraction because you'll spend most of your time looking for parking.
And you'll need to pay for gas which isn't exactly cheap, but you'll use so little that it won't matter that much. Not a big deal.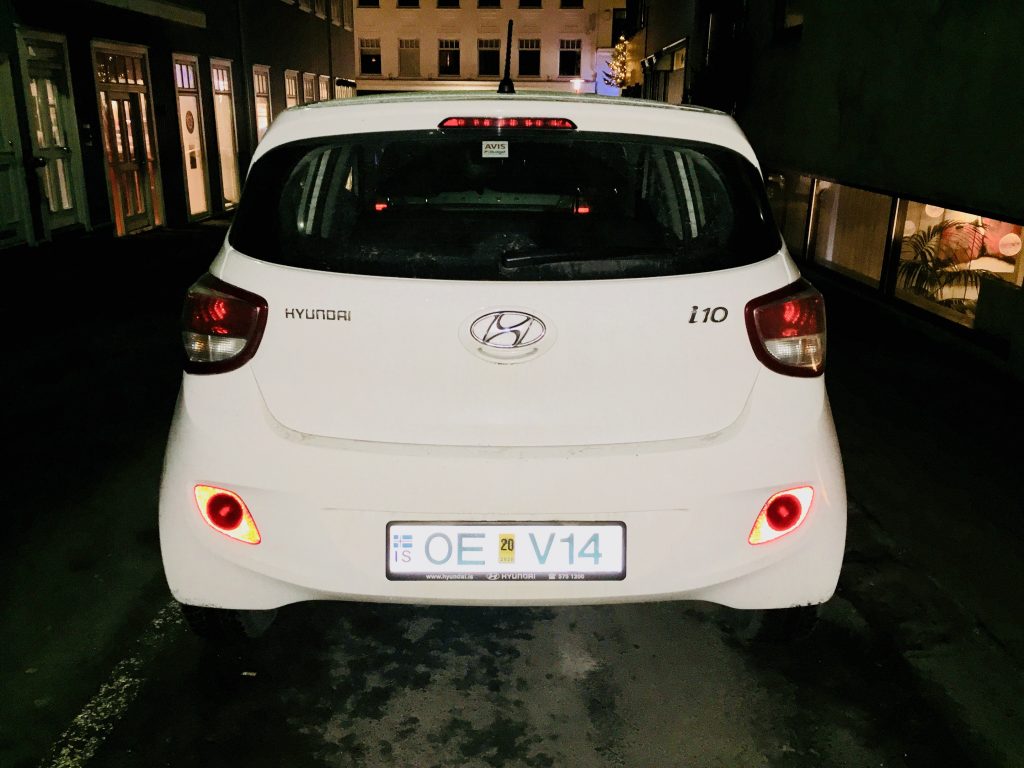 Having said that about cars, I highly recommend you rent a vehicle if you're planning on staying anywhere between a few days and a week. And especially if you're planning a self-guided trip to the Golden Circle.
Things to Do in Iceland
For being a relatively small island, Iceland has so many things to do. We chose to mix in a little bit of Reykjavik and some of the countryside to get a better picture of the country. We definitely recommend doing a little bit of both. What you choose is ultimately up to you. This was our itinerary simply because we felt it gave us a taste of Iceland with kids.
Laugavegur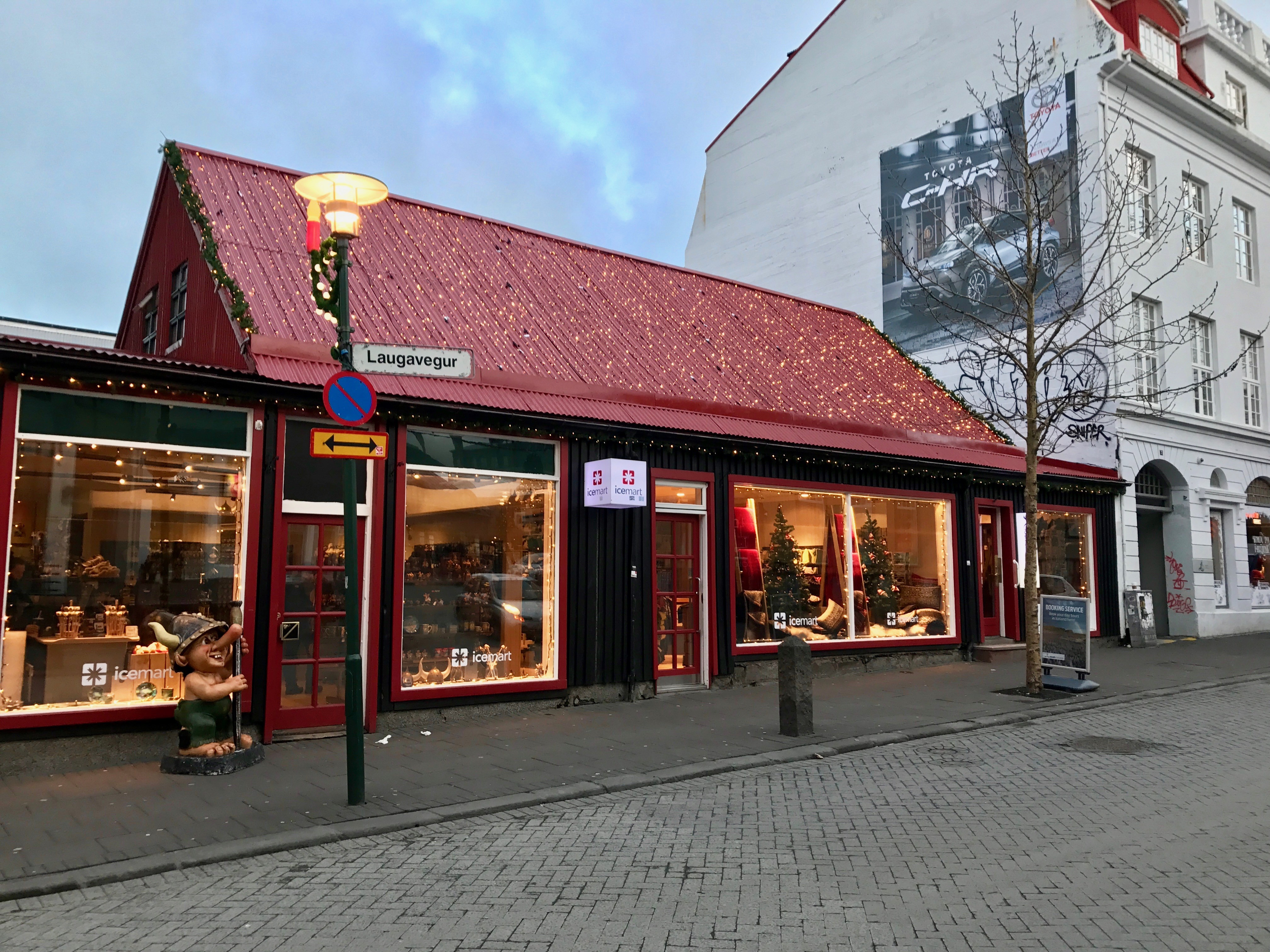 On the way out of the old city center, we chose to take a stroll on Laugavegur, Reykjavik's primary and oldest shopping street. Laugavegur is lined with cafés, restaurants, shops, boutiques, and local artisans. Since it was still early January, much of the Christmas decorations were still up.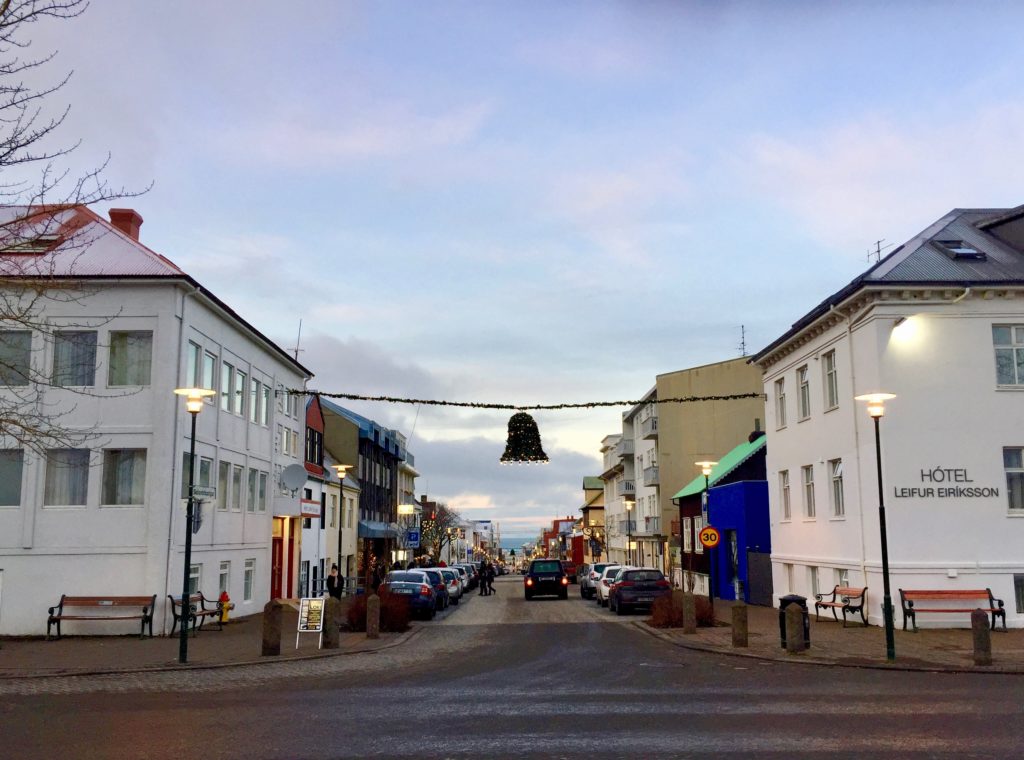 One of the most relaxing things to do in Iceland is to stop by a café and grab a hot beverage and pastry and people watch for a while. At a minimum, you'll be puzzled by the strange noise the cars make as they go up and down the street (because the tires are studded to help driving on the ice). We stopped at Kaffitár on Laugavegur and had a well-deserved cup of coffee after a long plane ride to Iceland.
Hallgrimskirkja – Church of Hallgrímur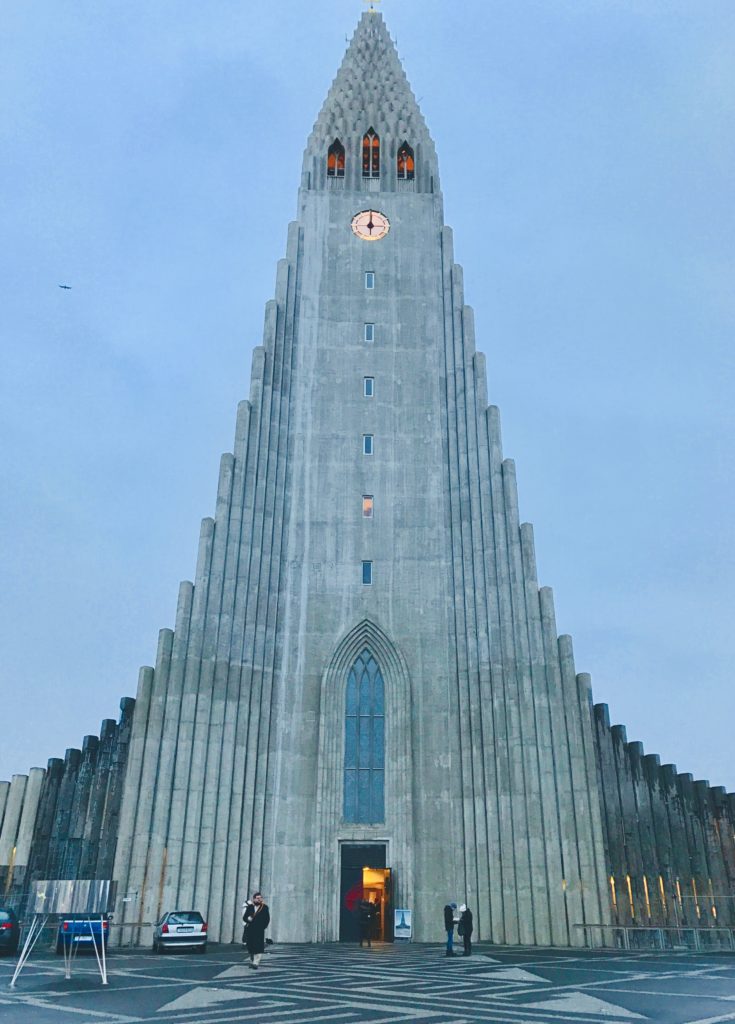 Since we arrived on Sunday morning, we decided to go to church after we got settled into our apartment (hey, just because we're in Iceland, it doesn't mean we can't go to church with our kids). Reykjavik has two main churches: Reykjavik Cathedral and Hallgrimskirja. The Hallgrimskirkja is stunning. Built between 1945-1986 and at 244 ft high, it is the largest church in Iceland and among the tallest structures in the country. It was designed to resemble Iceland's trap rocks, mountains, and glaciers. And it is artful at that.
Hallgrimskirkja is a lot different than what you see in most other European churches and cathedrals. Being a Lutheran church (Church of Iceland), Hallgrimskirkja's interior is free from most religious imagery, almost spartan. And the service was entirely in Icelandic except for a few words in English to welcome visitors and tourists.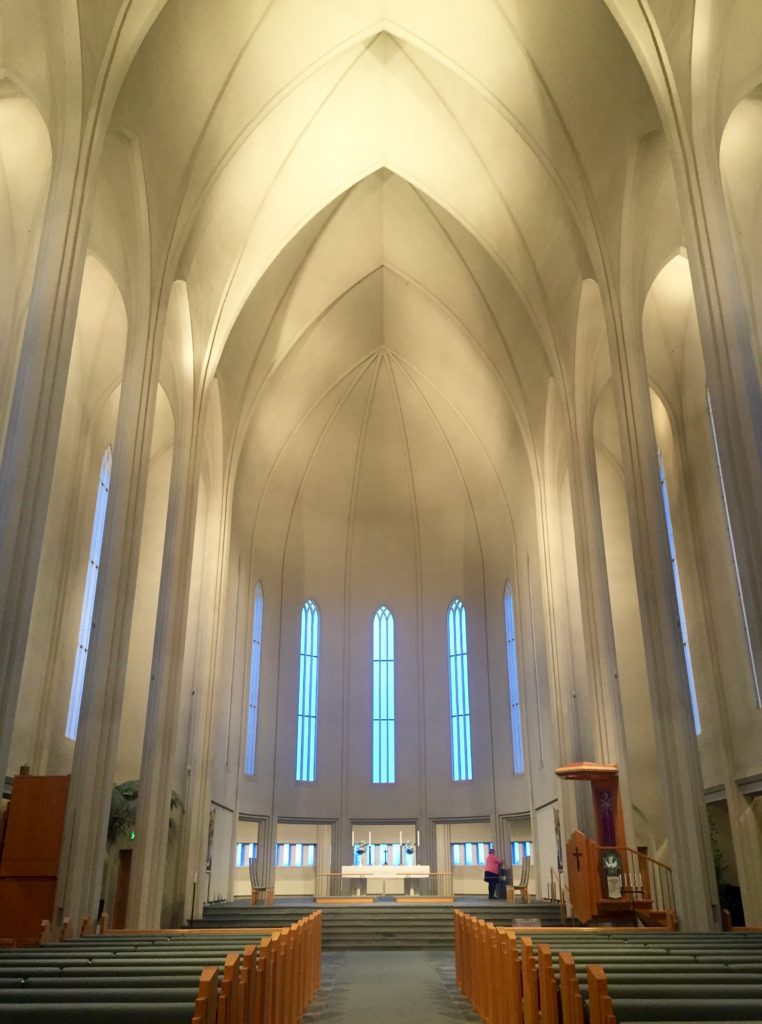 Also at Hallgrimskirkja, you can visit the observation tower where you can see panoramic views of the city, surrounding mountains, and Reykjavik's traditional colored roofs. You'll be taken to the top by elevator and get access to the open-air viewing platform where the views are some of the best in all of Reykjavik. Tower admission runs at ISK 1,000 ($8.15)/adults and ISK 100 ($0.82)/kids 7-12.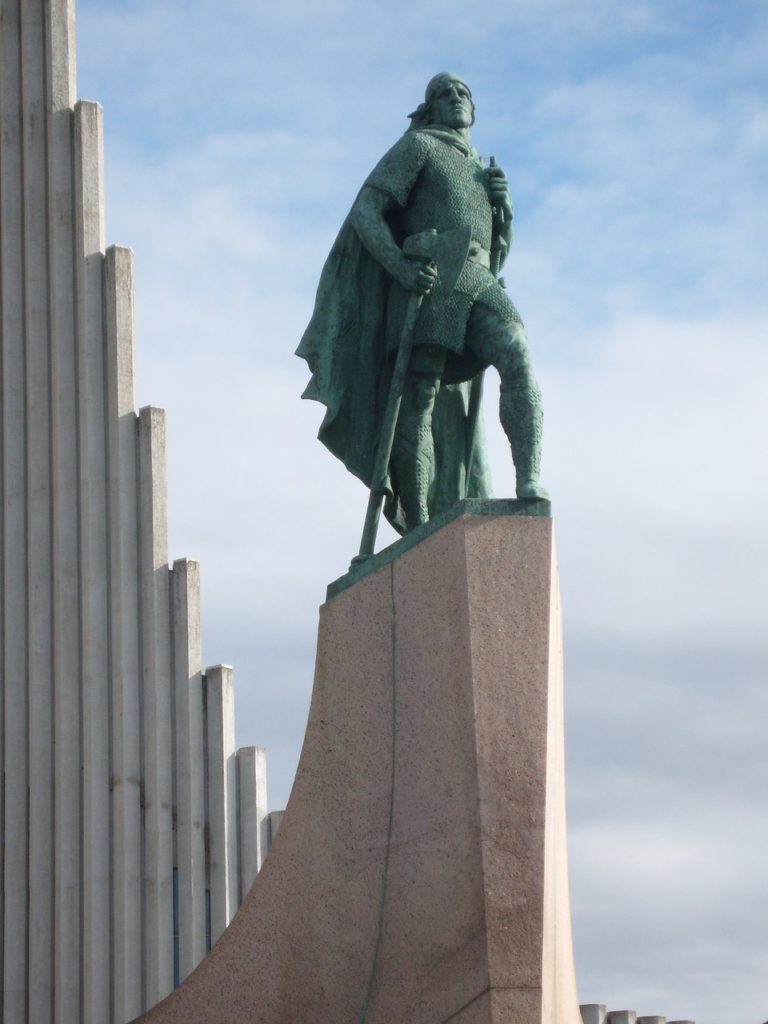 Finally, in front of Hallgrimskirkja, you'll see the statue of Leif Erikson (c.970 – c.1020), the first known European in North America. The statue was a gift from the United States to Iceland, commemorating the 1,000th anniversary of Iceland's parliament at Þingvellir (founded in 930 AD).
Austurvöllur and City Center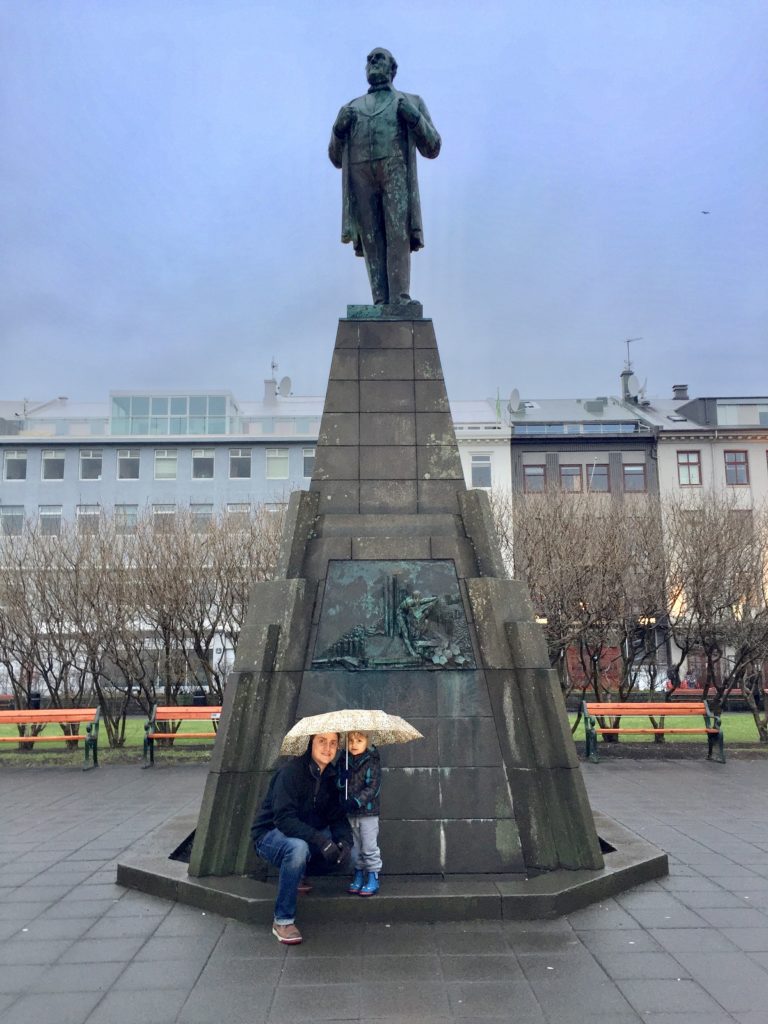 Just a short walk from Hallgrimskirkja is Reykjavik's City Center and main square Austurvöllur. Austurvöllur is a popular gathering place for people living in Reykjavik because of the many restaurants, bars, and cafés on Vallarstræti and Pósthússtræti (the streets on the North and East of the square respectively). It also concentrates a few other points of interest:
Alþingishúsið – Iceland's Parliament House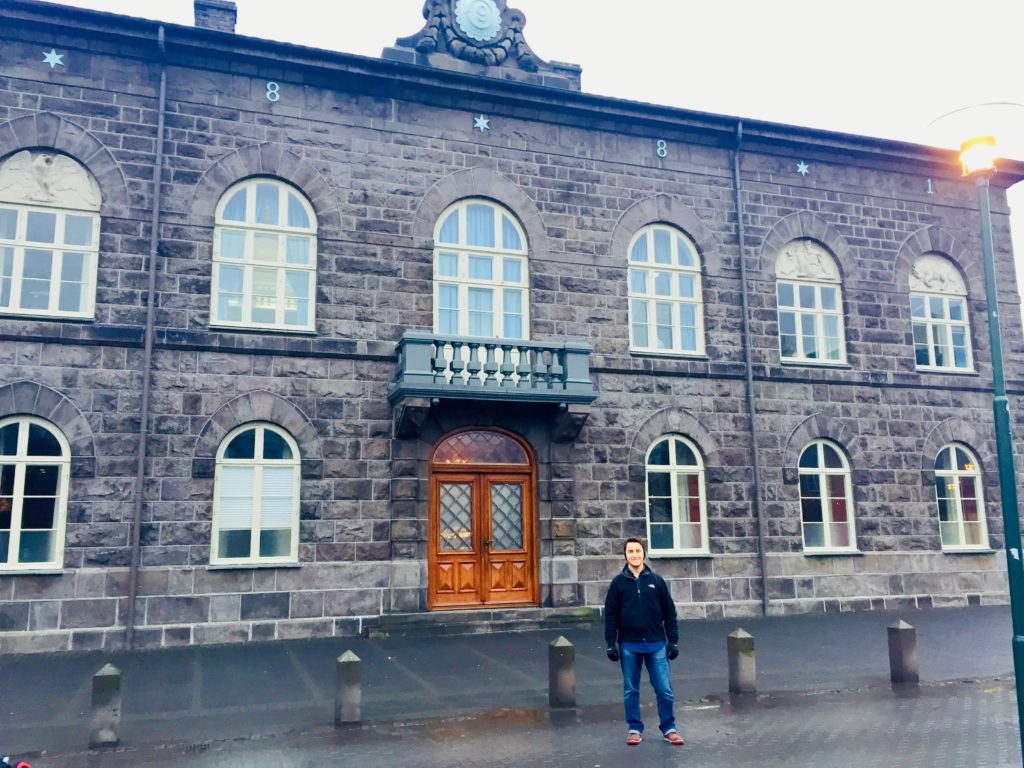 Iceland claims to have the oldest surviving parliament in the world. The original Alþingi (parliament) was founded in 930 at Þingvellir, some 28 miles East of Reykjavik. The Alþingi moved sessions to the present parliament building, the Alþingishúsið, in 1881. And it meets there 'til this day.
Reykjavik Cathedral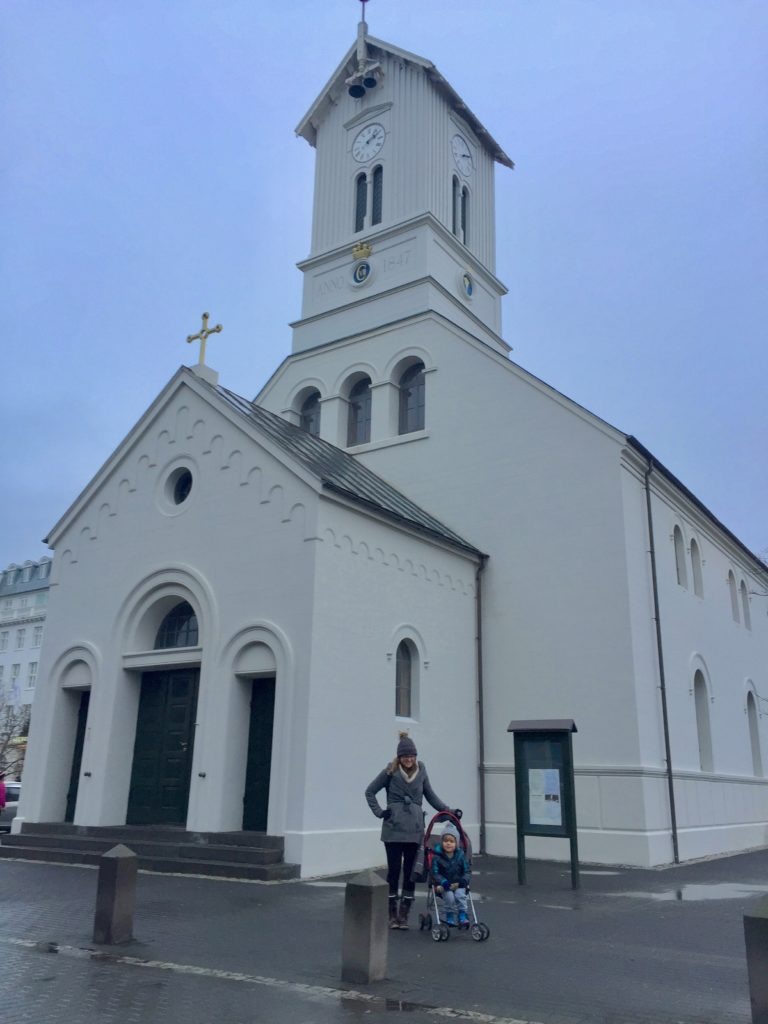 The seat of the Bishop of Iceland (head of the Evangelical Lutheran Church of Iceland), Reykjavik Cathedral is also located at Austurvöllur and next to Alþingishúsið. Since the Alþingi restarted in 1845, each session of parliament has begun with a mass at the cathedral, and from there the dean of the cathedral leads the members of parliament to the Parliament House.
Ráðhús Reykjavíkur – Reykjavik City Hall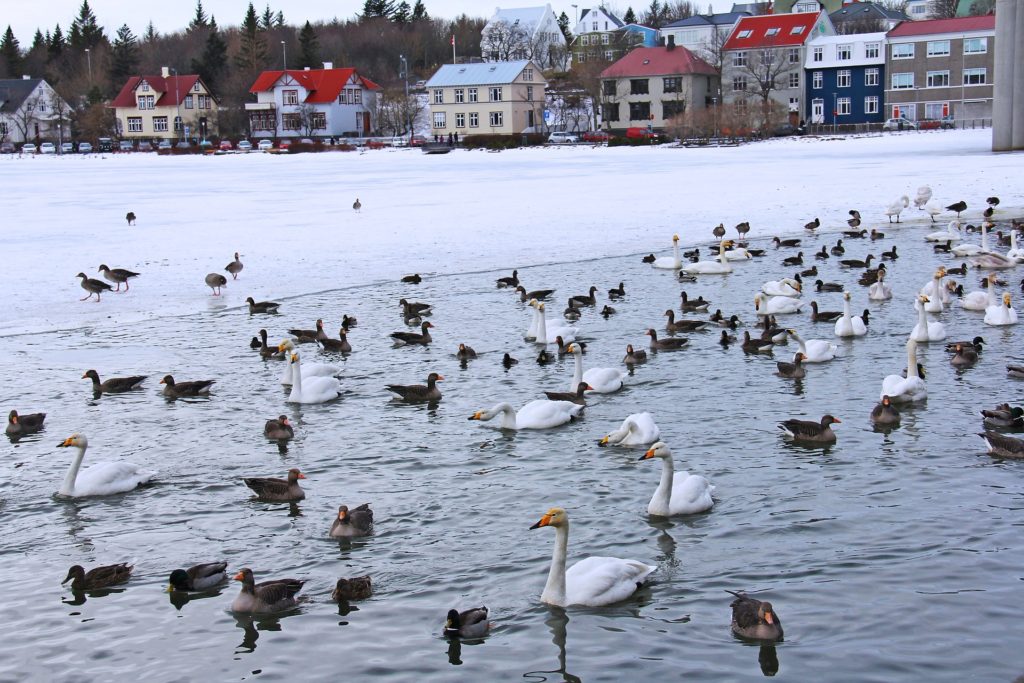 The next block Southwest from Alþingishúsið is where the City Hall is located. It sits on the Tjörnin (the pond) and where you can see the houses on the water while the kids play.
Reykjavik 871±2 The Settlement Exhibition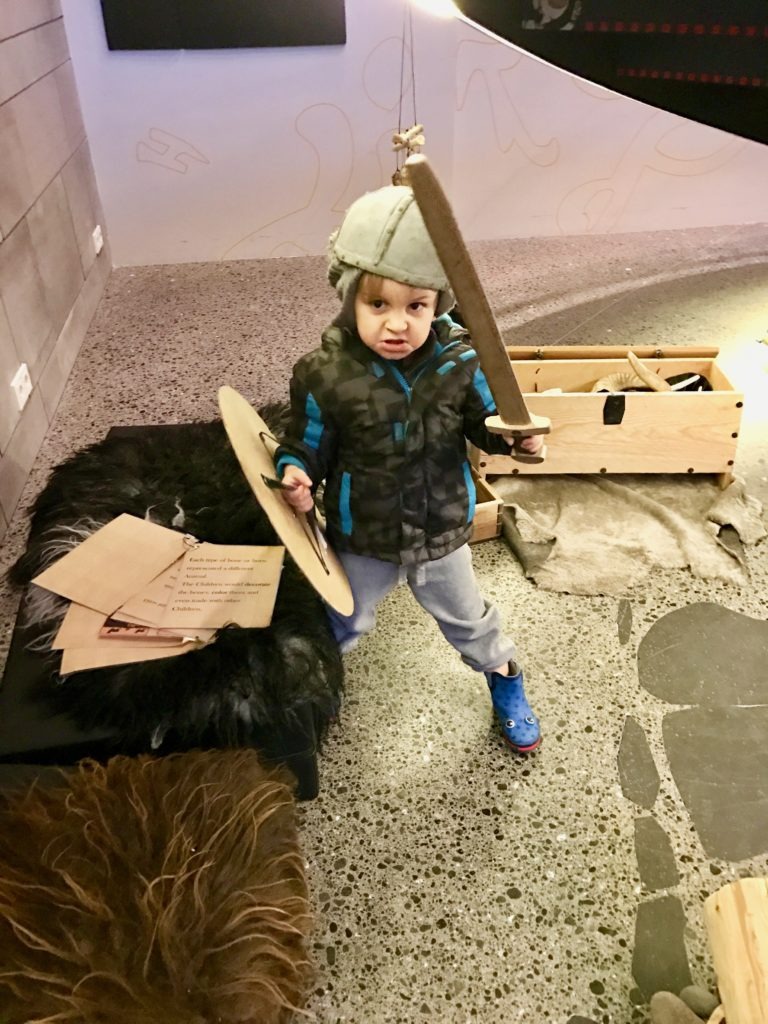 From Austurvöllur, you can also walk a block West to Reykjavik 871±2. The exhibition is based on the archaeological excavation of the ruins of one of the first houses in Iceland and findings from other excavations in Reykjavik's city center. The hall is one of the oldest human-made structures found in Iceland. Admission is ISK 1,700 ($14)/adults and free for kids 0-17. The Settlement Exhibition is a great way to expose the kids to the history of Iceland.
Golden Circle – Gullfoss, Geysir, and Thingvellir
For the next day, we decided to get out of town and visit some of the countryside and sights around Reykjavik. Iceland has some of the most amazingly rugged terrains anywhere in the world. It's one of the world's youngest islands, so much of it is still being shaped by volcanic and seismic activity.

We chose to follow the Golden Circle route that runs through the Southern part of Iceland. The three primary stops on the route are the Gullfoss Waterfall, the geothermal area in Haukadalur (containing the geysers Geysir and Strokkur), and Thingvellir National Park.
Since we had our own transportation, we headed out on our own, but you can join a group tour instead. The group tour is an easy, no-frills way to travel around Iceland. And many of them also include either the Blue Lagoon, the Northern Lights, or both.
Gullfoss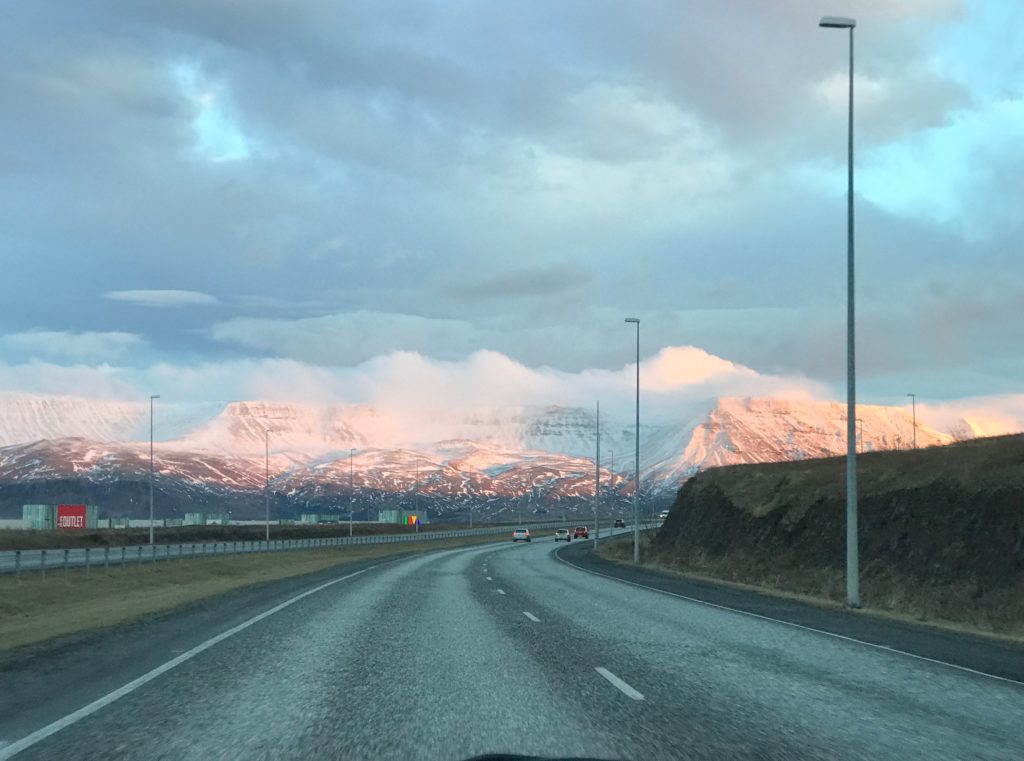 Just before sunrise (at 11 am!), we headed out of Reykjavik toward Gullfoss Waterfall. Gullfoss (Golden Falls) is situated on the Hvítá river flowing down a rugged three-step staircase. It's a beautiful sight and one of the most popular attractions in all of Iceland.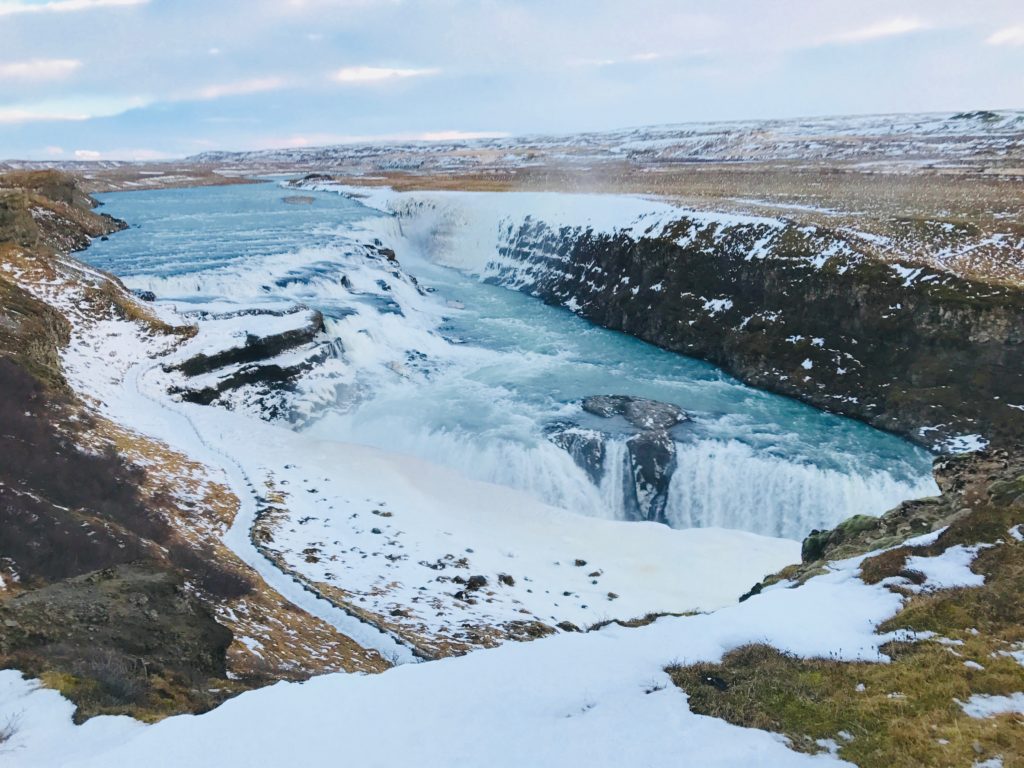 A few feet away from Gullfoss, you'll find a restaurant serving a variety of Icelandic dishes. You must try something local! We went for the kjötsúpa which is a traditional Icelandic lamb soup served with bread and butter. The soup will set you back ISK 1,950 ($16), but you do get refills. Or you can simply relax at the restaurant with the kids and take in the most well-known waterfall in Iceland.
Geysir
We then drove South from Gullfoss toward Haukadalur where the geothermal activity produces geysers that erupt every 6-10 minutes. It is in Haukadalur that the geyser Geysir (or The Great Geysir) is located. Geysir was the first geyser ever written about and the first known to modern Europeans. In fact, the English word geyser derives from — you guessed it — Geysir (which came from the Icelandic word for "to gush").
Besides Geysir, Haukadalur is also home to Strokkur geyser which is only about 160 ft from Geysir. Watching the geysers is a unique experience. One that the kids will find fascinating. Oh, come one, who am I kidding? They're a blast (pun intended).
Thingvellir National Park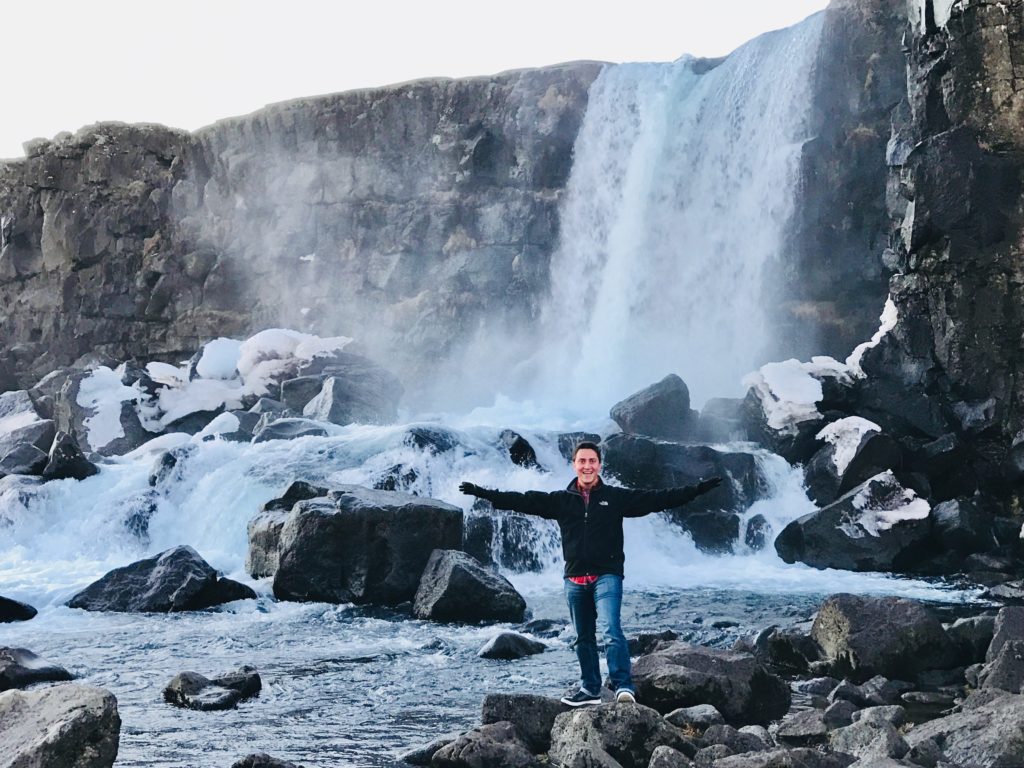 To complete the Golden Circle, we ended up at Thingvellir National Park (þingvellir in Icelandic) just before sunset (at 3:30 pm). Thingvellir holds a place of high importance in Iceland. For starters, it was there that Iceland's parliament was founded in 930 AD. The same parliament that exists in Iceland today.
Also, Thingvellir is located between the North American and the Eurasian tectonic plates. If that wasn't cool enough, because of the continental drift between the two plates, it's possible to walk between the two continents (geologically speaking of course). At Þingvallavatn, the largest natural lake in Iceland, you can even dive at the Silfra fissure and touch both plates at the same time! Now that's pretty cool.
Sólfarið – Sun Voyager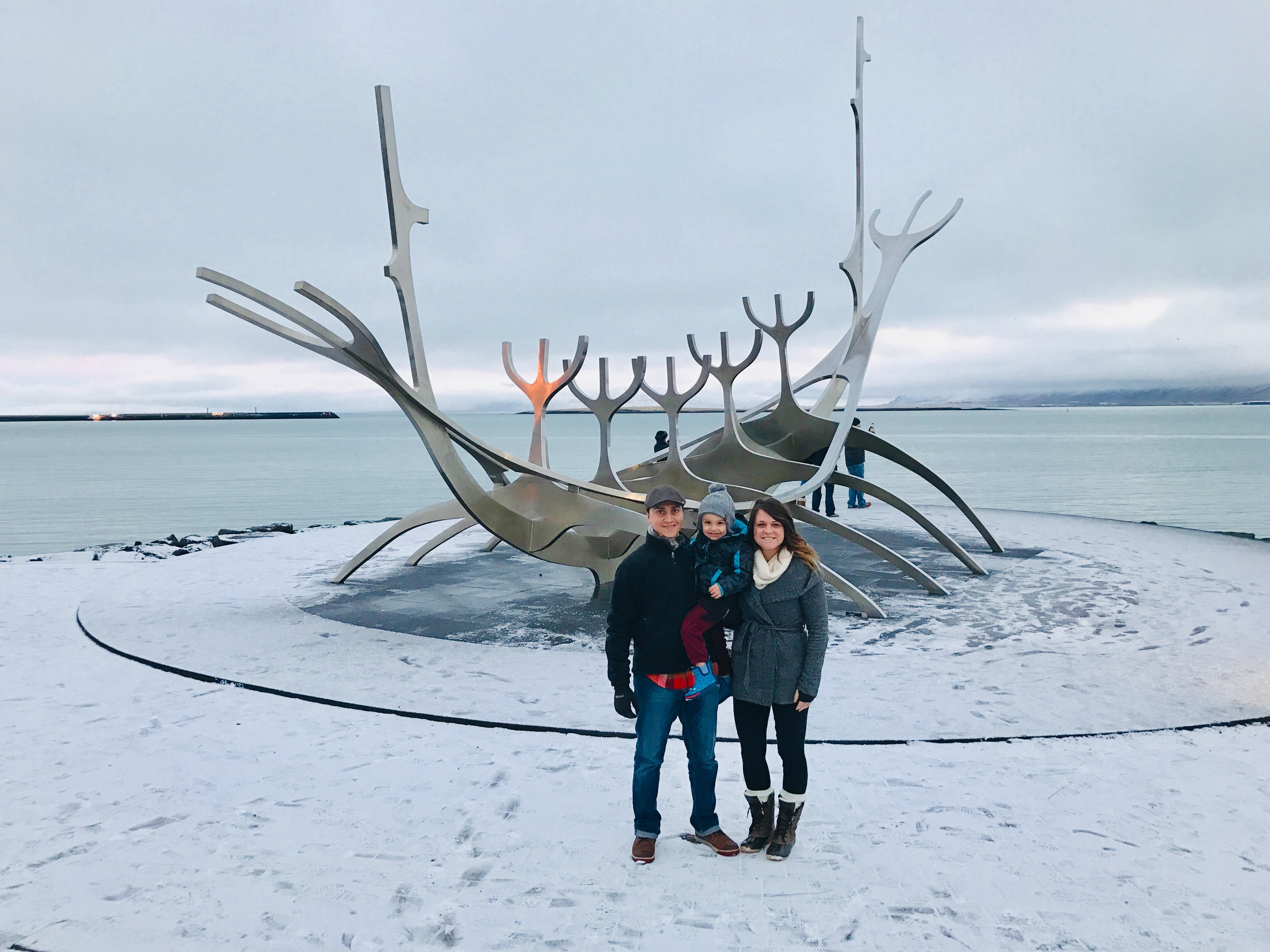 On our last full day in Reykjavik, we visited a few sights along the Sculpture & Shore Walk Trail (on Sæbraut road) on the Northern part of the City Center. First on our list was the Sun Voyager sculpture. Built to celebrate Reykjavik's 200th anniversary, the Sun Voyager is a sculpture of a Viking ship made out of stainless steel on granite and sits on the shore along the Trail.
Volcano House
Next, we stopped at the Volcano House to learn about Iceland's fascinating geological history and volcanic systems. The Volcano House has two parts: an exhibition (free) and a movie theater (paid). The exhibition is where you and your kids can handle pumice, ash, and lava from Icelandic volcanoes like Eyjafjallajökull and Grímsvötn and pumice from Hekla.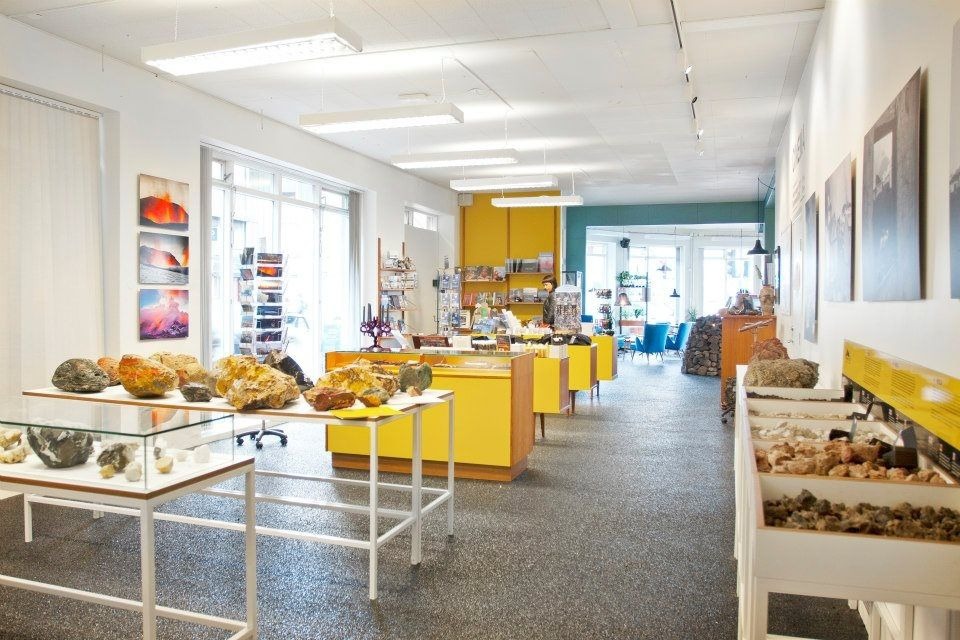 Also, every hour the Volcano House shows two documentaries, one about the volcanic eruption of Eyjafjallajökull (try saying that) in 2010 and one about the volcanic eruption in the Westman Islands in 1973. I know it sounds boring, but it's not. These are modern-day volcanic stories with huge implications for Icelandic daily life (or commercial airplanes in all Europe in the case of Eyjafjallajökull). The Volcano House is another great way to show the kids a little bit more about Iceland.
Admission to the Volcano House is free for the exhibition. However, to watch the documentaries, you have to pay ISK 1,790 ($15)/adults, ISK 1,000 ($8)/teenagers, and free for kids.
Harpa Concert Hall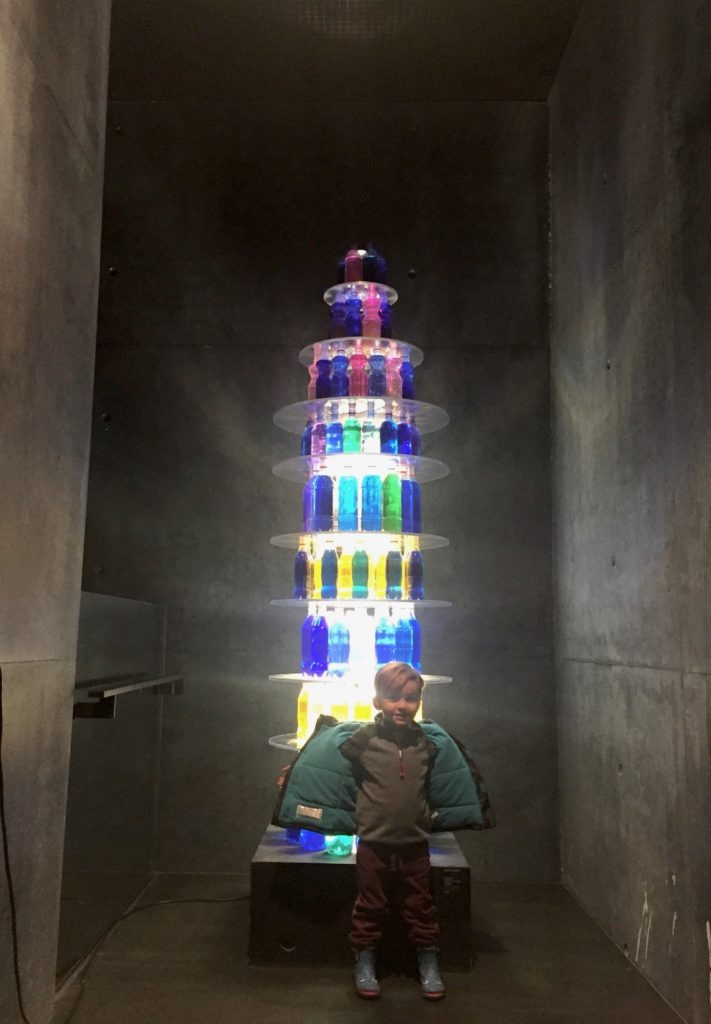 After dark (that is after 4 pm), we headed next door to Harpa Concert Hall. Harpa is a modern concert hall and conference center built to resemble the rugged Icelandic landscape. At night, the entire building glows with moving colored lights from green to purple made to resemble the Northern Lights that adorn the Northern skies.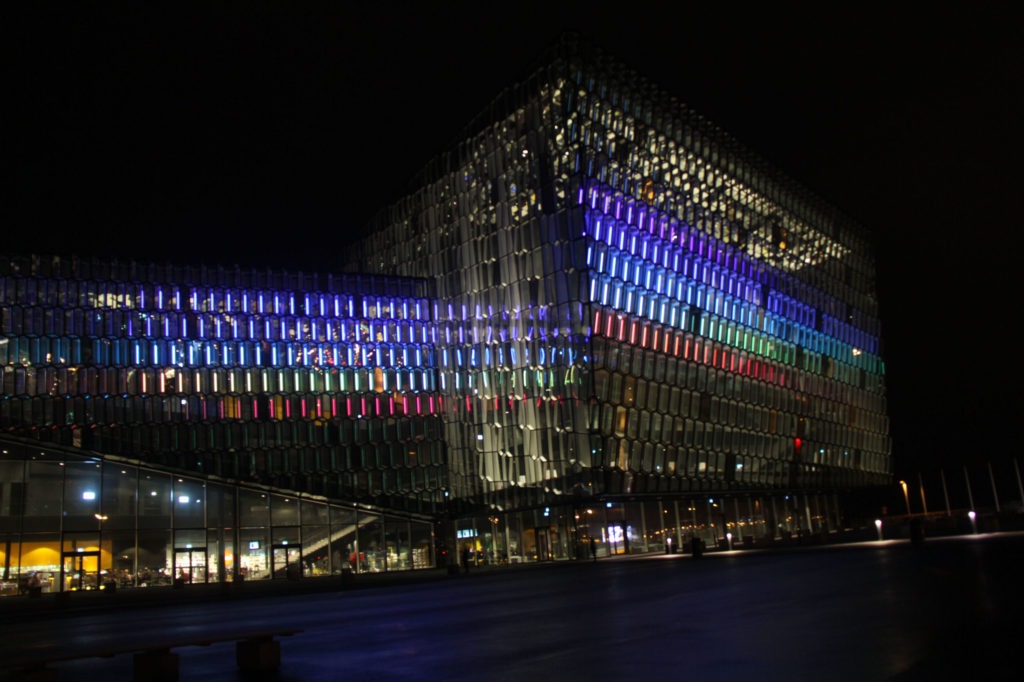 At Harpa, you can watch a variety of shows and concerts, especially if your kids are old enough to come along. And if you're thinking Harpa might not appeal to you with its Symphony and Classical music, think again. One of the longest-running shows at Harpa is the stand-up comedy "How to become Icelandic in 60 minutes" which is 100% in English. It's worth a visit to Harpa even if you're not planning on catching a show.
Northern Lights
Ah, the Northern Lights… The #1 "attraction" in Iceland, the Northern Lights are on most people's bucket lists. If you end up in Iceland with your kids between September and April, you cannot leave the country without at least trying to catch a glimpse of the Northern Lights.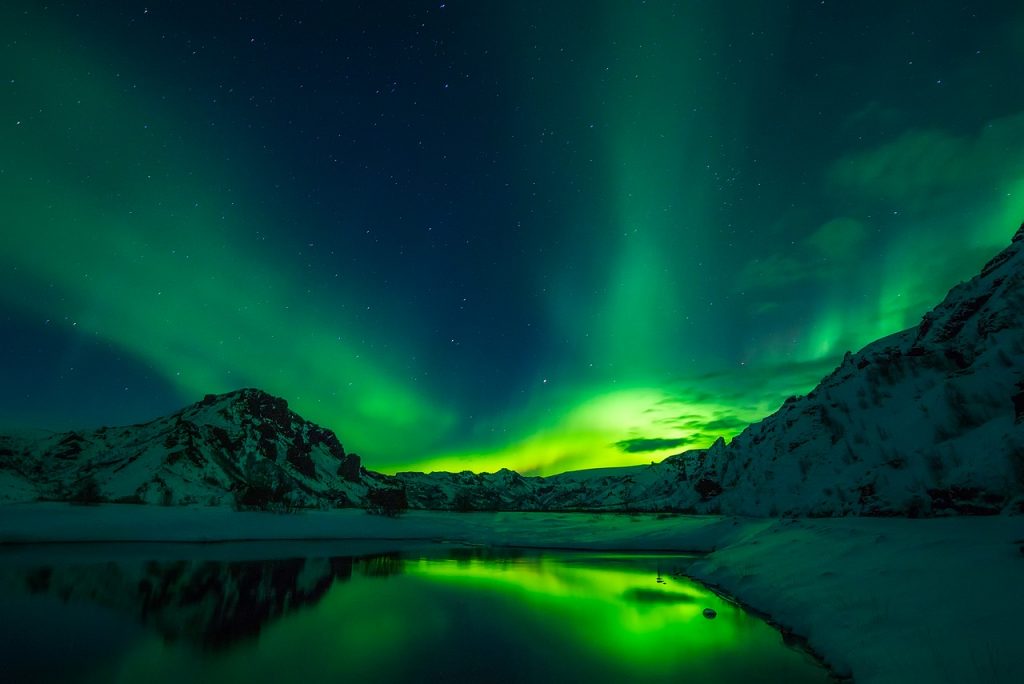 How to See The Northern Lights
Seeing the lights is no trivial task. The aurora is as elusive as it is beautiful. So we actually bought the Guided Northern Lights Tour on Expedia to make sure we had expert assistance in finding the aurora. And this is where things get slippery. Let me say up front that the Guided Tour is not the problem. But they simply can't guarantee that you'll see the Northern Lights. So you have to go with your expectations in check. Just know before you go:
You'll be on a bus with 30-40 other people trying to see the Lights
It's late at night
You'll have to drive 1-2 hours out of town to get away from artificial city lights/glare
You may not see the Northern Lights
Improve Your Chances of Seeing the Northern Lights
But there are ways to improve your chances of seeing the Lights. Seeing them requires for there to be higher-than-normal activity in the magnetosphere, no cloud coverage, be dark enough, and little to no light pollution from city lights. Easy, huh?
Calm down. Most of the guided tours will let you keep taking the tour until you see the aurora. You can also just change the date if you don't think you're going to be able to see the lights anyway. But how will you know if you're going to see them? I'm glad you asked.
The Icelandic Met Office makes it easy to check if the proper conditions are available for the night you're planning on seeing the lights. All you have to do is check the weather and the aurora activity for the day you're planning your tour (it'll let you see the next two days as well).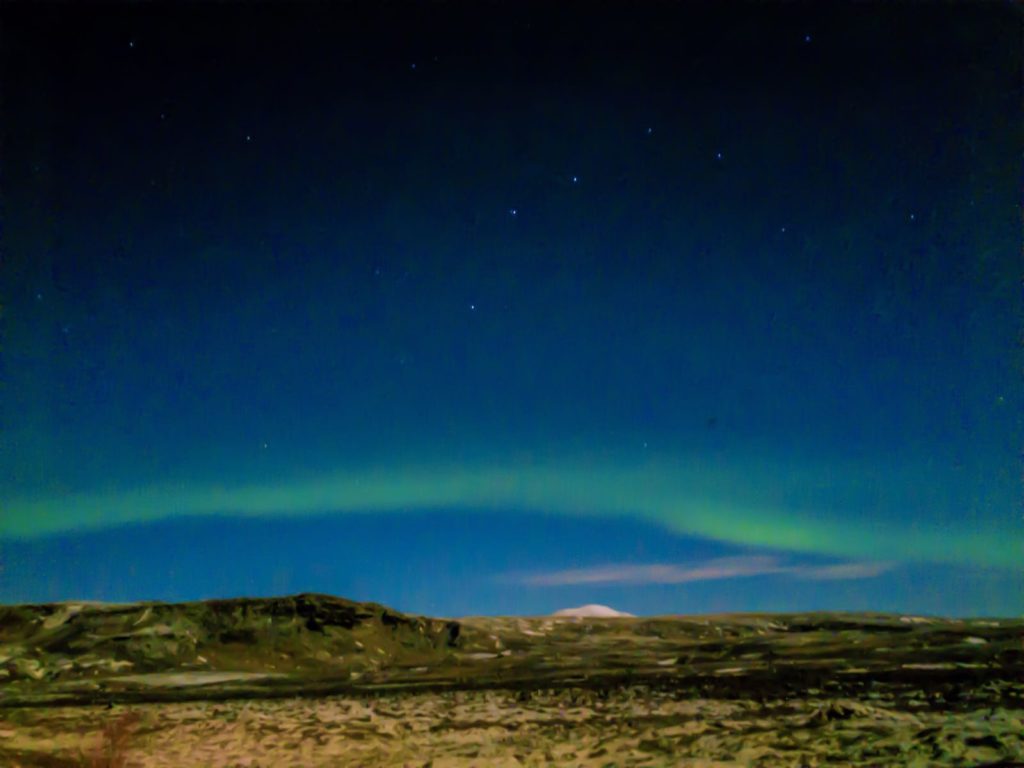 We saw the Northern Lights and checked the item off our bucket list. But it took us two tries. The first night we went with the tour and were frustrated because we couldn't see them. But now we knew where to go to see them. So instead of joining the tour again the next day, we just drove to the same location the next evening (I pinned the location on my Maps app) and saw the gorgeous display. Best of all, we were the only ones there.
Photograph the Northern Lights
You'll also need to adjust your camera (or phone camera) to be able to capture the Lights because you'll need longer exposure times in the dark. If you can't adjust the settings on your phone, there are a few apps that will let you do so. I suggest NightCap Camera for iOS, but there are others. You should also read up on how to photograph the Northern Lights before you go.
Sundhöll Reykjavíkur Pool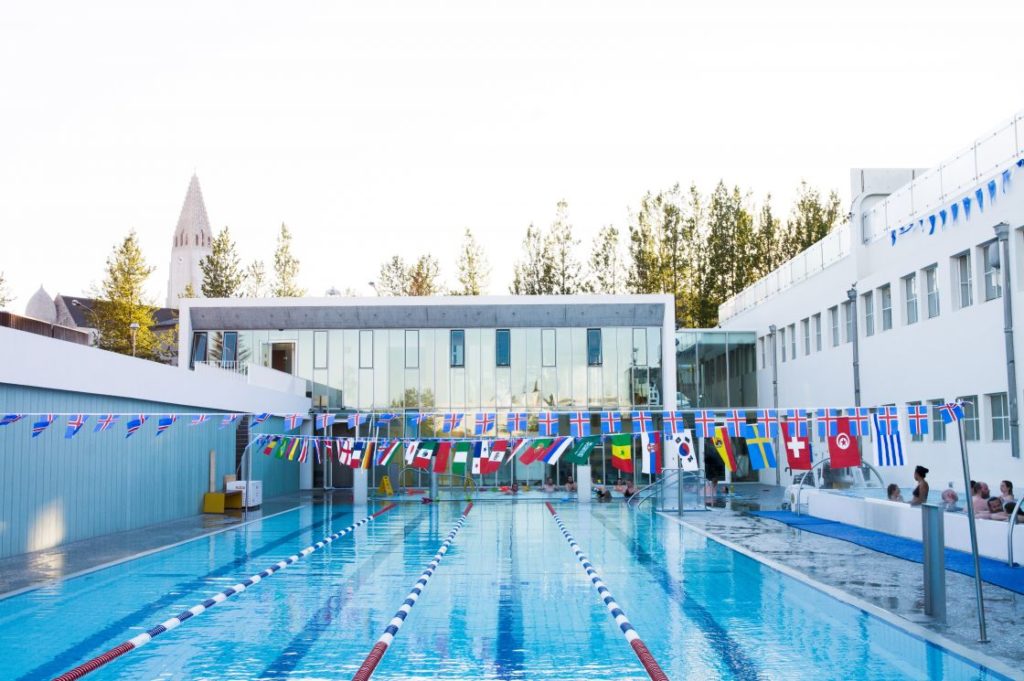 Maybe you didn't know this, but Iceland is well-known for its public thermal pools. Iceland has a really unique swimming culture. And visiting these pools is a social activity for locals. All pools are filled with warm geothermal water ranging from 86°F to 113°F.
Proper pool etiquette must be observed from children to adults. For example, everybody washes naked in the showers before entering the pool. This isn't just common courtesy. It is mandatory in every pool.
There are several pools in the Reykjavik area. Sundhöll Reykjavíkur is a very popular pool and happens to be Reykjavik's oldest (don't worry; it just underwent renovations). Costs to swim are ISK 950 ($8)/adult, ISK 150 ($1)/kids 6-17 years old, and free for kids 0-5 years old.
We did not get to swim because Rachel was pregnant during our vacation. But check with your doctor if you plan on plunging into hot geothermal water in Iceland.
Other Things to Do in Iceland
There were simply more things to do in Iceland than we had time for on this trip. So we didn't end up going to some of the places we had originally planned. I guess we'll just have to go back…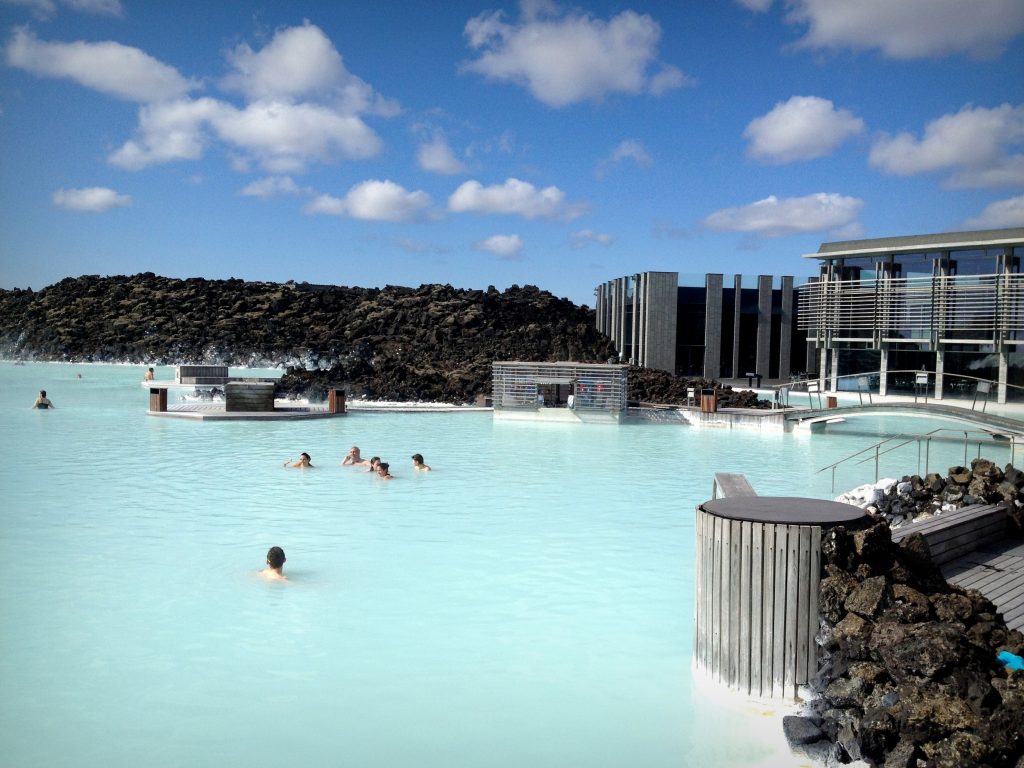 If you end up in Reykjavik for a few days, you might consider these activities as well:
---
Iceland left incredible and unique memories. We have plans to come back and explore other areas of the island. How about you? Do you plan on going to Iceland? If you've already been there, would you go back? What would you see next time?
After Iceland, we headed to Munich, Salzburg, Innsbruck, and the rest of Central Europe.
Join our Community
Pin Below to Save to Pinterest