Note: This post contains affiliate links. This means we may make a small commission if you make a purchase. This doesn't cost you any more, but it does help us to continue publishing helpful content. Thank you for your support!
Most people know that Austin is the "Live Music Capital of the World". That's a pretty big title to live up to year after year. But Austin also has a pretty vibrant art scene. There are literally hundreds of super creative murals all around Austin. And we got a chance to see a few of them on our trip to Austin and San Antonio (interested on a trip to Texas? Check out 31 Things to Do in San Antonio with Kids).
With so many murals, choosing which ones you want to see can be pretty daunting. So we came to the rescue. We curated the Top 20 murals in the central part of Austin, put them on Google Maps, and traced the best route. Now, all you have to do is send the map to your phone and get started on an "art scavenger hunt" with the kids.
Pin Below to Save to Pinterest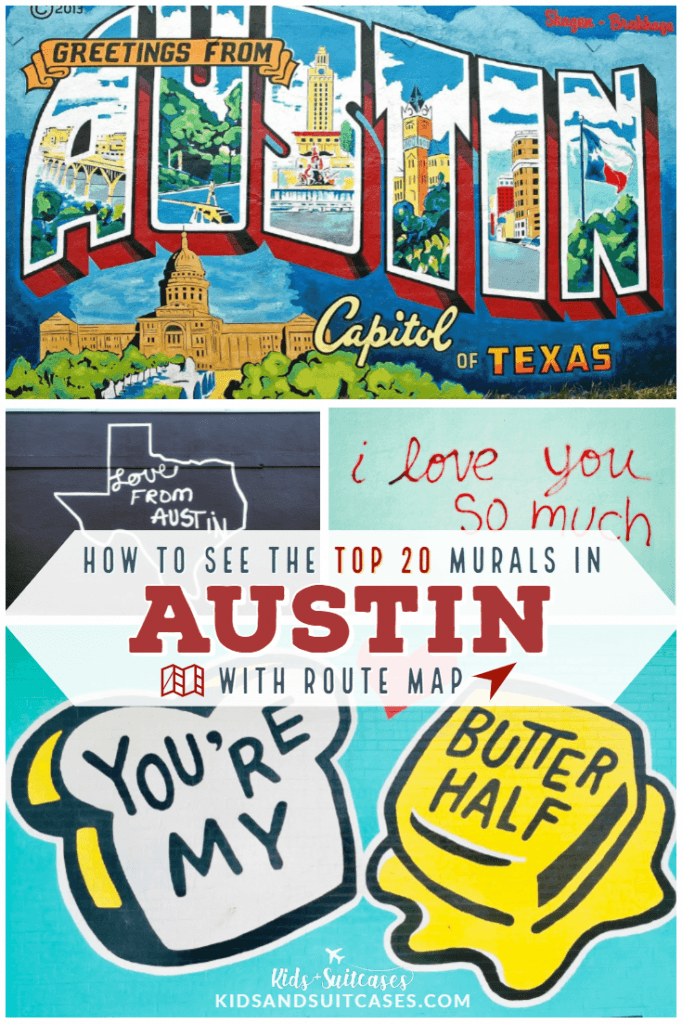 How to Photograph the Murals
Taking pictures of the murals in Austin can be a challenge. Most of them are on the side of buildings, on a street corner, with only a narrow sidewalk to stand on shielding you from oncoming road traffic. Because of the proximity to the mural, it's hard to capture all of it.
We all love our smartphone cameras to capture moments on the go without having to lug around a big DSLR. But they're built with all-purpose lenses. And that's just not what you need in this scenario.
You need the right tool for the job. You need a wide-angle lens.
Wide-Angle Lens for Your Phone
Just as it sounds, wide-angle lenses allow you to capture more of the subject than all-purpose lenses. All as you stand at the same distance as before. That way you can capture the entire mural without leaving the safety of the sidewalk.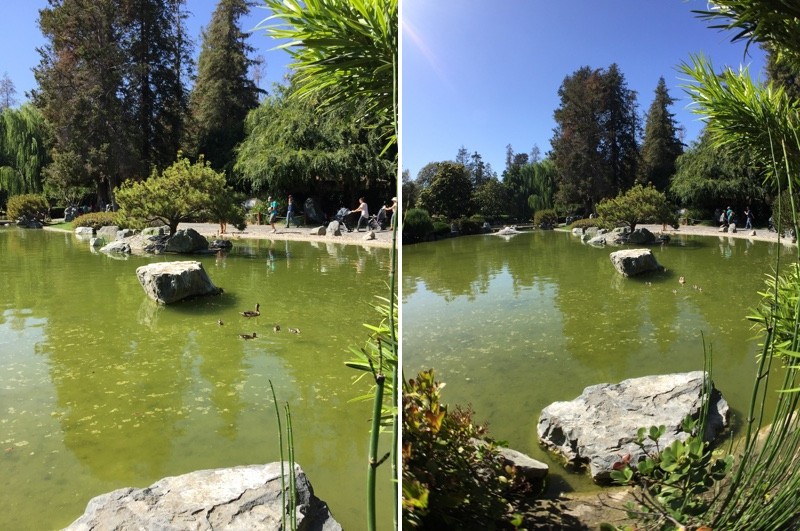 Great! But how do I put a wide-angle lens on my phone? It's really easy. There are several smartphone lens attachments on the market. Most of them literally clip onto the phone adding the extra lens on top of the existing phone lens. When you're done, you simply unclip the lens and put it away.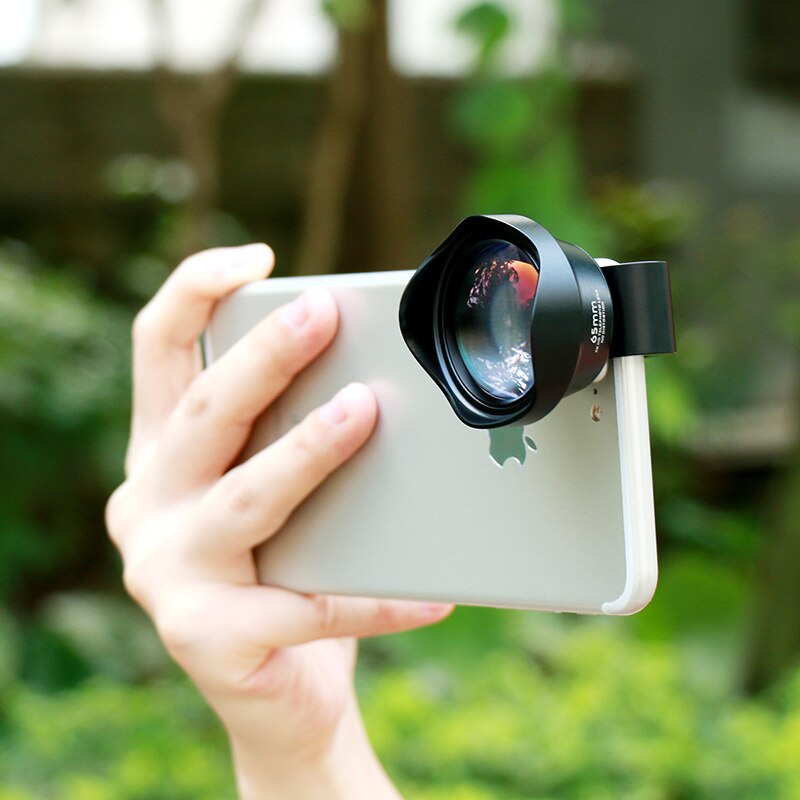 We highly recommend the Xenvo Pro Lens Kit for both the iPhone and Android. Xenvo lenses are compatible with single and dual-camera phone, so you can share them. And the clip is wide enough to clip around without having to remove the phone case.
The Xenvo Pro Lens Kit comes with a 0.45x wide-angle lens, a 15x macro lens (for super close-up shots), the lens clip, a glowclip (additional light to improve the performance of your built-in flash), lanyard, case, cleaning cloth, and lifetime warranty. Even if you're not going to photograph murals soon, this lens kit is a must-have for your next vacation.
Top 20 Central Austin Murals
Armed with the route map, the right equipment, and your curiosity, you're now ready to explore the Top 20 Murals in Central Austin.
Even though all of these murals are close to each other, the whole drive can take about an hour to complete. But you don't have to see all the murals in one drive if your crew isn't up for it. Break up your trip. Do a few in the morning, grab some lunch, and see the rest in the afternoon. It's really up to you.
Also, the murals are listed in sequential order below, so you don't have to start with #1. You can start with #8 or #13 or whatever. As long as you plan on seeing them in sequential order, the map will be there to help you navigate from one to the other.
Have fun!
1. Hi, How Are You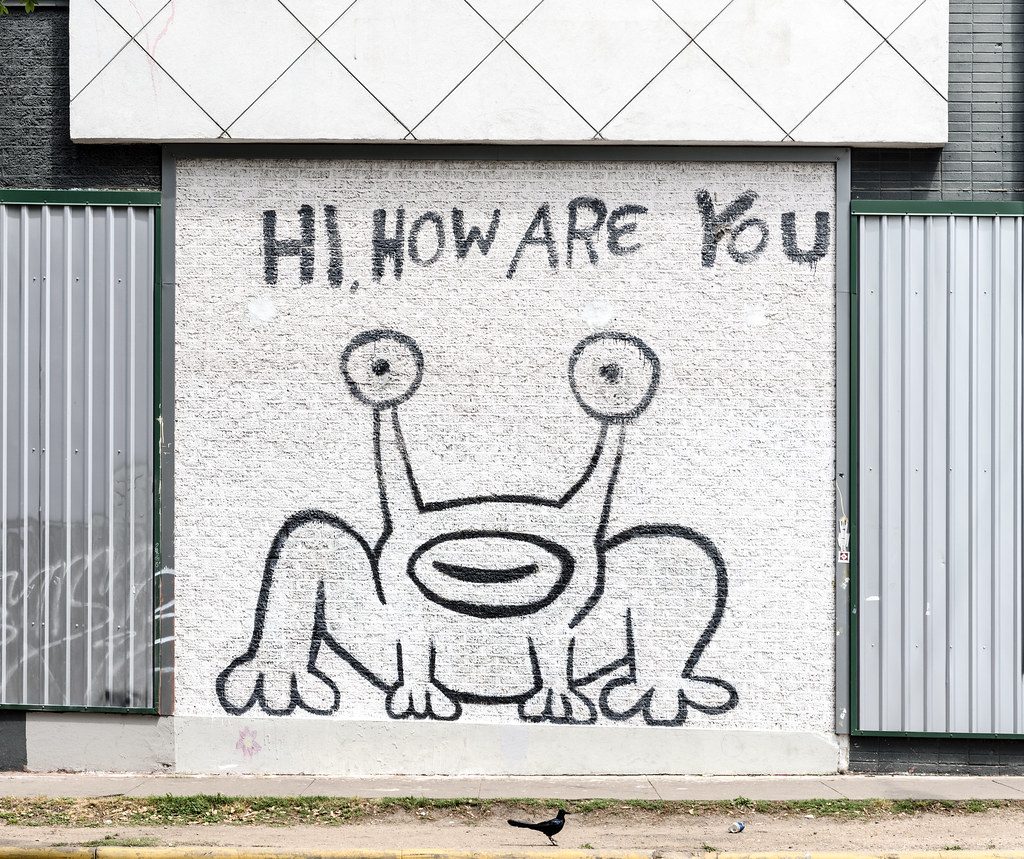 Also called "Jeremiah the Innocent", Hi, How Are You is one of the most popular murals in Austin. The story goes that Daniel Johnston, a local musician, spraypainted the mural on the side of Sound Exchange music store for $100. in 1991, Kurt Cobain wore a t-shirt with the beloved frog while promoting Nirvana's "Nevermind" album. The rest is, as they say, history.
Location: 2100 Guadalupe Street, Austin, Texas (side of Thai, How Are You?)
2. Austintatious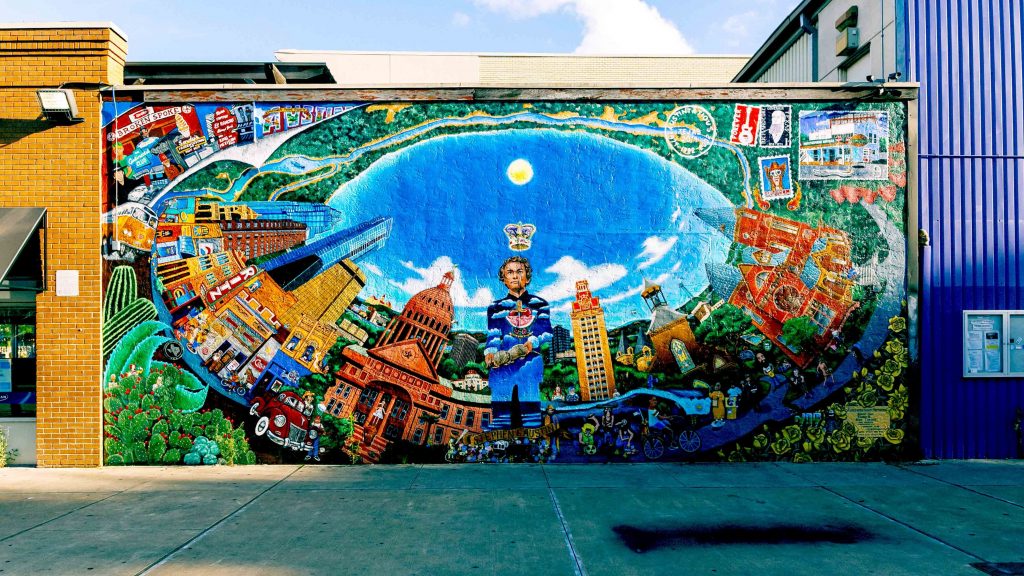 Painted over 45 years ago by Kerry Awn and friends, the mural is a walkthrough of Austin's history and culture. It was vandalized in 2014 but restored by the original artists. You can also check out locally-made art, jewelry, clothing, leather goods, and other stuff at the 23rd Street Artists' Market where the mural is located.
Location: 2266 Guadalupe Street, Austin, Texas (corner of 23rd and Guadalupe)
3. All Across Texas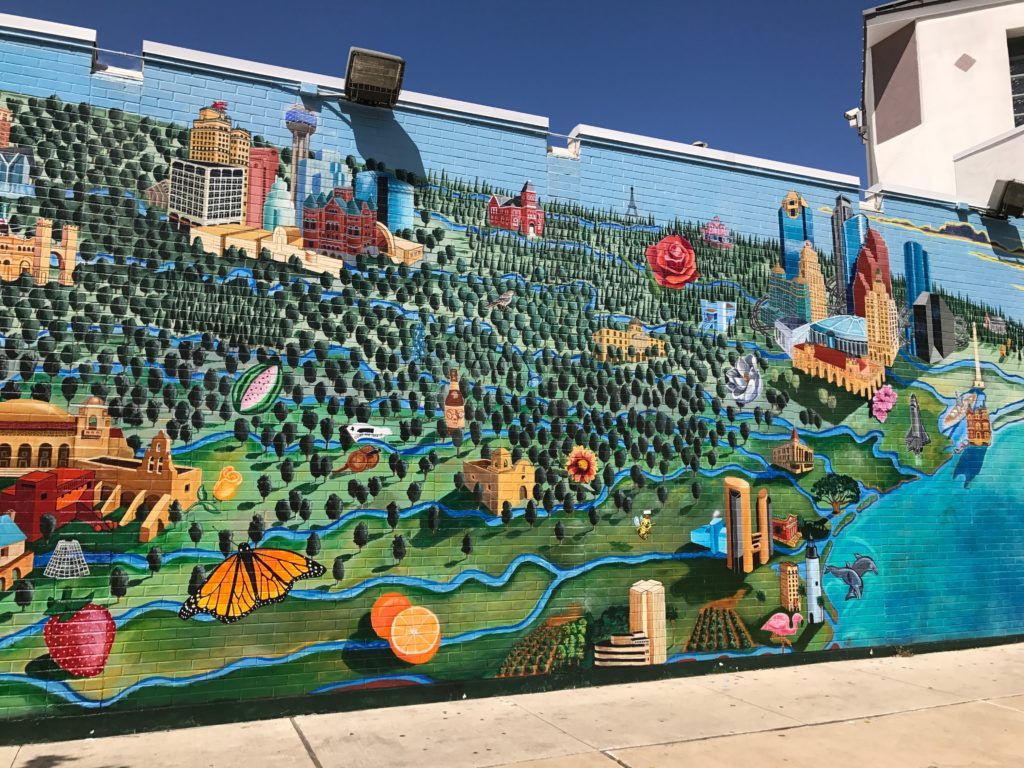 Located across the street from the Austintatious mural, the All Across Texas depicts the map of Texas and the main cities across the state. From Houston to Dallas, they're all displayed here.
Location: 2266 Guadalupe Street, Austin, Texas
4. You're My Butter Half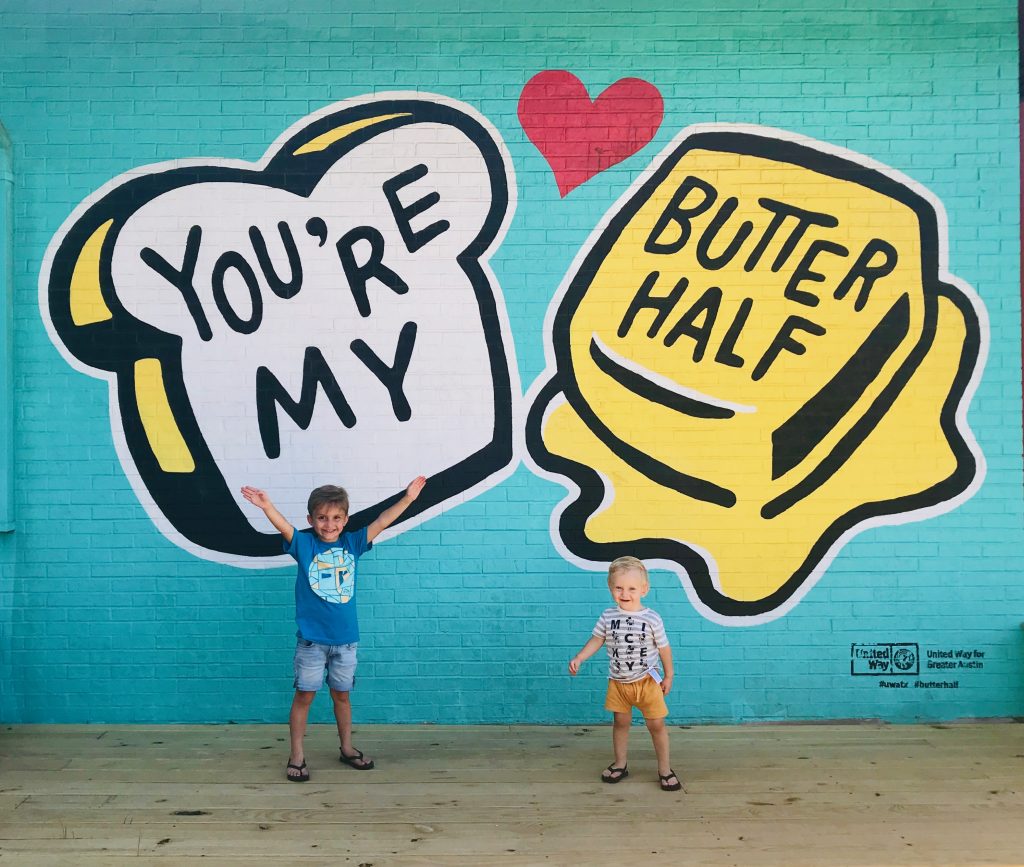 Without a doubt, the You're My Butter Half mural is an Austin favorite. It's so popular that you can see pictures of the mural all over Facebook or Instagram.
Location: East Martin Luther King Jr. Boulevard & Alamo Street, Austin, Texas (next to United Way of Greater Austin)
5. Rhapsody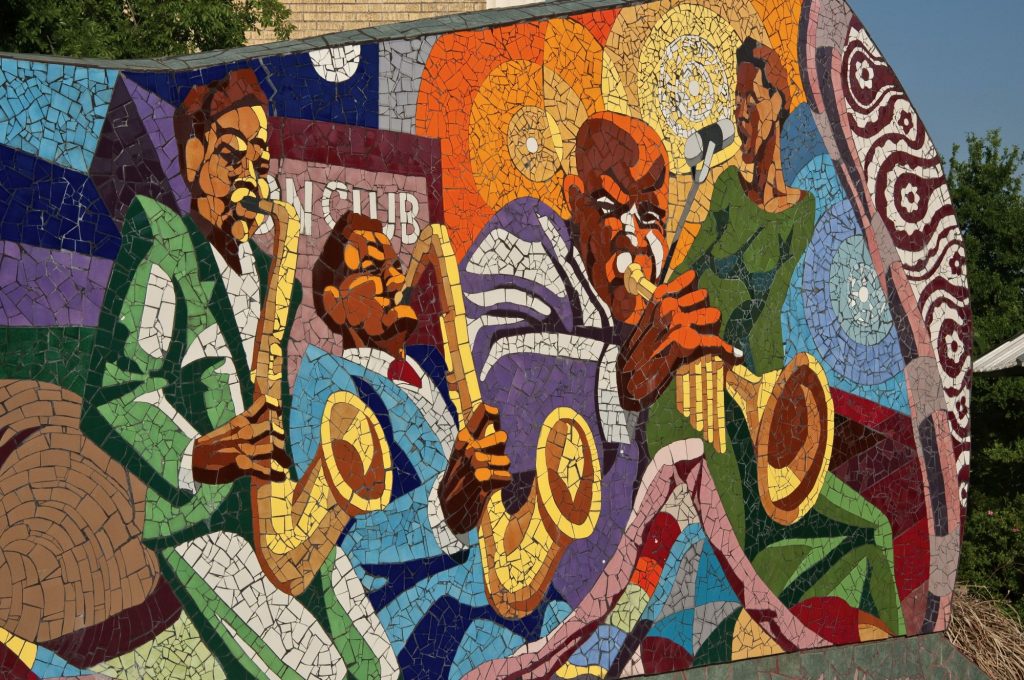 Created by John Yancey, a working artist and teacher at University of Texas, Rhapsody is a tile mosaic mural on Dr. Charles E. Urdy Plaza.
Location: 1021 E 11th Street, Austin, Texas
6. 'Til Death Do Us Part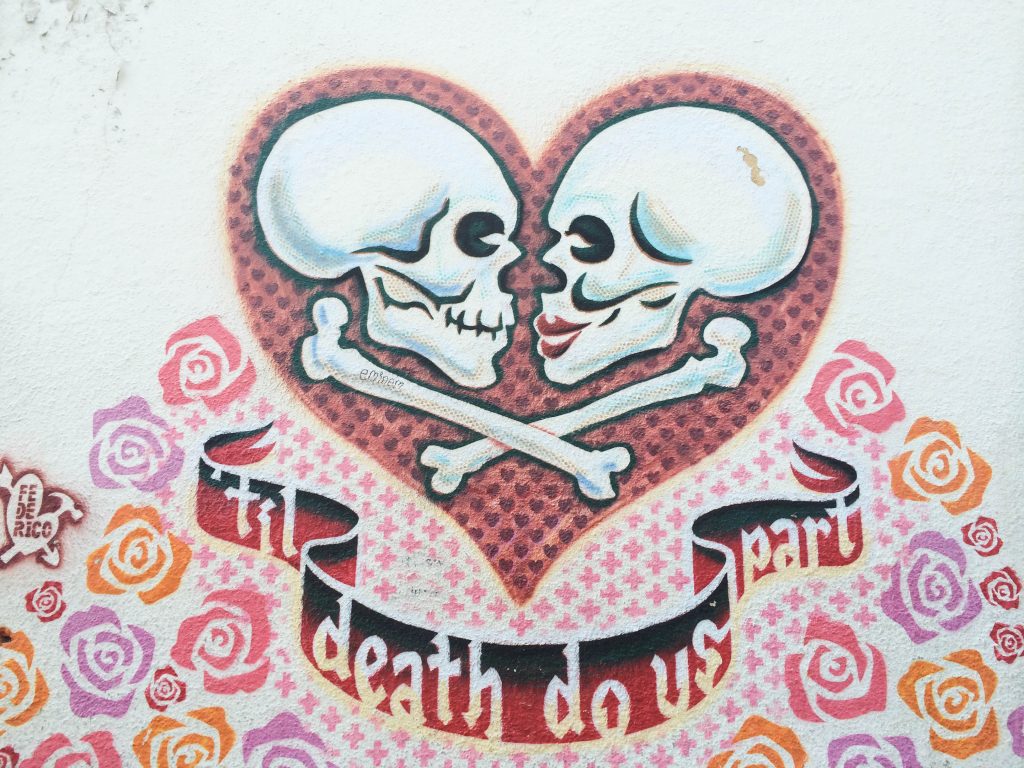 Federico Archuleta (known as El Federico) created 'Til Death Do Us Part using stencils and freehand spray painting. His other murals are displayed all over Austin.
Location: Corner of East 7th Street and Waller
7. How you doin'?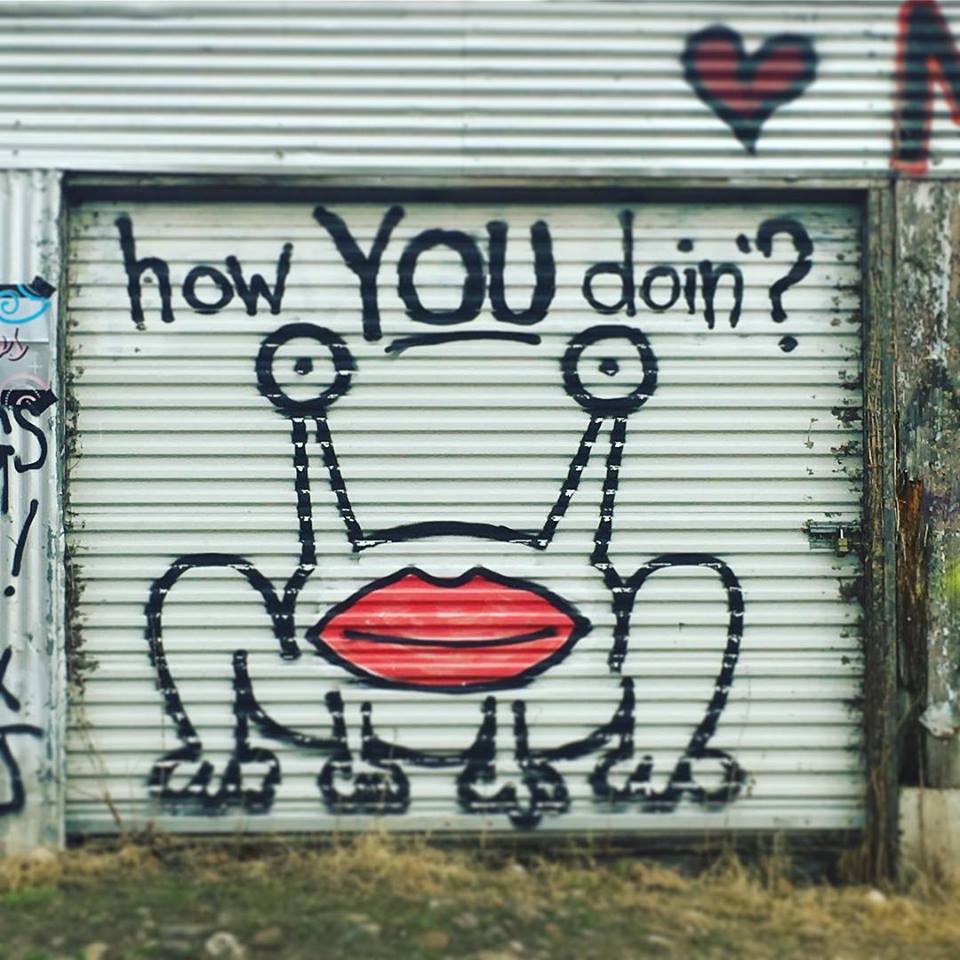 A simple response to the "Hi, How Are You" mural is the "How You Doin'?" street art. It doesn't get more straightforward than that.
Location: 399 Attayac Street, Austin, Texas (corner of E. 4th & Attayac Street)
8. Human-Insect Hybrid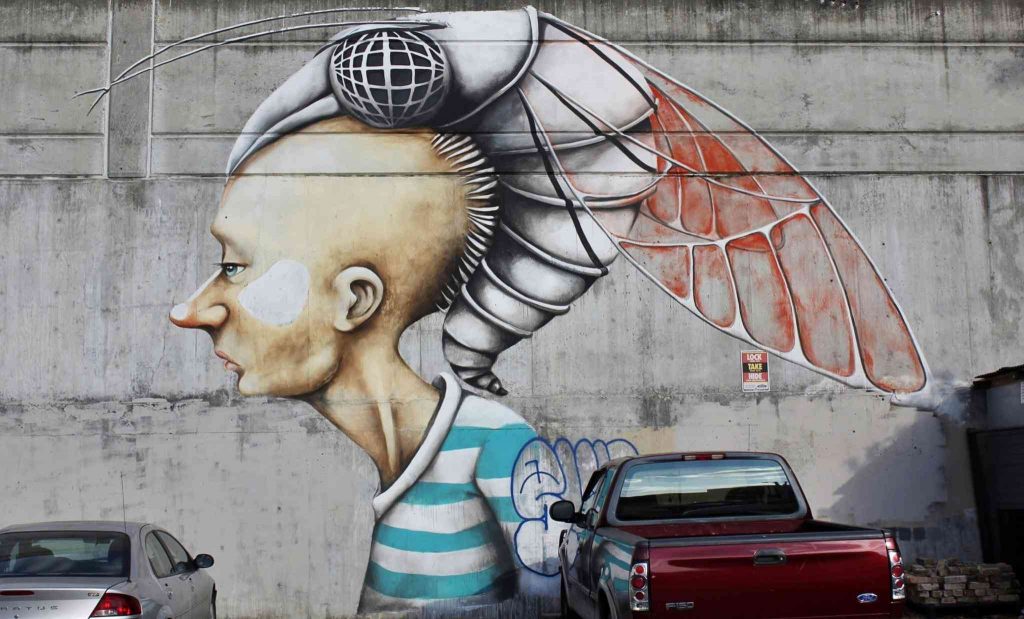 Painted by Ana Maria, the Human-Insect Hybrid was created as part of SXSW in 2015. She depicts human and insect anatomy with precision since she studied animal sciences at University of Puerto.
Location: 1209 Red River Street, Austin, Texas (behind Brick Oven Restaurant)
9. Spaceman with Floating Pizza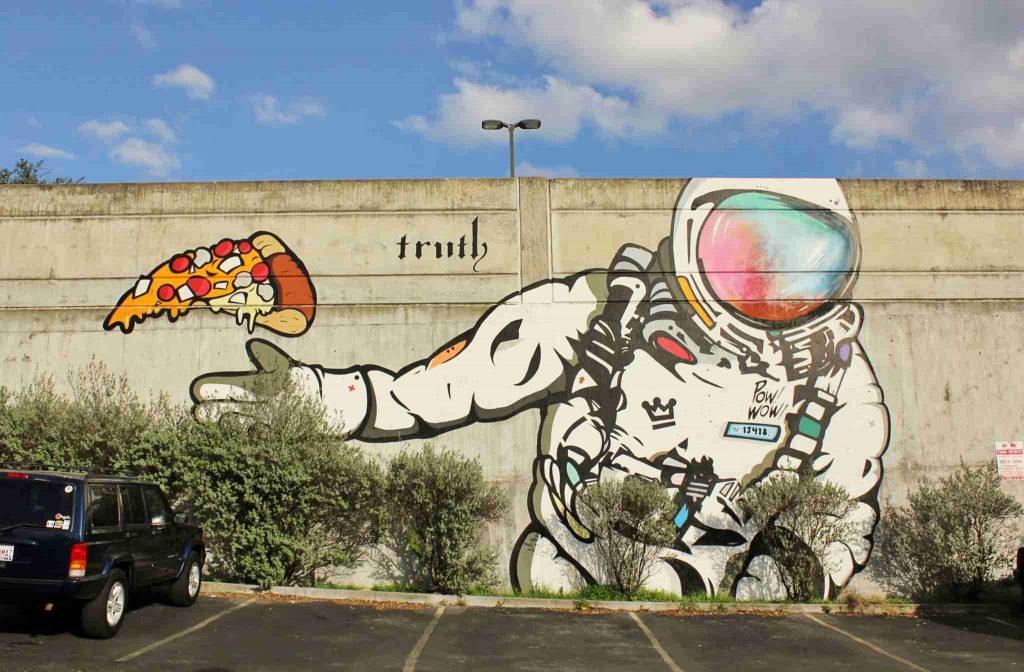 Mike "Truth" Johnston painted the Spaceman with Floating Pizza and other street art and commissioned works. His work can be seen on other murals around Austin, as well as Google Fiber vans.
Location: 1209 Red River Street, Austin, Texas (behind Brick Oven Restaurant)
10. Houston Toads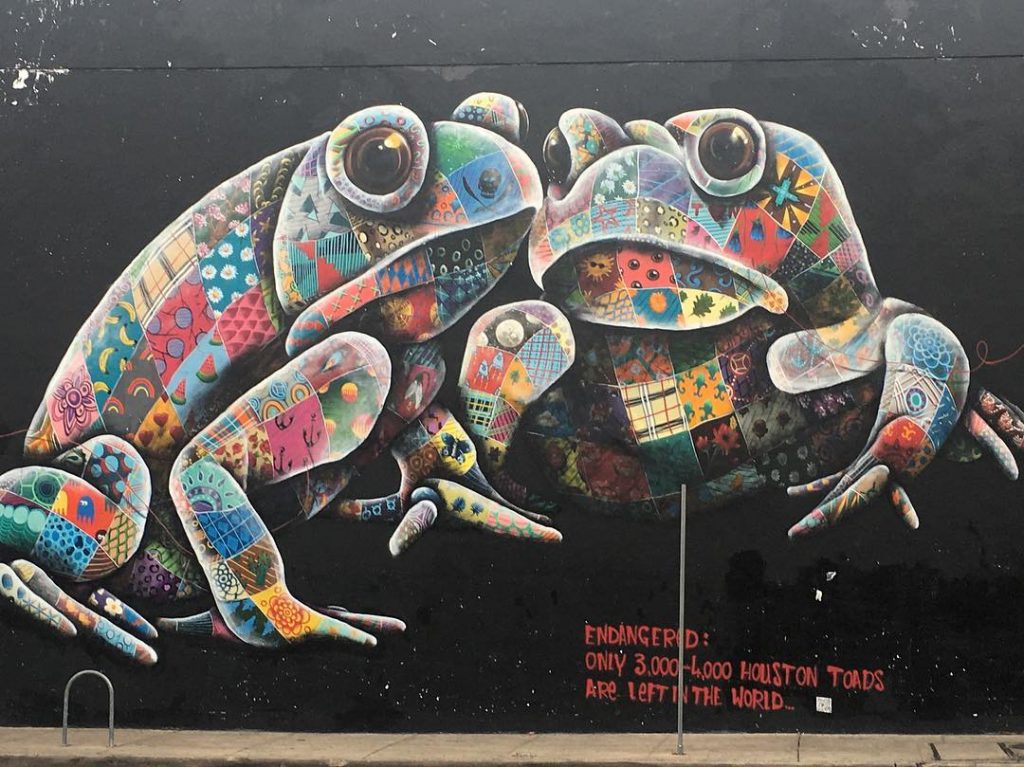 British artist Louis Masai painted the Houston Toads in 2016 in an effort to tackle species extinction through art. Masai painted the murals of wildlife as part of The Art of Beeing tour in partnership with Austin-based Global Wildlife Conservation and World Class Capital Group.
Location: 222 East 6th Street, Austin, Texas (across the street from 607 San Jacinto Boulevard)
11. Historic 6th Street District Mural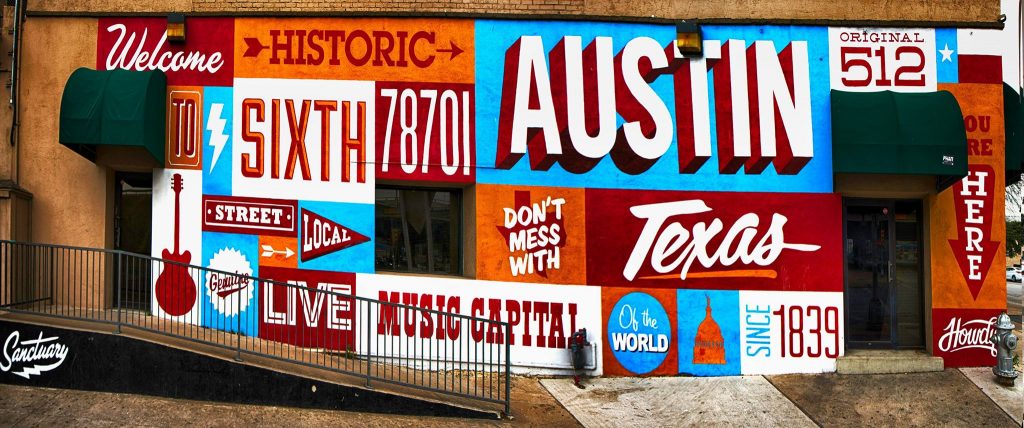 In 2012, the staff at Sanctuary Printshop paid for and painted the mural at the invitation of the Downtown Austin Alliance and the Austin City Visitors Bureau. The mural celebrates Austin's moniker as the "Live Music Capital of the World". Be careful crossing the street to photograph the mural. It's located on a very busy intersection.
Location: 6th Street and I-35, Austin, Texas
12. I Love You So Much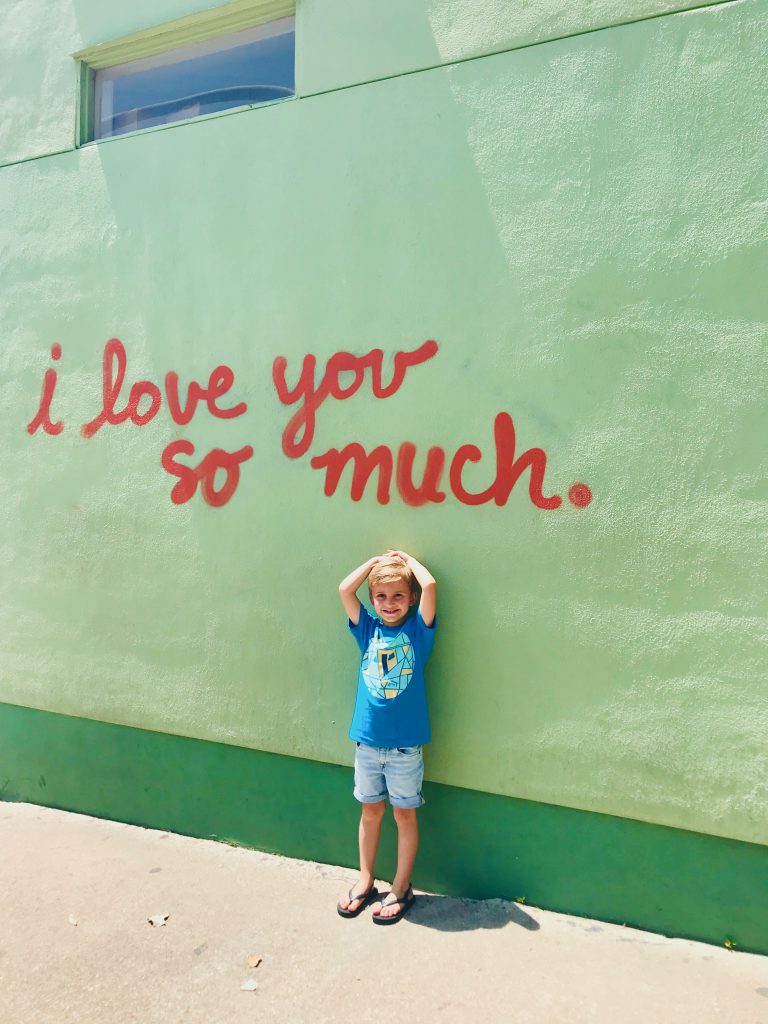 This one has got to be one of the most well-known murals in Austin. Painted by musician Amy Cook on the sidewall of Jo's Coffee, it's simple and brilliant.
Location: 1300 South Congress Avenue, Austin, Texas
13. Give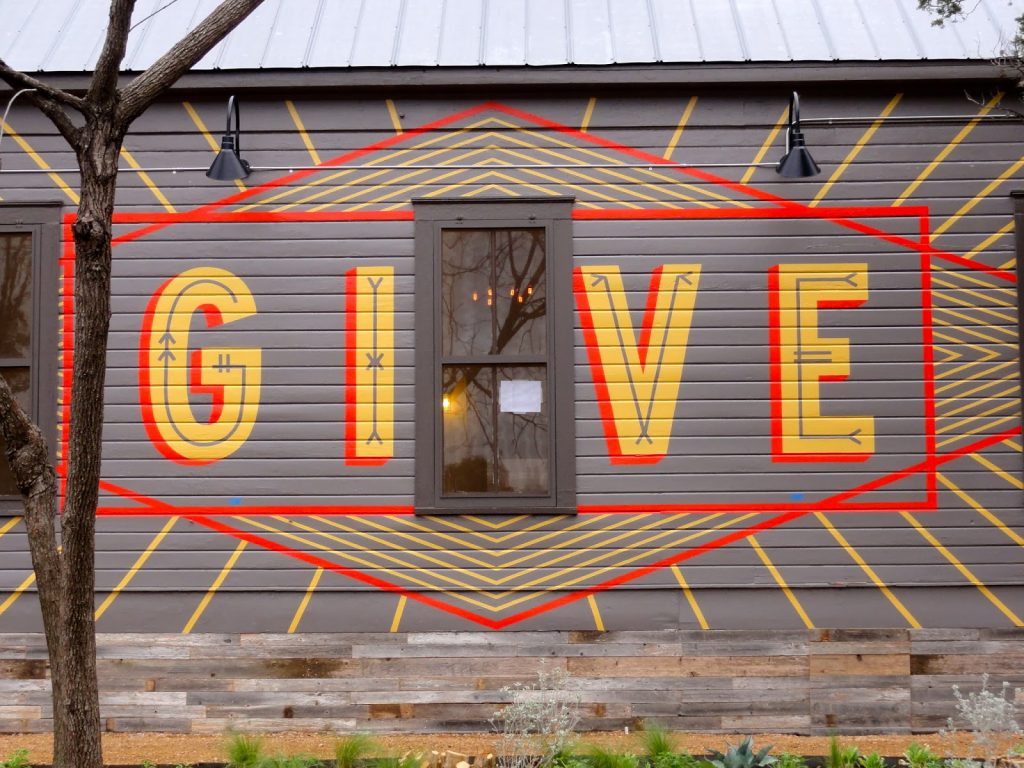 Painted by Austin artist Joe Swecon on the wall of the Toms store on South Congress, the Give mural illustrates the company's promise to give with every product purchased.
Location: 1401 South Congress Avenue, Austin, Texas (Toms Store)
14. Smile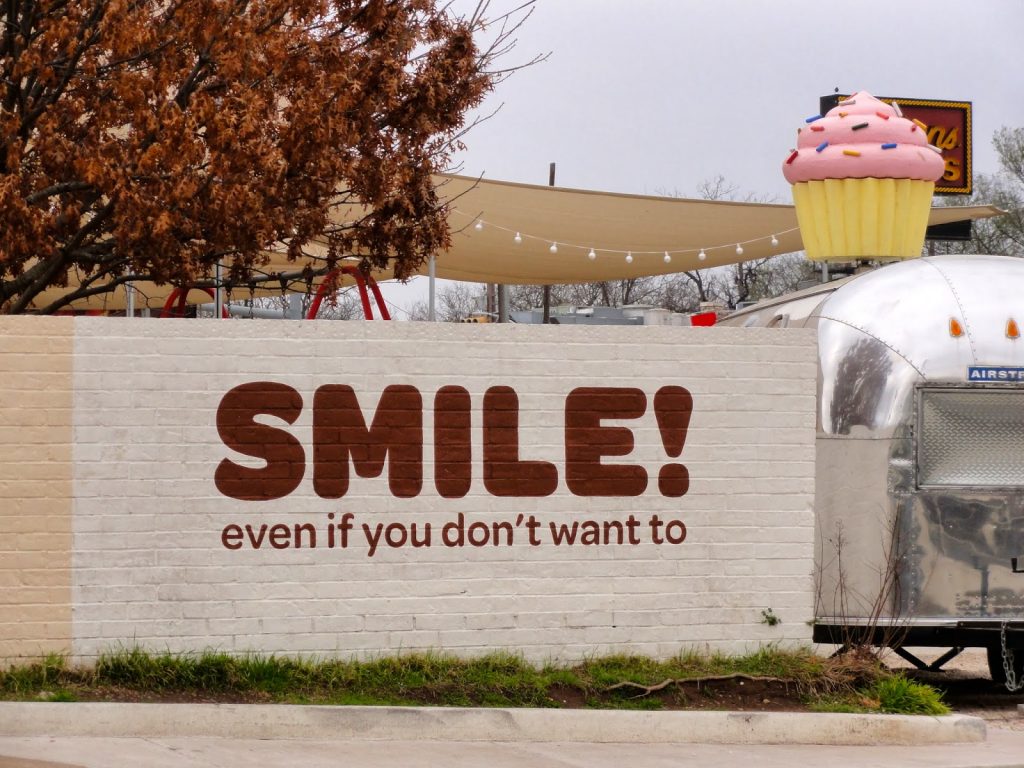 Grab a dessert at the Hey Cupcake! Airstream and be reminded to smile the next time you're in Austin.
Location: South Congress Avenue & Elizabeth Street, Austin, Texas (Hey Cupcake!)
15. Love from Austin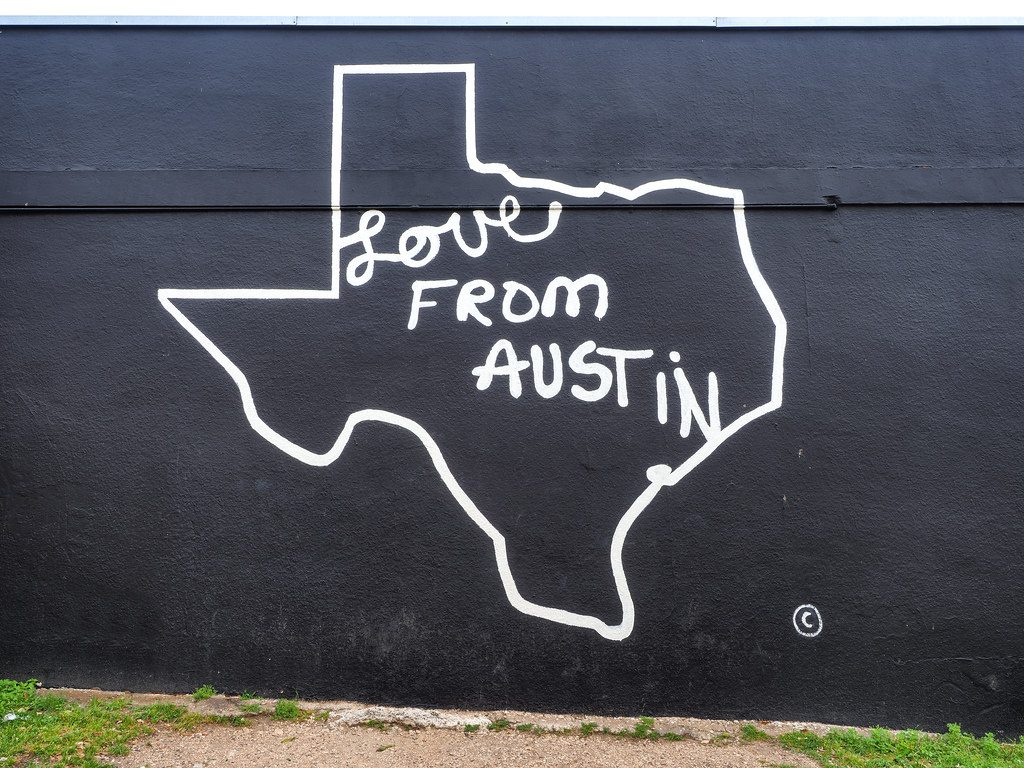 So much love in this mural. It makes a great postcard from the city.
Locations: 925 South Congress Avenue, Austin, Texas (Prima Dora)
16. Greetings from Austin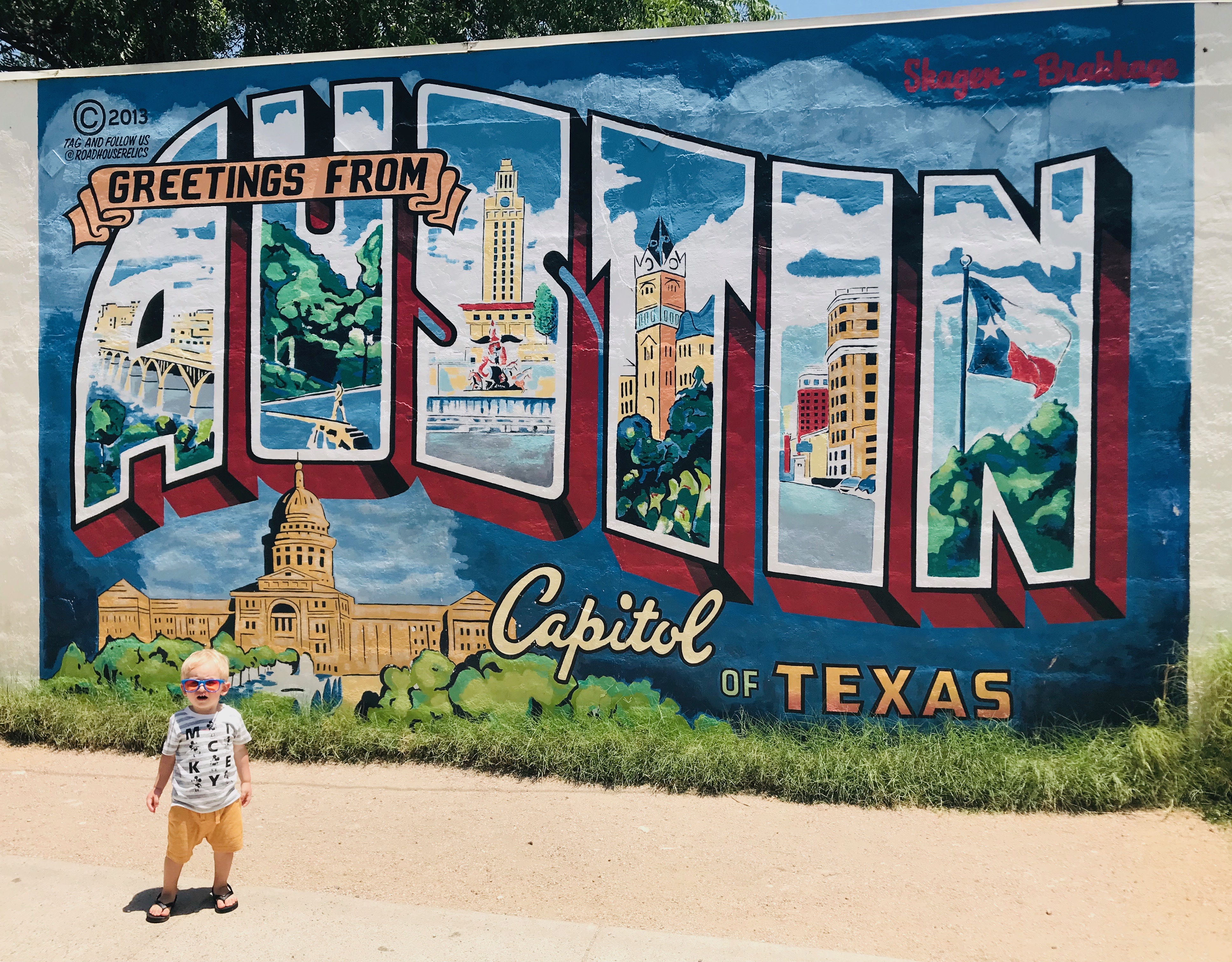 Now, this is Austin's most popular mural. Greetings from Austin is a supersized re-creation of an iconic postcard. It was painted by Todd Sanders and Rory Skagen outside of Roadhouse Relics (owned by Sanders). This is one of those murals that you'll need to stand on the street to photograph, so be careful.
Location: 1720 South 1st Street, Austin, Texas
17. You Make My Heart Sing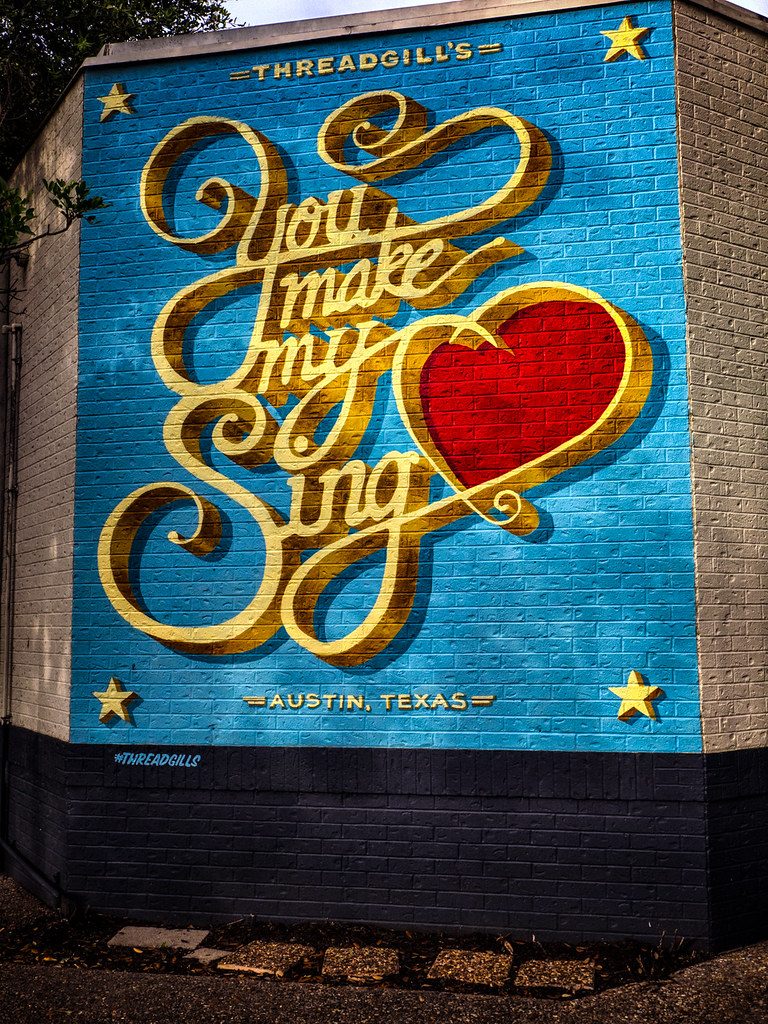 Adorning the entrance of the restaurant, this mural pays homage to Threadgill's history as an iconic music venue and a major contributor in keeping Austin weird.
Location: 301 West Riverside Drive, Austin, Texas (at Threadgill's)
18. Austin Howdy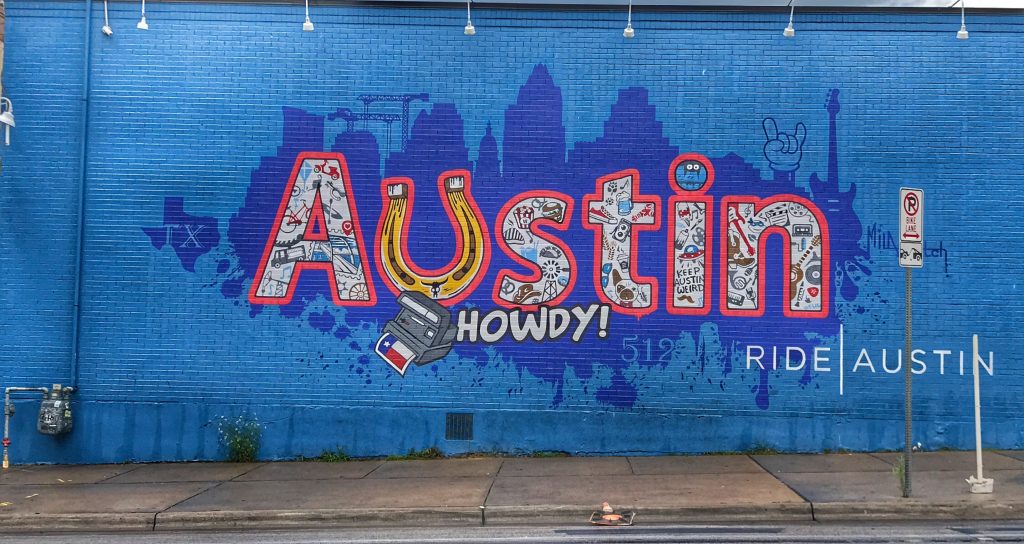 This mural was the winner of a 2016 contest hosted by RideAustin in 2016 to promote bikesharing in the city. Like other Austin murals, the letters are "colored in" with iconic Austin images. To capture the Howdy Austin mural, you'll have to cross a busy street. As always, be careful!
Location: 601 West 6th Street, Austin, Texas
19. Musical Icons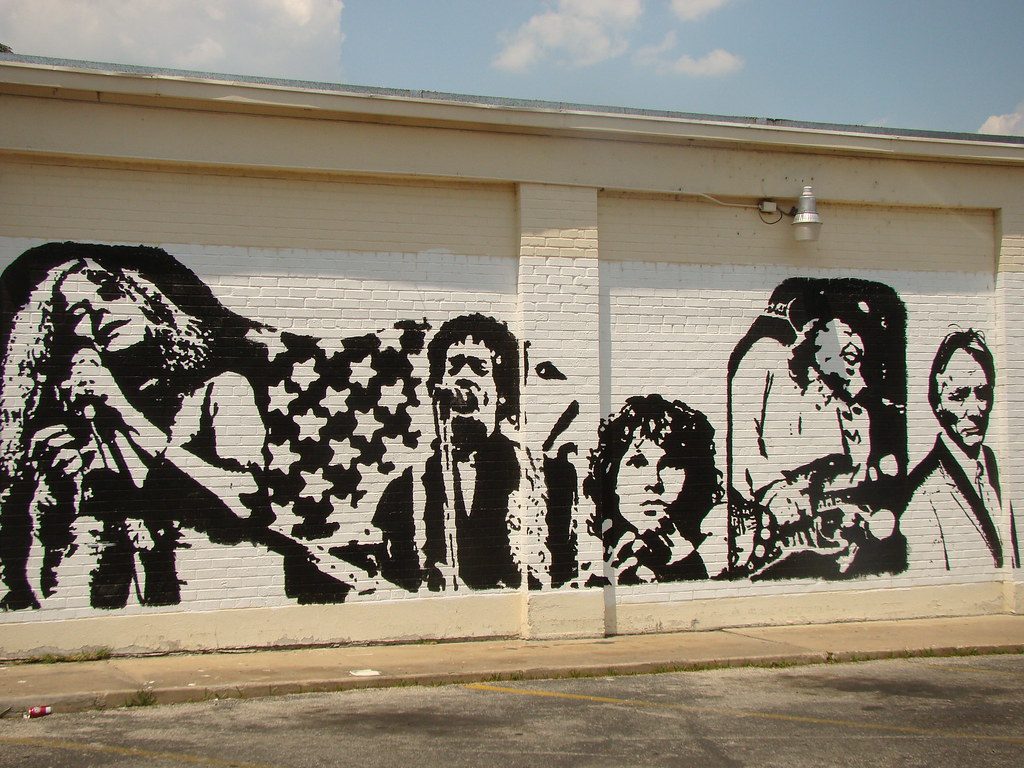 The mural featuring Jim Morrison, Jimi Hendrix, Janis Joplin, and others was originally on the side of Cheapo Records. Now, it adorns the side of GW Boutique, Austin's fancy Goodwill store. When you get there, head toward the back of the parking lot.
Location: 914 North Lamar Boulevard, Austin, Texas
20. Love is the Question, Love is the Answer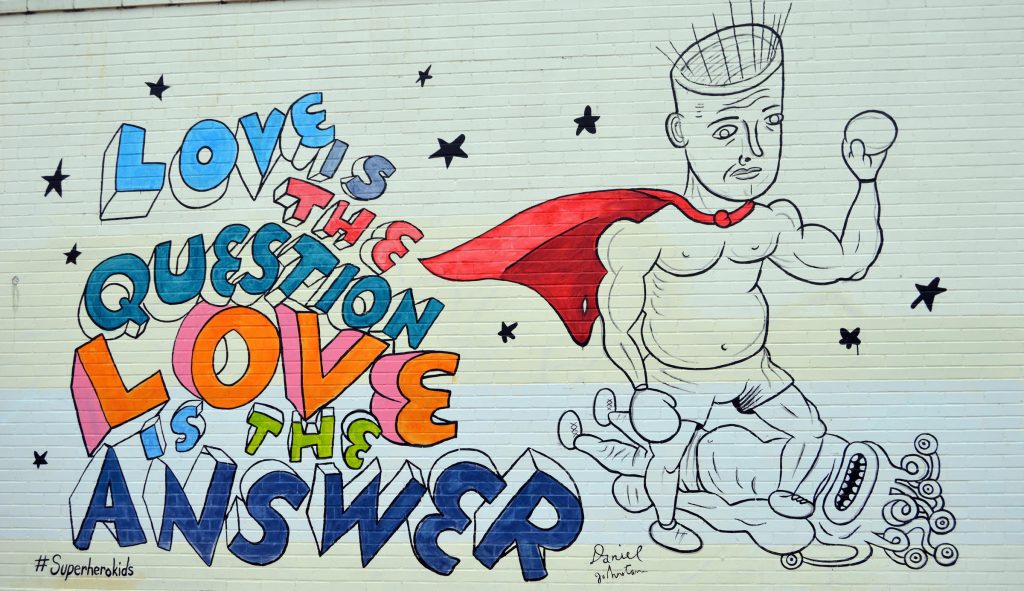 We started with a mural painted by Daniel Johnston and will end with the latest from the musician and muralist. The superhero-themed artwork is part of a campaign to raise money for Superhero Kids, an organization that provides financial support for families of kids at Dell Children's Blood and Cancer Center.
Location: 1115 West Lynn Street, Austin, Texas
21. BONUS: Bunnies with Veggies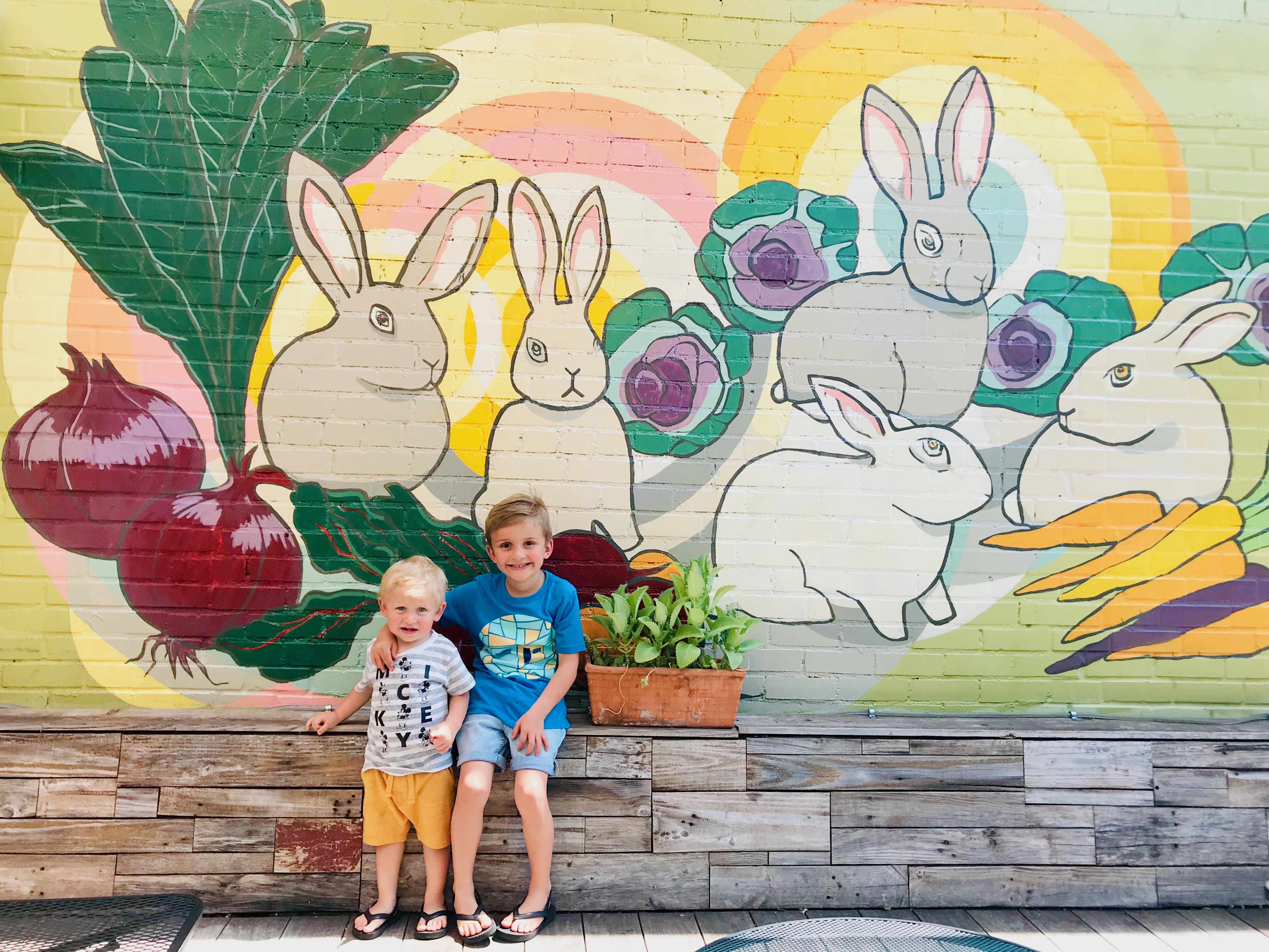 Although technically not one of Austin's most popular murals, Bunnies with Veggies is colorful and fun, especially for kids. It's located behind the Bouldin Creek Cafe. We recommend starting (like we did), ending, or taking a break from your "scavenger hunt" at Bouldin Creek Cafe for a taste of Austin weird and amazingly yummy breakfast, brunch, or lunch
How to Load the Route Map
First, open the Austin Murals Route Map in Google Maps on your computer or cellphone (best). If you opened the map on your computer, you can send the map to your phone by clicking the "Send directions to your phone" button in Google Maps. Pretty simple, huh?
---
Tell us about your experience in the comments below. Have you been to Austin? Did you see the murals? Are there any others you would add to this list?