Since it came out in 2016, the Chase Sapphire Reserve has been one of my go-to cards. It has a ton of really awesome, useful perks, and I was lucky enough to be one of the first people in the country to sign up for the card. So I actually got 100,000 bonus points right off the bat (that was the sign-up offer at the time).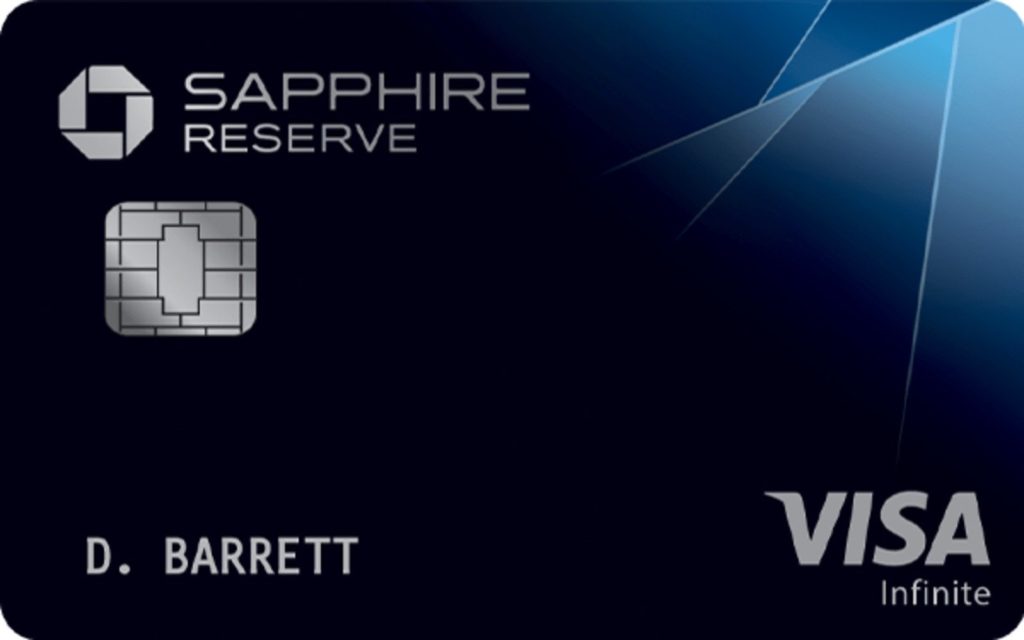 Most online reviews describe the Sapphire Reserve as an "advanced" card, meaning that it's not the best card to get when you're starting a points and miles strategy. While it comes with a hefty annual fee of $450 (that is easily offset by the card's $300 travel credit and other perks by the way), I disagree that it's for the advanced user. If you already have excellent credit (required for this card) and can get passed the annual fee (keep reading and you will), the Chase Sapphire Reserve is the card to have.
50,000 (+15,000 = 65,000) Points Sign-up Bonus
Currently, Chase Sapphire Reserve offers 50,000 Chase Ultimate Rewards points as a sign-up bonus. If you were lucky like us, you got 100,000 bonus points at sign-up when the card first came out. But those days are behind us (for now). Still, 50,000 Ultimate Rewards points are worth quite a bit of travel for your family.
As with the Chase Sapphire Preferred and other Chase cards, Chase Sapphire Reserve cardholders can redeem Chase Ultimate Reward points directly on the Chase Ultimate Rewards travel portal for a fixed value of 1.5 cents per points (that's $750 for the 50,000 points). That's an additional 0.25 cents/point in redemption value over the Sapphire Preferred. However, you can get more if you choose to transfer Ultimate Rewards points to one of Chase's 13 travel partners and maximize the dollar value to $1,000.
But there's a little more redemption value in the Chase Sapphire Reserve that's not very obvious at first. The card gives you $300 in travel credit every year, and it's available for the calendar year as soon as you activate your card. The credit works seamlessly. Just make purchases in the travel category (see generous categorizations below), and the travel credits appear on your card statements (up to $300/year). At a valuation of 2 cents/point, the $300 travel credit is the equivalent of an additional 15,000 sign-up bonus. Effectively, the Chase Sapphire Reserve really has a 65,000-point sign-up bonus for a total dollar value of $1,300.
Earning Points
The Chase Sapphire Reserve is definitely an upgrade over its older sibling the Chase Sapphire Preferred because you'll earn 3x points (instead of 2x) on travel and dining purchases anywhere in the world (excluding the $300 travel credit) and 1x points for all other purchases. And just as with the Sapphire Preferred, Chase categorizes a lot more than just travel as "travel". For example:
Ride-share services (Uber and Lyft)
Home-share services (Airbnb and HomeAway)
Rental cars
Street parking
Tolls
Airport parking
Food delivery services
As a result, depending on how much your family spends on travel and dining per year, the additional point per dollar the Chase Sapphire Reserve offers over the Sapphire Preferred on travel and dining purchases will earn you from a one-way ticket from Boston to Dublin, Ireland (12,000 additional points by spending an average of $1,000/month) to a one-way ticket to Hawaii from the West Coast (24,000 additional points by spending an average of $2,000/month). Because of the additional bonus point, the Chase Sapphire Reserve earns you another $240-$480/year in points value or a lot more depending on how much you spend in travel and dining.
Redeeming Points
As mentioned before, you can redeem points directly on Chase Ultimate Rewards travel portal for a fixed value of 1.5 cents per dollar or transfer your points to one of Chase's 13 travel partners and take advantage manage your redemption value a little closer.
Transfer points redemption include, for example:
26,000 points to British Airways Avios for a round-trip award flight from Boston to Dublin, Ireland, on Aer Lingus
25,000 points to British Airways Avios to fly to Hawaii on American Airlines or Alaska Airlines from the West Coast
And many other points and redemption combinations
Currently, Chase's travel partner are the following:
Airline/Hotel Partner
Estimated Transfer Time
Transfer Ratio
(Chase > Partner)
Aer Lingus
Instant
1:1
British Airways
Instant
1:1
Flying Blue (loyalty program of Air France & KLM)
Instant
1:1
Iberia
Instant
1:1
JetBlue
Instant
1:1
Singapore Airlines
1-2 days
1:1
Southwest
Instant
1:1
United Airlines
Instant
1:1
Virgin Atlantic
Instant
1:1
Hyatt
Instant
1:1
IHG
1-2 days
1:1
Marriott
1-2 days
1:1
Ritz-Carlton
Instant
1:1
Other Perks
$300 Annual Travel Credit
This perk is massive. And it's simple and easy. You just purchase anything travel, and the credit appears on the statement automatically. Also, it renews every new calendar year. Consequently, the $300 travel credit alone offsets the Sapphire Reserve's steep annual fee of $450, effectively bringing this fee down to a manageable $150/year. And there's another benefit that will completely obliterate the remaining annual fee…
Priority Pass (VIP) Lounge Access
The Chase Sapphire Reserve includes a membership to Priority Pass which gives you and your family access to more than 1,200 airport lounges across the world. This is a must have if you're traveling with children because it'll give you more comfortable and peace of mind. We have literally used Priority Pass lounges countless times in our family vacations. Without the pass, admission to Priority Pass airport lounges is $32/person. Needless to say, we've used it so extensively that I'm pretty sure we've made our money back at least 10x.
The complimentary Priority Pass membership allows access to the cardholder plus 2 guests (that's 3 people total). So if your family has more than 3 people (or you just want to be on the safe side), you can simply order another Sapphire Reserve card for an authorized user (your spouse, for example), and the authorized user will receive their own Priority Pass membership! Each authorized user will cost $75/year, but you'll admit 6 people into the lounges instead.
Since some lounges consider children below certain ages free (anywhere between 2-5 years old), we've use our passes to admit family and friends traveling with us and their kids. For example, we used our passes at Québec City Jean Lesage International Airport for 8 of us to get in to Salon VIP Lounge and enjoy food and drinks. That's 5 more people than if we only had one card.
Application Fee Credit for TSA PreCheck or Global Entry
Another huge gamechanger for our family, the Chase Sapphire Reserve reimburses you when you charge the TSA PreCheck or Global Entry (which includes TSA Pre) application fee to the card. Having Global Entry for everyone in our family has drastically improved our logistics at airports because we don't have to wait in longer lines, take our shoes off through security, empty our bags, etc. Not to mention that Global Entry streamlines our entry back into the US when we travel internationally.
And if you already have TSA Pre or Global Entry, you can use the benefit to enroll another family member (or even a friend) into either of these programs because the reimbursement renews every four years
Other perks offered by the Sapphire Reserve are similar to the ones offered by the Sapphire Preferred:
No Foreign Transaction Fees
Trip Cancellation/Interruption Insurance (up to $10,000/person and $20,000/trip)
Rental Car Collision Damage Waiver (up to $75,000 for theft and collision damage)
Baggage Delay Insurance (up to $3,000/passenger; up from $500/passenger with the Preferred)
Trip Delay Reimbursement
Purchase Protection (up to $10,000/claim and $50,000/year; up from $500/claim with the Preferred)
Extended Warranty Protection
In addition, the Sapphire Reserve also offers (which the Sapphire Preferred does not):
Emergency Evacuation & Transportation
If you or a member of your immediate family are injured or become sick during a trip far from home that results in an emergency evacuation, you can be covered for medical services and transportation up to $100,000.
Return Protection
You can be reimbursed for eligible items that the store won't take back within 90 days of purchase, up to $500 per item, $1,000 per year.
---
Who is the Chase Sapphire Reserve for?
Overall, there's no doubt the Chase Sapphire Reserve is one of the best cards in the market. Don't let the $450 annual fee scare you. Not only it's offset by travel credits and points, but the Sapphire Reserve has many benefits that make life on the road with the family a lot easier. If you already have excellent credit and are comfortable paying off your credit card balance every month, the Chase Sapphire Reserve is the perfect card:
Great sign-up bonus (50,000 points)
$300 of travel credit is the most generous and broad travel credit for any credit card on the market
Priority Pass membership and Global Entry/TSA PreCheck are gamechangers for family with children
Gives access to Chase Ultimate Rewards travel partners
Other perks like Trip Cancellation Insurance, Bag Delay Insurance, Trip Delay Insurance, and Emergency Evacuation could potentially save you $100,000s on your next vacation