Note: This post contains affiliate links. This means we may make a small commission if you make a purchase. This doesn't cost you any more, but it does help us to continue publishing helpful content. Thank you for your support!
When Carlos' parents (and brother) planned a 3-week trip to Southeast Asia and invited us along, we jumped at the opportunity. We were giddy with excitement but also were somewhat frightened. It's not that we thought Hong Kong was scary. But having never been to Asia before, we weren't sure what to expect, especially since we planned on traveling to Hong Kong with kids (Lucas was 20 months old).
We knew we'd love the food, but we weren't sure how we'd communicate or how crowded the cities would be. All of our doubts and fears resolved after we spent a few days in Hong Kong, the perfect Southeast Asian city to travel with kids.
For the next 3 weeks, we traveled through most major Southeast Asian countries, from Hong Kong to Singapore and many places in between.
Hong Kong — A British Enclave in Southeast China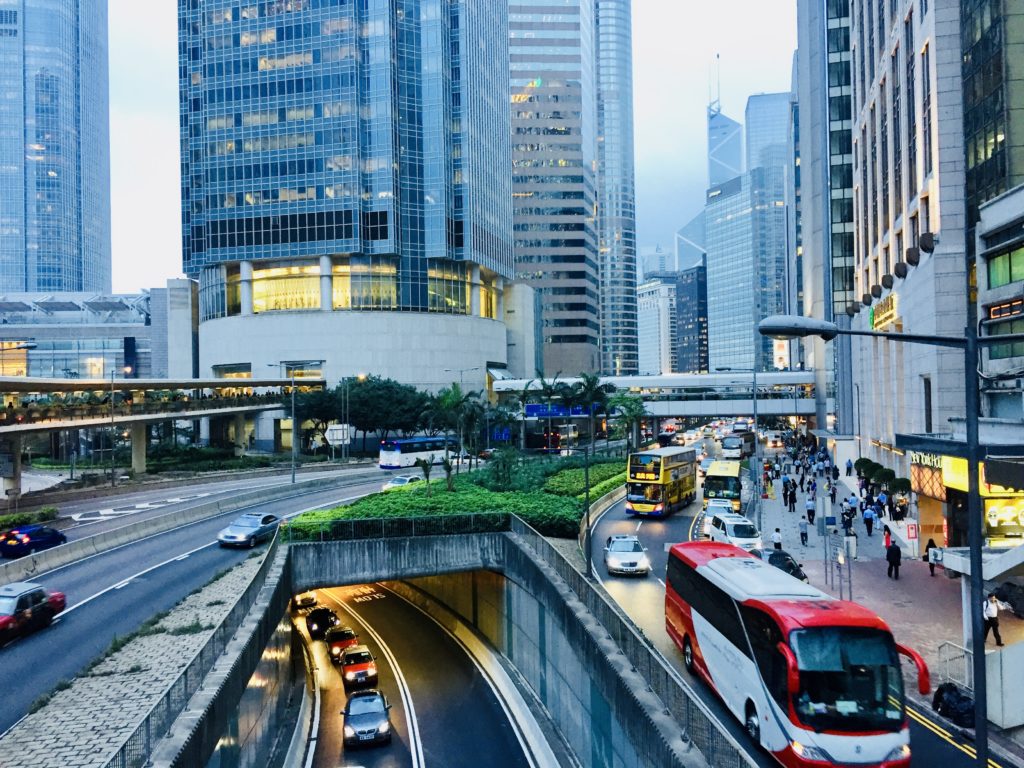 Undisputedly, Hong Kong is one of the most important cities in the world as a significant financial center and commercial port. Besides being an economic powerhouse, Hong Kong ranks at the top of most tourist's bucket list when the topic is Southeast Asian destinations. Hong Kong is, without a doubt, one of the easiest and most vibrant cities in the whole world to visit on a family vacation with kids.
After the First Opium War, China ceded Hong Kong to the British Empire. As the city grew, it expanded from Hong Kong Island to the Kowloon Peninsula (north of Hong Kong) in 1860 after the Second Opium War.
It further expanded into the New Territories in 1898 when Britain obtained a 99-year lease of the land. Hong Kong returned to China in 1997 as a special administrative region. Today, even though it's technically part of China, its people overwhelmingly identify as Hongkongers instead of Chinese.
Things to Do in Hong Kong
As one of the largest cities in the world, there's no shortage of things to do in Hong Kong. These are a few things we could squeeze in in the 3 days we were in Hong Kong.
1. Star Ferry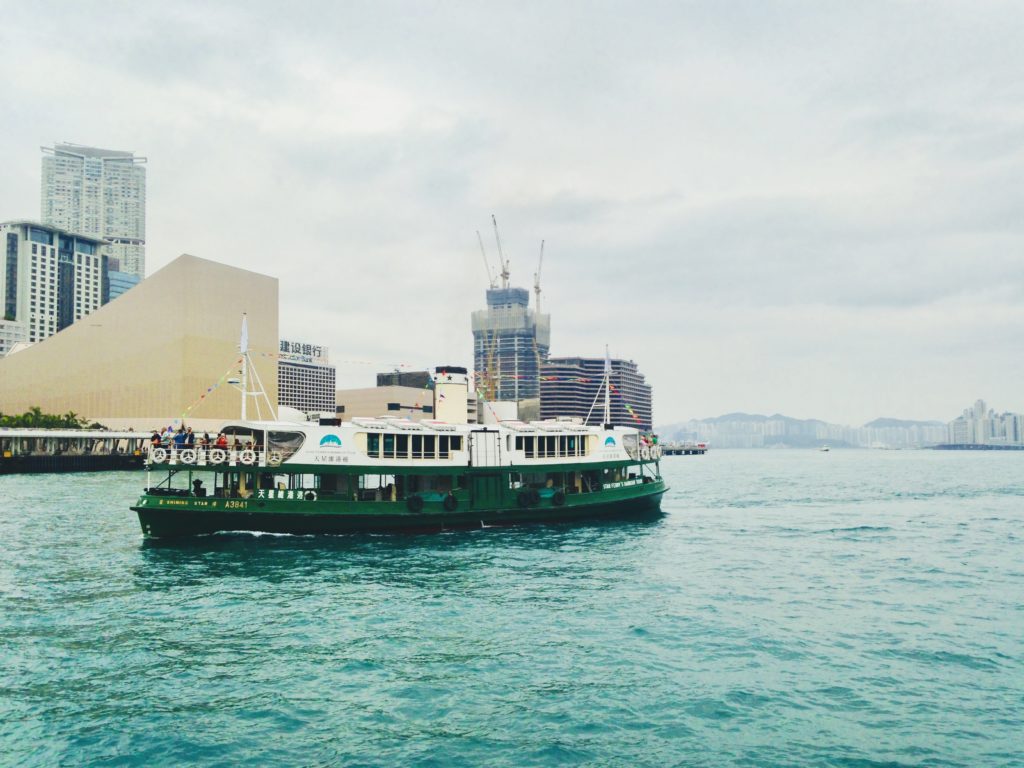 Hong Kong has a long nautical history as one of the first ports in Southeast Asia to establish trade routes with the Western world. And it's still one of the busiest ports in the world today. Going on a boat tour of Victoria Harbour with your kids is a nice way to get acquainted with Hong Kong.
The Star Ferry is a boat that journeys to and from Kowloon to Central or Wan Chai. The journey takes just 6-12 minutes depending on the time of day (you can also reach Hong Kong Disneyland Resort once per day).
It may be a great alternative to the MTR, especially if you're staying close to the ferry terminal. And it only costs HKD 2.20 per adult. For an evening light show, book your Ferry ride at night.
Pro Tip: Sit on the upper deck for unobstructed views and to avoid inhaling coal fumes on the lower level. It costs a few extra cents (HKD 2.70 per adult), but it's worthwhile.
2. Hong Kong Junk Boat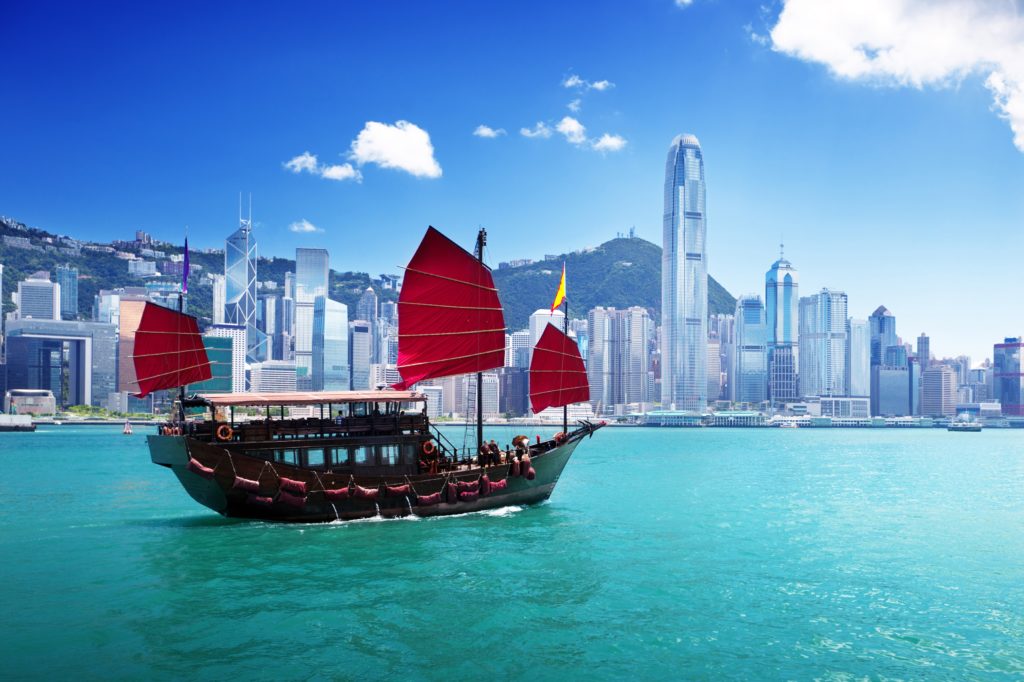 Junk Boat? No, I'm not suggesting you ride in a boat full of trash. Junk Boats are the red-sailed boats often used to promote Southeast Asian tourist destinations. They were the traditional boats used by Chinese fishermen for centuries before the British and the French arrived. The junks are painstakingly restored and available for short cruises during the week or even for private rental.
There are a few companies operating junk boats. Duk Ling is Hong Kong's oldest surviving sailing junk, having been built in 1955. The Duk Link experience has a more traditional feel. The ride comes with a complimentary glass of beer, wine, or soft drinks.
Aqua Luna, on the other hand, has a new ship, so the experience is a little bit more contemporary with more comfortable seating, cocktails, and food for purchase. Both companies offer afternoon and evening cruises, including ones that coincide with the Symphony of Lights. Aqua Luna also runs on a hop-on, hop-off basis between noon and 5 pm to four points in Hong Kong.
If your time and budget allow, you can rent the entire junk boat for a day or the weekend. Spend the day on the harbor with complimentary drinks as a part of the boat rental or sail into the South China Sea to explore nearby islands.
3. Victoria Peak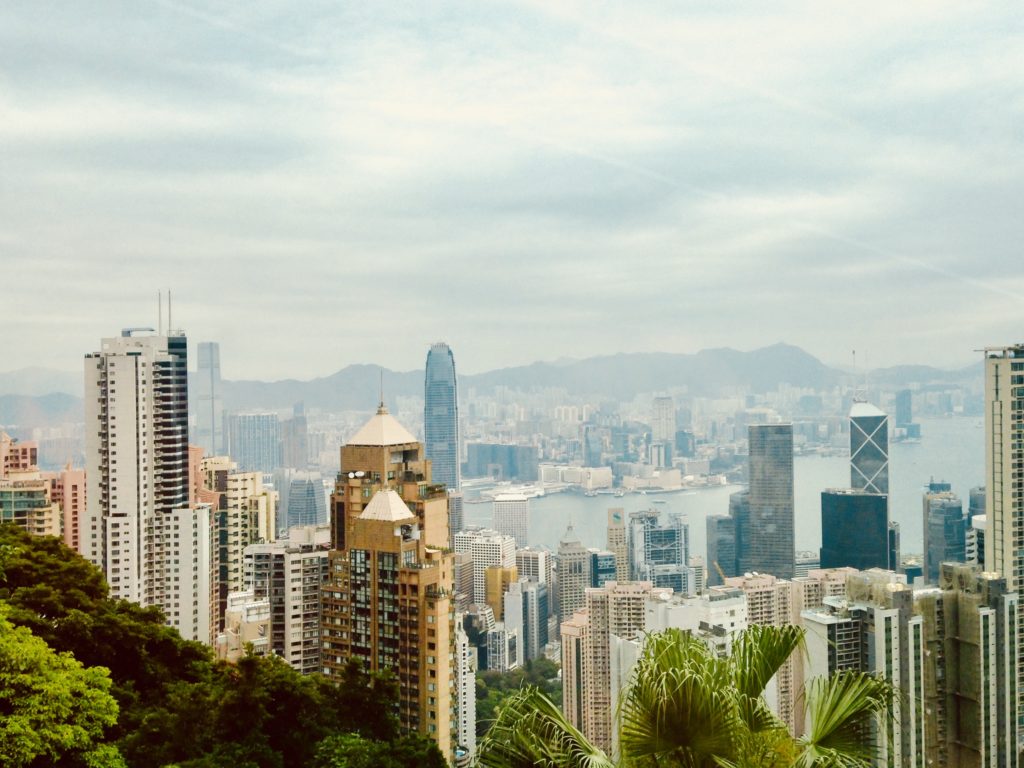 My favorite spot in Hong Kong, Victoria Peak is probably the city's most well-known spot. From the Peak's Sky Terrace, you can catch the best views of the city and Victoria Harbour and spend some time relaxing with the kids away from the hustle and bustle of Hong Kong. Admission to the Sky Terrace is paid, but you can head to Lion's Peak Pavilion next to The Peak Tower where you can access a free viewing platform.
The best way to reach the Peak is to take the Peak Tram (a "must-do"). The Peak Tram is the world's steepest funicular railway, covering just shy of a mile in 5 minutes. On the way down, you can take the Tram or opt for a taxi or hike down the streets and trails.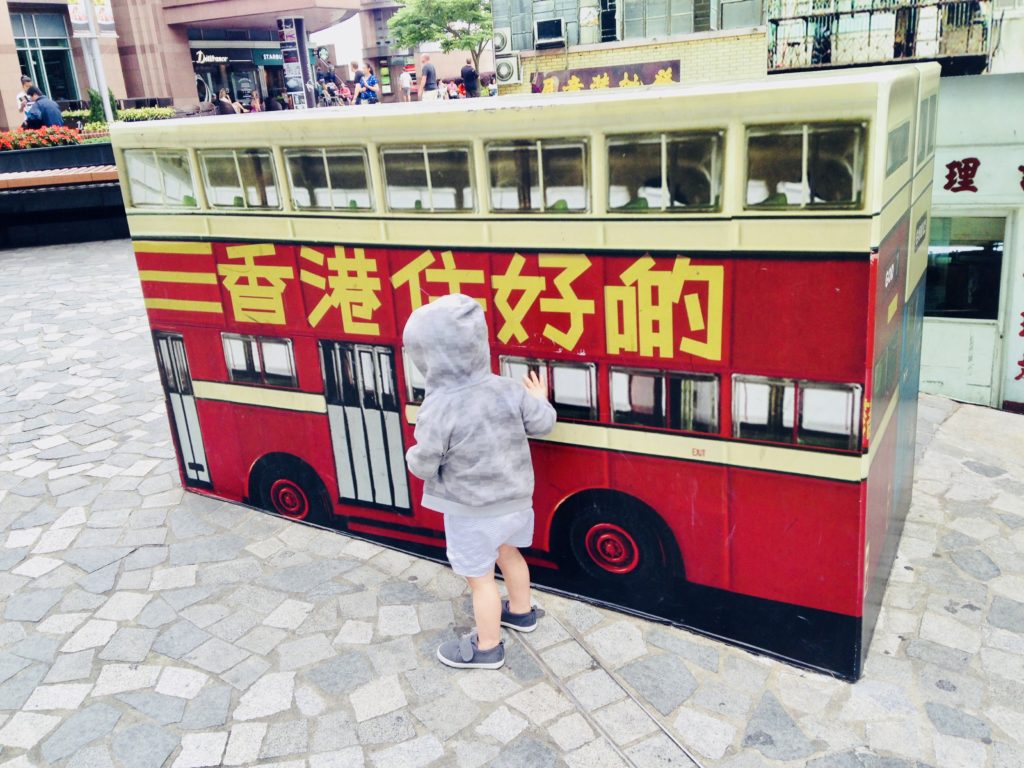 At the top, there are quite a few things to do with the kids besides admiring the eye-popping view. The Trick Eye Museum, the Art of Chocolate Museum, Madame Tussauds, and even a playground are all located within the Peak Galleria. If you end up working up an appetite, there are many dining options at the Peak. Weather permitting, grab a table outside at the Peak Lookout.
Know Before You Go: Check the Peak Tram website before you go. The Tram and the Galleria will close from April 2019 to late 2019.
Pro Tip: Arrive early to avoid the lines for the Peak Tram on the way up. You can wait at the top for the fog to clear up. Otherwise, you can get a skip-the-line ticket (you can bundle this with discounted admission to Madame Tussauds and the Sky Terrace) or the Hong Kong Pass.
4. Tian Tan Buddha (Big Buddha) and Po Lin Monastery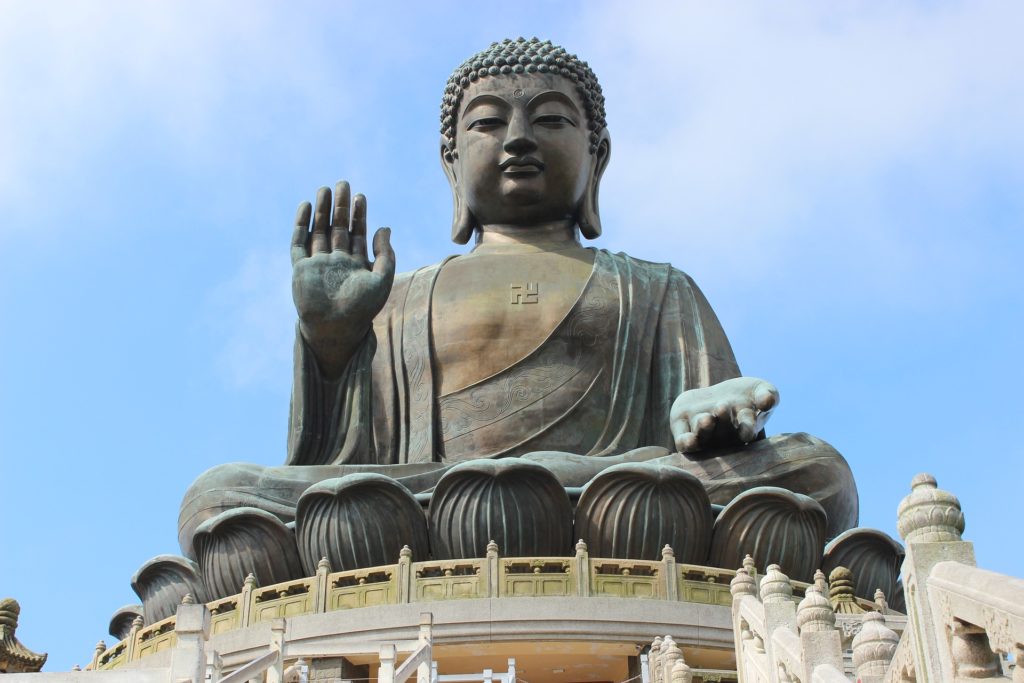 The Big Buddha is easily one of the most popular attractions in Hong Kong. Located on Lantau Island, the Buddha statues and the Po Lin Monastery are important places of Buddhist pilgrimage.
The best way to get to the Big Buddha is to the MTR (Hong Kong subway) to Tung Chung station, then from there, the Ngong Ping 360 cable car. The cable car takes you to the Ngong Ping Village and provides stunning views from the North Lantau Country Park, across to the Hong Kong International Airport, and out to the South China Sea along the way. The cable car ride to the top takes 25 minutes.
5. Eat Dim Sum
You cannot go to Hong Kong with the kids and not sample dim sum. Now trending worldwide, dim sum is a Cantonese specialty more aptly described as a collection of traditional dishes, ranging from steamed or fried dumplings to buns and pastries, all served in bamboo steamers or small plates. Each serving usually has around four pieces per basket or plate and is traditionally served "family style".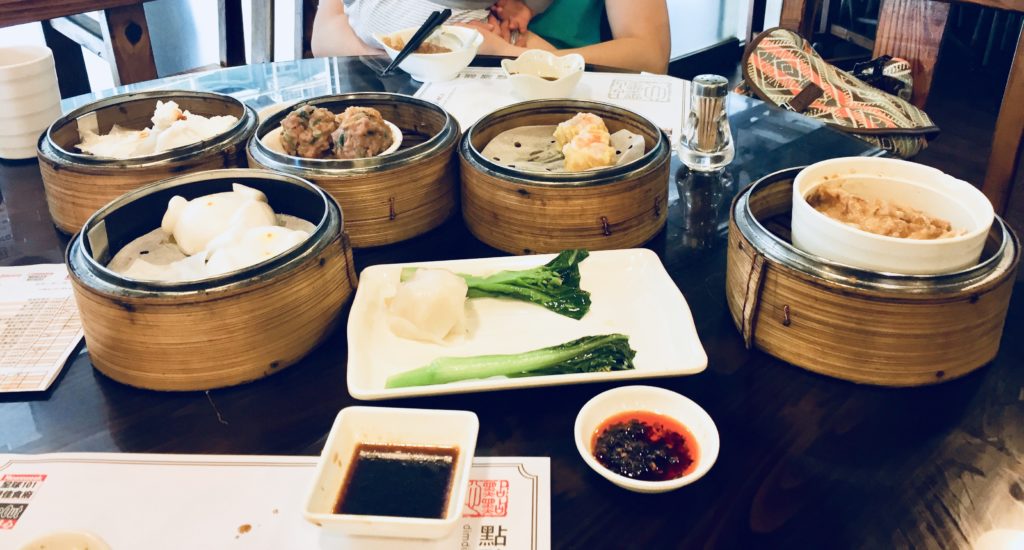 We ate at Dim Dim Sum near Jordan Road (winner of the 2012 Newsweek Foodie Awards – 101 Best Places to Eat in the World), but there are many dim sum places to choose from:
6. Eat Other Hong Kong Specialties
For dessert, try one of Hong Kong's most popular street food snacks: the egg waffle (also called Hong Kong waffle or eggette). The original eggette has a mildly sweet flavor, but many flavor variations exist now. The kids can even see how the waffles are made and dried by a fan. Try the Hong Kong waffle at: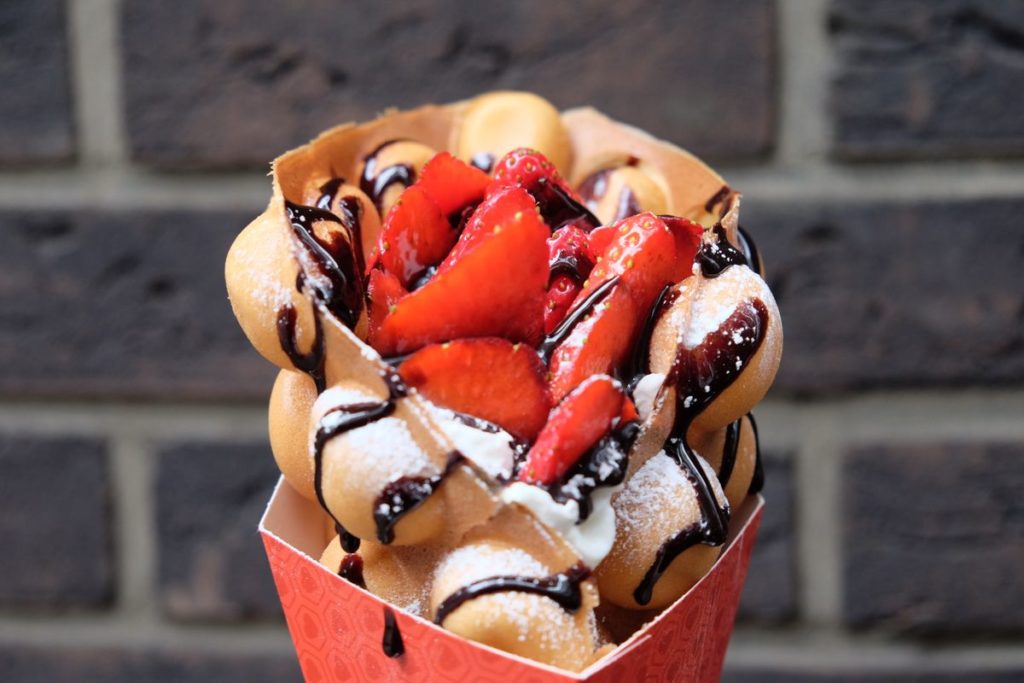 Besides dim sum and waffles, the kids may also love pineapple buns, Hong Kong toast, won ton noodle soup, and egg tarts. Try one or try them all!
7. 1881 Heritage (Former Marine Police Headquarters)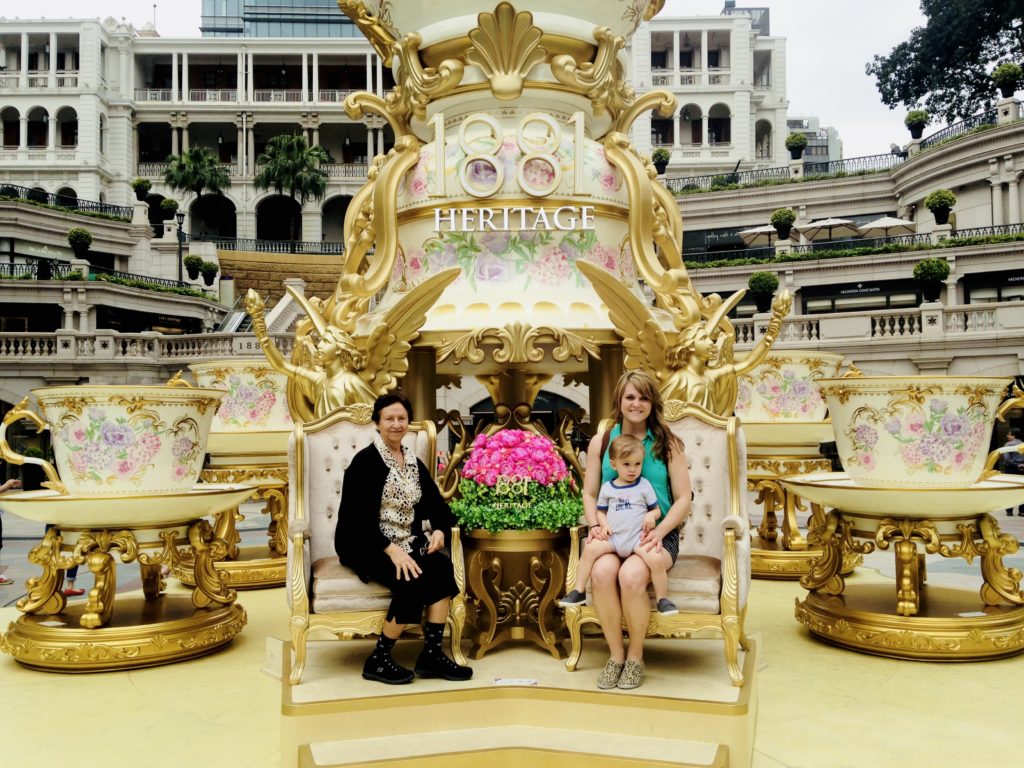 While you wait for your boat to sail the harbor, you can head across the street to 1881 Heritage in Tsim Sha Tsui in Kowloon. The site is where the former marine police compound used to be since 1884. The building itself is the 4th oldest surviving government building in Hong Kong. Today, 1881 Heritage is a mall with a hotel, retail shops, and restaurants since its redevelopment in 2009.
At 1881 Heritage, you can also find the Time Ball Tower, the Former Fire Station, and Stable Block. Kids love the Hong Kong Time Ball Tower in particular. From 1885 to 1907, the Tower would drop the ball mounted on a pole at exactly 1 pm (with data provided by the Hong Kong Observatory).
That way the ships could calibrate their chronometers to an accuracy of 1/10th of a second. This was a vital service because even a one-minute error in calibration could result in the ship getting lost.
Money-Saving Tip: Book a free guided tour of 1881 Heritage by calling 1881 Heritage's Hotline.
8. Western Market (and Other Markets)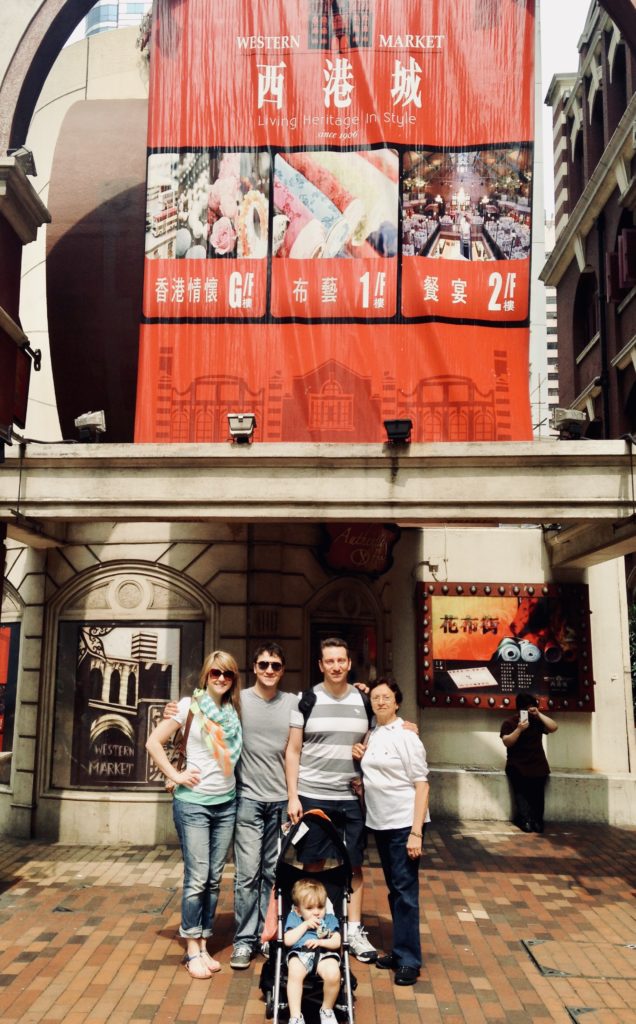 Speaking of food, like most Asian cities, Hong Kong has a gazillion markets. The city's most famous market is Western Market. Located in Sheung Wan, a few block southwest of IFC, Western Market was built in 1844 in the Edwardian architectural style and is one of the oldest surviving structures in Sheung Wan. The building was renovated in 1991, and today, it houses mostly shops selling fabrics and souvenirs, as well as a few restaurants.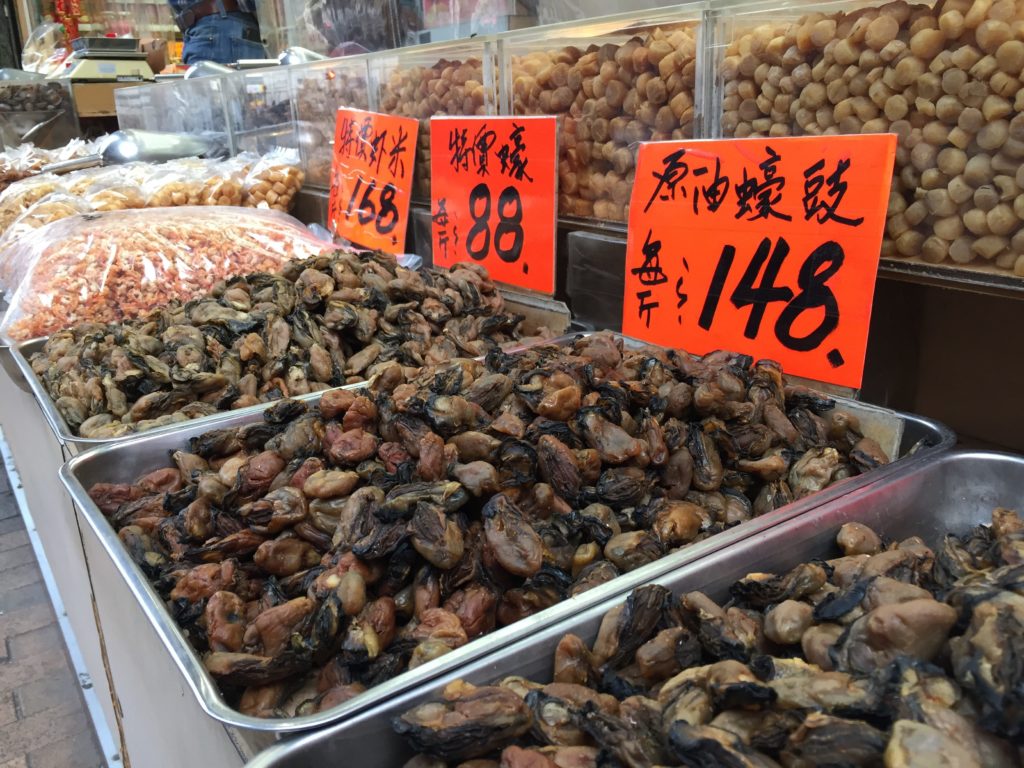 But Western Market isn't the only market to visit in Hong Kong. The city is home to literally hundreds of markets with thousands of street vendors. Browsing and shopping at the local markets is a cultural experience we almost always incorporate into our family travels.
Shopping at the local markets is not only a cultural and educational experience but also a great way to save on food while on the road. Don't forget to let the kids participate in exploring.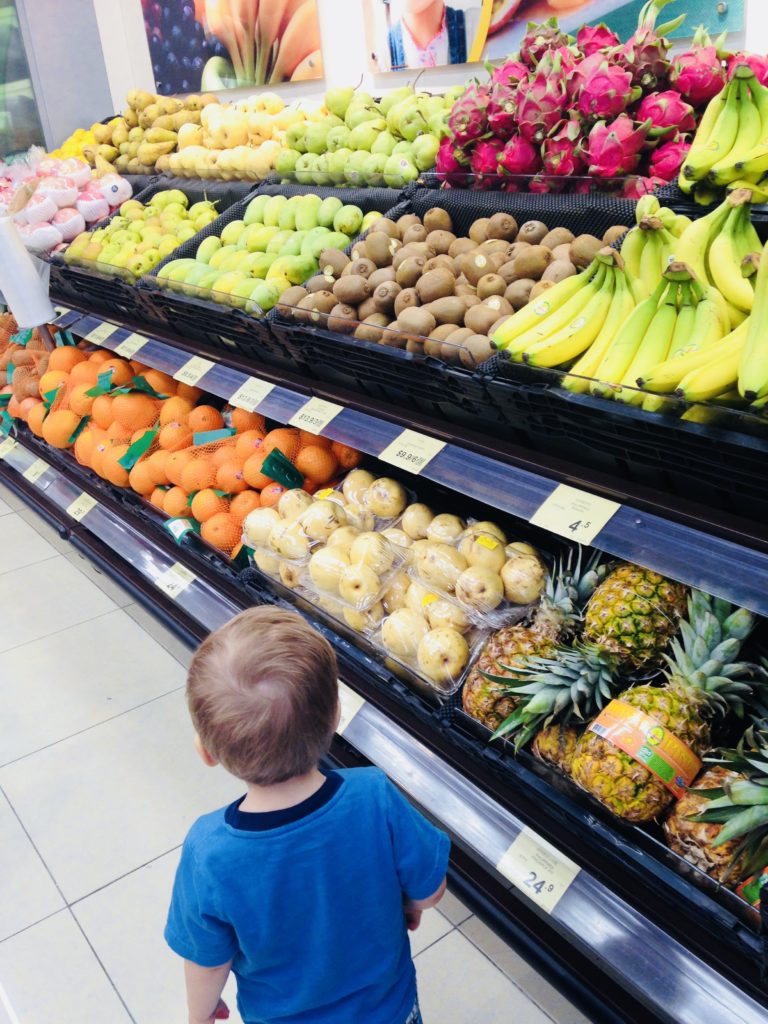 9. Hong Kong Science Museum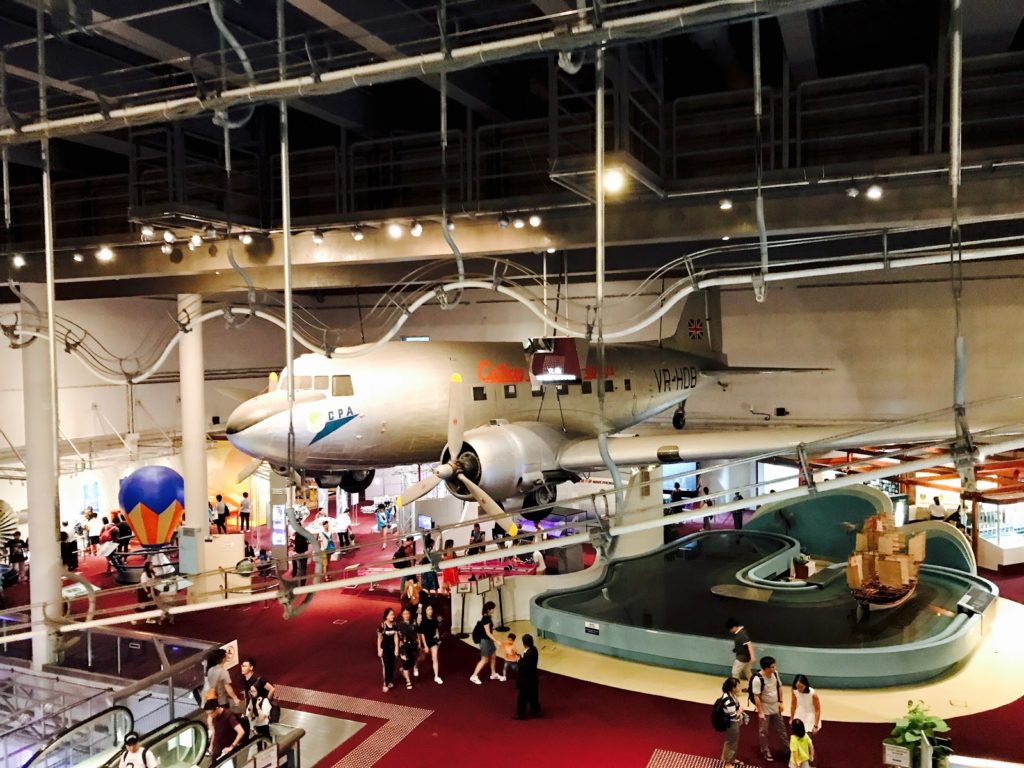 Located in Tsim Sha Tsui East in Kowloon, the Hong Kong Science Museum has over 500 exhibits on display including Cathay Pacific's first DC3 airliner, extinct animal species, robotics, and virtual reality. Most of the exhibits are hands-on including a car simulator that you "drive" to avoid accidents. Another highlight is the 22-meter Energy Machine (the largest of its kind in the world), producing engaging audiovisual effects.
10. Hong Kong Museum of History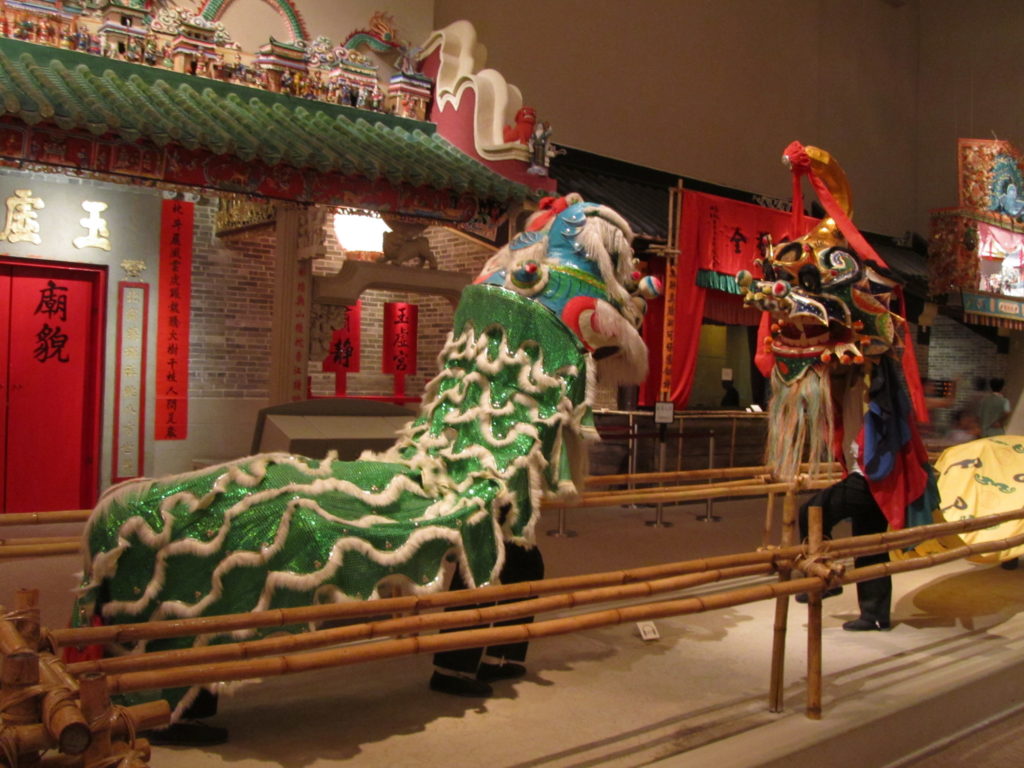 Next door to the Science Museum is the Hong Kong Museum of History and best of all it's free to enter. It's one of the most popular attractions in Hong Kong, especially for the kids. Prepare to journey through the history of Hong Kong, from its foundation to the Opium Wars and the Japanese Occupation.
Like the Science Museum, there's a lot of hands-on exhibits like boats to climb on, stuffed animals to play with, the reconstruction of local festivals, and entertainment such as Lion Dances and Chinese Opera.
Pro Tip: Both the Hong Kong Science Museum and the Hong Kong Museum of History are very easy to visit on the same day. Plan on spending 1-2 hours in each museum.
11. Hong Kong Park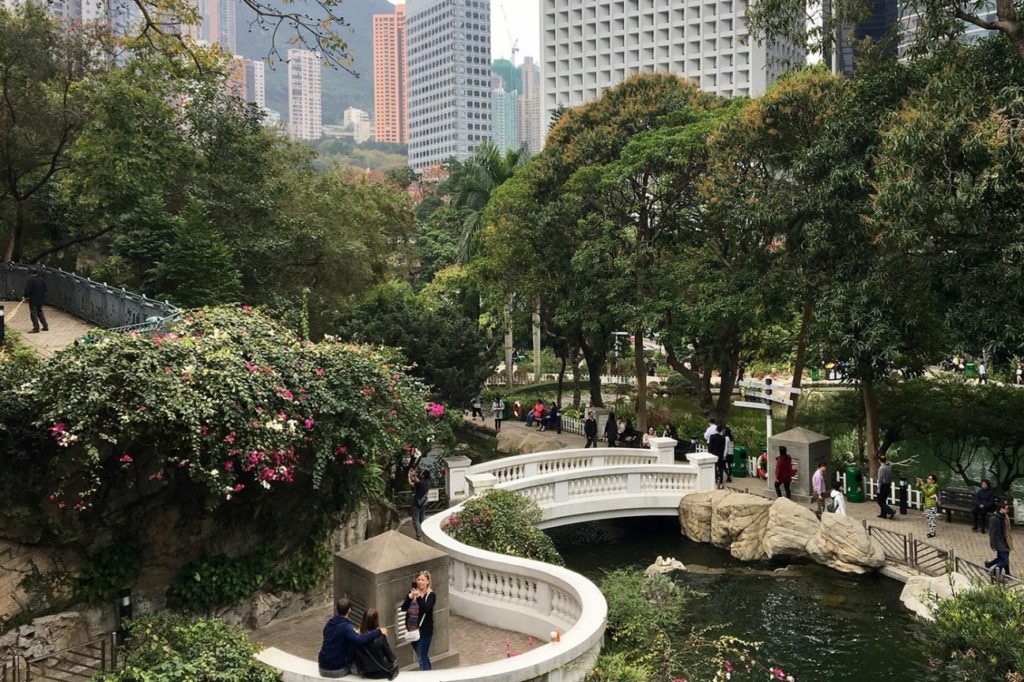 As we almost always do, a stop at the city's park is a great chance to catch up while the kids explore and play. Hong Kong Park is not huge, but it's a nice place to get a break from the coming-and-going, especially if you're already in the area. You can even plan to pack a lunch and have a picnic at the Park.
The kids will enjoy watching the turtles and koi fish swim in the ponds along the main walkway at the Park. There is also a small butterfly garden, a playground, and a waterfall that you can walk behind. The Park's Flagstaff House Teaware Museum provides a nice introduction to the role tea plays in Asian culture. Once you've had your fill of the park, the Peak Tram also departs from the Lower Terminus just outside of Hong Kong Park.
12. Symphony of Lights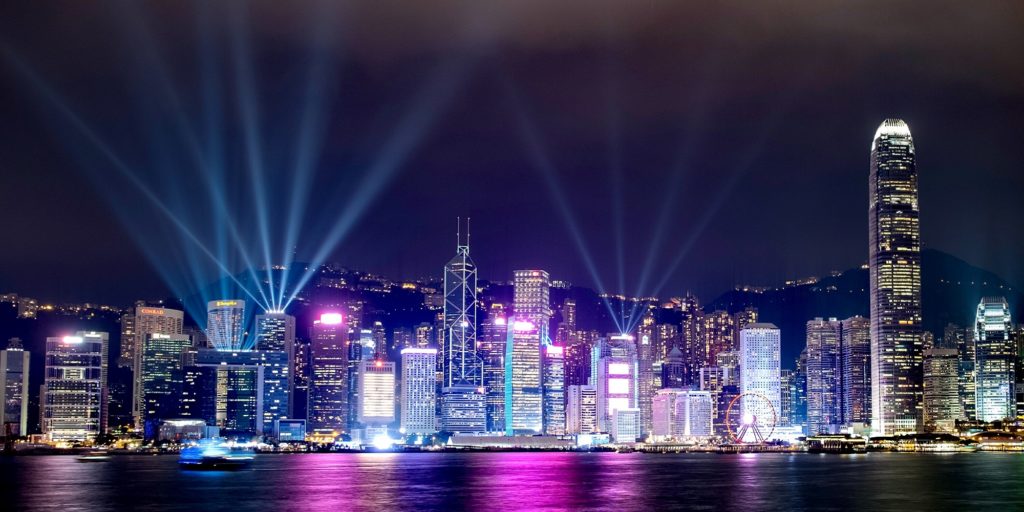 The Symphony of Lights is the "World's Largest Permanent Light and Sound Show" as named by Guinness World Records. With colored lasers, lights, and fireworks shooting from the top of 40 buildings lining the Hong Kong skyline, the Symphony of Lights is a must-see. At 8 every night, the Show begins and lasts about 10 minutes.
For the best places to get a full view of the show, head to:
IFC Terraces on Podium 3 and 4
Hotels and restaurants on the Harbor
Star Ferry or Hong Kong Junk Boat
The Lights are synchronized to music that you can listen to live near Avenue of the Stars in Tsim Sha Tsui and at the promenade at Golden Bauhinia Square in Wan Chai. From hotels, restaurants, or boats, you can just download the "A Symphony of Lights" and follow the broadcast.
13. Hong Kong Observation Wheel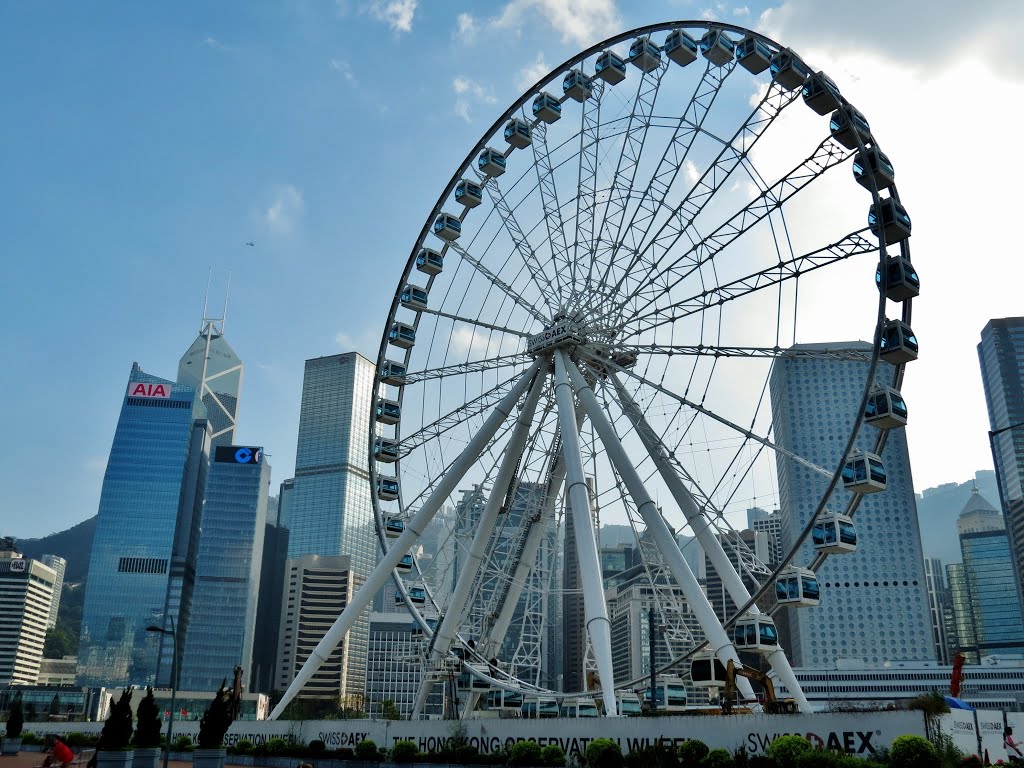 The Hong Kong Observation Wheel is a relatively new addition to Hong Kong's Central Harborfront. Similar to its counterparts around the world, the Observation Wheel is a nice way to get magnificent views of the city and the harbor. Oh, and it's a great way to spend 20 minutes with the kids in Hong Kong.
The Wheel is within walking distance of the ferry terminals and Central hotels. So you can take a spin around the Wheel after a day of riding the boats on the harbor because the best times to visit is during Golden Hour when the sunlight hits the skyline.
14. Pink Dolphin Watching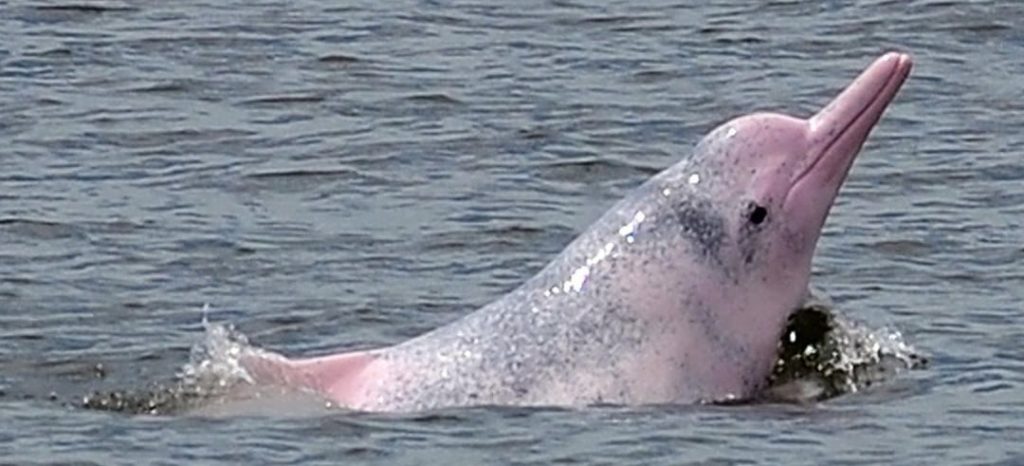 The Indopacific Humpback Dolphin (Pink Dolphins) make Victoria Harbour their home for much of the year. Watching the pink dolphins in their natural habitat is a unique opportunity for families traveling to Hong Kong. Hong Kong DolphinWatch is one of the companies that offer ecologically conscious tours. The trips are educational and designed to minimize the disturbance to the dolphins.
15. Hong Kong Disneyland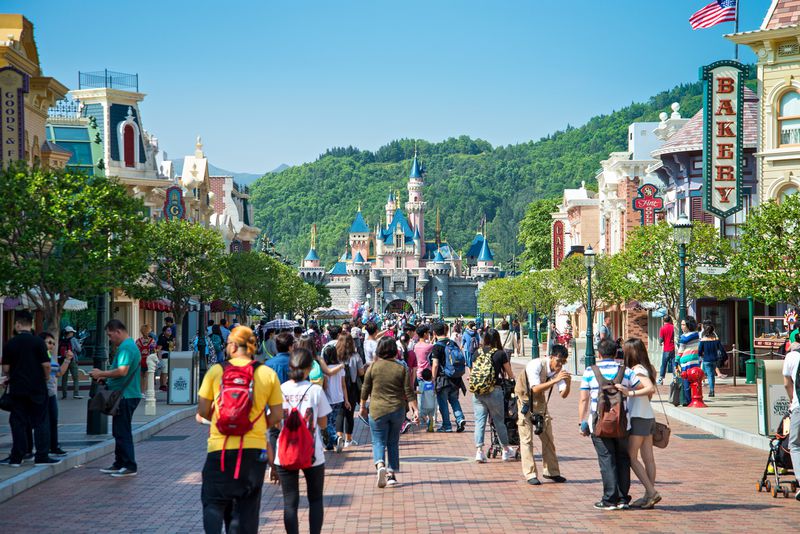 On Lantau Island, you can also spend a day at Hong Kong Disneyland. There's something very unique about visiting Disney parks in other countries, especially when it comes to food and special treats. At Hong Kong Disneyland, you'll certainly find that, but you'll also find some of the familiar rides kids love like "It's a Small World", "Mad Hatter Tea Cups", and "Space Mountain." You can also catch the Lion King Show or the traditional Disney Parade.
This Disney park is smaller than the ones in the US. It can get crowded, and lines can get long. So consider buying the tickets in advance (online) or even "Skip The Line" passes if you have limited time. Hong Kong Disneyland is one of the most visited places with kids in Hong Kong.
Tip: Going to Disneyland can seem like the easy option because you're familiar with it. Don't be afraid to skip it altogether. For most, there will be more opportunities to go to Disney elsewhere, but you may never visit Hong Kong again.
16. Ocean Park Hong Kong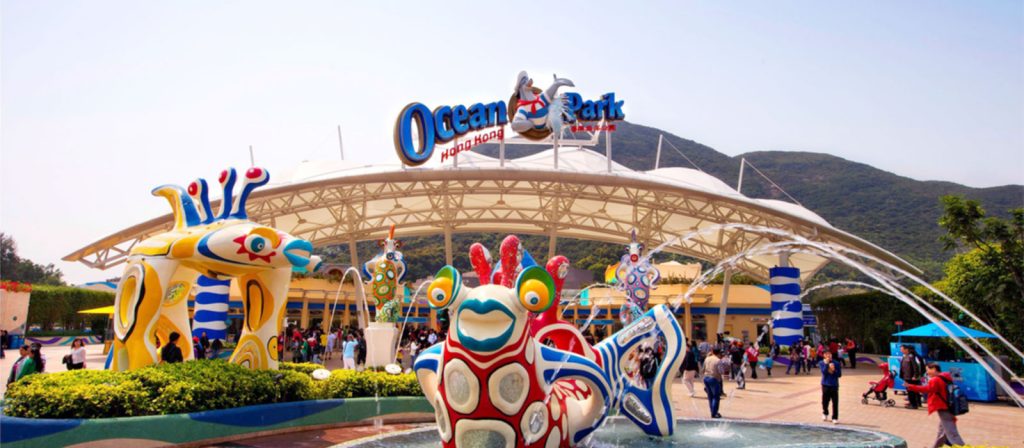 A fun mixture of amusement park, aquarium, and zoo, Ocean Park is one most fun things to do with kids Hong Kong. From rollercoasters to land and sea animals, there's plenty to do there. You can even feed the sea lions or spend some time with the Pandas on an animal encounter.
In the Grand Aquarium, you'll also find sharks, stingrays, turtles, and other kinds of sea creatures. There's even a Polar exhibit hosting walruses, sea lions, seals, and penguins.
Ocean Park has two areas — the Waterfront and the Summit — connected by the Sky Tram (cable car). At the Waterfront, you'll find the Grand Aquarium, the pandas, and a playground. The Polar exhibit, the main show areas, and rollercoasters are all located at the Summit.
Tip: Ocean Park is uniquely Hong Kong, so it may be worth a visit if you have enough time in Hong Kong, even for a half-day. Like Disney, but the tickets in advance to avoid wasting time.
17. Day Trip to Macau
If you have enough time or just want to visit some of the territories around Hong Kong, Macau is a great option. Macau is a former Portuguese enclave that embodies a mixture of Portuguese colonial charm, Chinese zest, and glitzy casinos. The peninsula is only a short one-hour ferry ride from Hong Kong.
Getting to Macau from Hong Kong
Getting to Macau is easy. There are ferries from and to Hong Kong every 15-30 minutes. And the roundtrip fare costs $36.
You will need your passport to enter Macau and to re-enter Hong Kong. A Macau Visa is not required for most visitors, but you will also need to fill out an Arrival Card when entering Macau and again a Hong Kong Arrival Card when your return.
Know Before You Go: Macau has its own currency, the Pataca. You can exchange some money when you get there, but it's not strictly necessary since vendors will gladly accept the Hong Kong dollar due to the slightly more favorable exchange.
Another great way to get to Macau is by joining a guided tour from Hong Kong. That way you don't have to figure out the logistics of getting to and from and moving about in Macau. Guided tours generally include transportation, visits to the city's many attractions.
Things to Do in Macau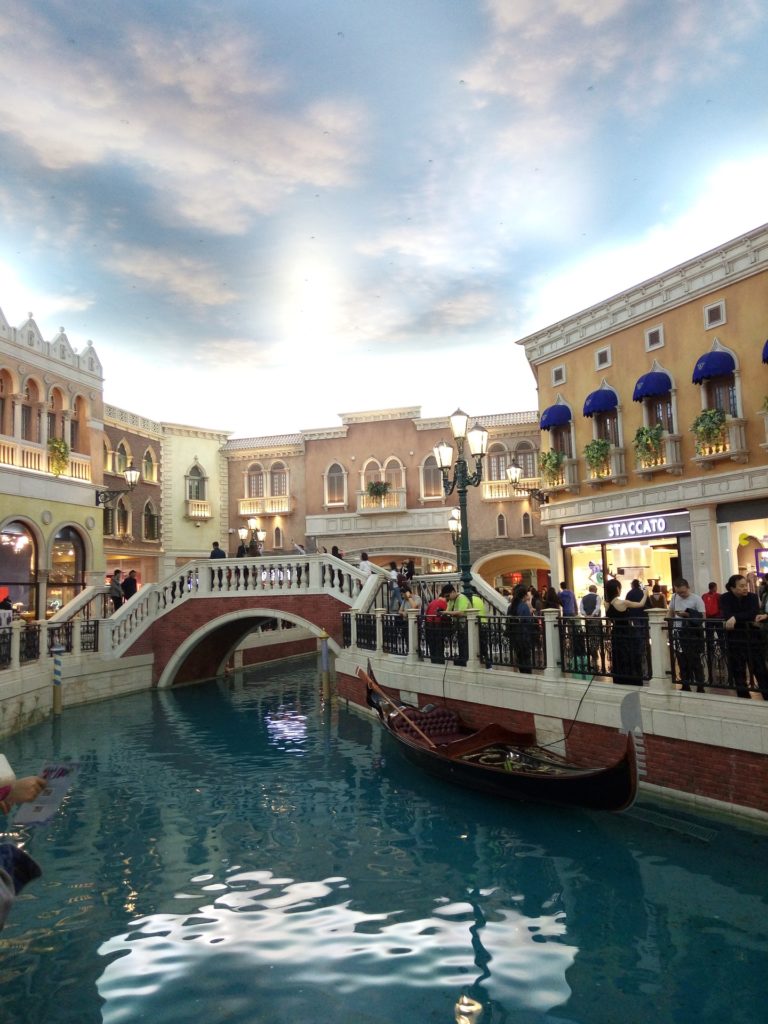 Macau, a UNESCO World Heritage city, offers a very different take on Southeast Asian cities. The food is an incredible mixture of Portuguese and Macanese cuisines. And the striking architecture is reminiscent of the streets of Lisbon and Porto.
Also, Macau is also a major resort city and the top destination for gambling tourism, as its gaming industry is seven times larger than that of Las Vegas. If you're feeling up for it, you might try a hand at the baccarat tables or a stint at the slot machines.
Besides gambling, there's plenty to do in Macau to fill up a 1- or 2-day visit:
Senado Square
Ruins of St. Paul
Mount Fortress
Museum of Macau
St. Dominic's Church
Holy House of Mary
Leal Senado
Cotai Strip
Know Before You Go: Two-thirds of Macau's total land area is reclaimed from the sea.
Getting Around Hong Kong
Hong Kong is well-served by all kinds of public transportation. Between the city's subway (the MTR), buses, ferries, boats, and our own two feet we went everywhere. With the exception of our arrival from the Airport, we used public transportation exclusively for the rest of our trip.
Know Before You Go: Public transportation in most of Southeast Asia is designed to move a lot of people. It's clean and efficient but be prepared to squeeze in and be squeezed. But don't be afraid to ride the subway in Hong Kong even with small kids.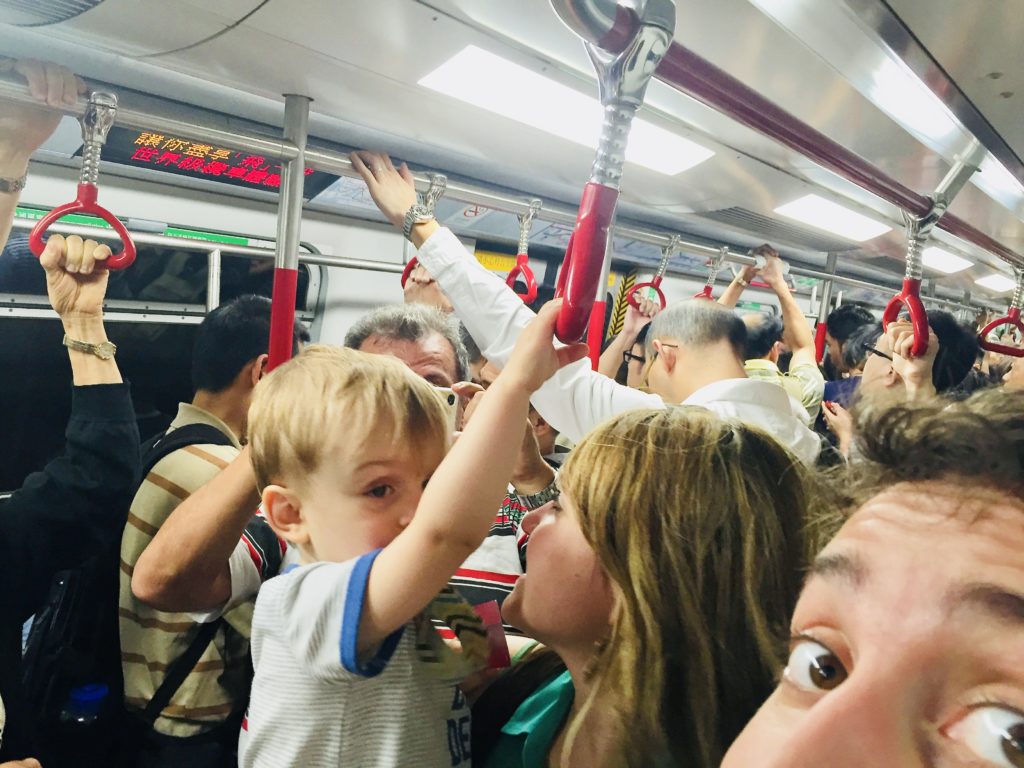 Airport Ground Transportation
The easiest way to get to and from Hong Kong Airport to the central parts of the city is by taxi. At certain times of the day, there can be quite a bit of traffic, but it's still easier than taking the Airport Express train.
The Airport Express train drops off at central Hong Kong, from where you have to take shuttle buses that run several hotel routes. In theory, it's not that bad, but it might be more than you want to deal with if you are traveling with small children. If you have kids that are a little older, then you should consider the Airport Express.
Car Seat for Taxis or Rideshare
If you decide to take the taxi, car seats are not required by law in Hong Kong according to the Hong Kong Transport Department. But it's still recommended (by the Department and this blog) that kids under 11 years old use a car seat no matter where you are and what the law requires.
There are many portable, travel car seats available. We highly recommend the mifold grab and go booster seat because it's ultra-compact and easy to set up. You can also use it if you get an Uber or Lyft with the kids.
---
Hong Kong is an amazing city to visit. Although busy, the city does not disappoint in how many things it has to offer. Hong Kong has enough things to do to keep adults and kids busy for days. If you only have a limited amount of time to spend in Southeast Asia, consider visiting Hong Kong. And don't be afraid to be adventurous.
At the end of our short 3 days, we took a bus north and northeast to Guangzhou in the Canton province of China. Guangzhou was the second chapter of our Southeast Asia Adventure.
Pin Below to Save to Pinterest