Note: This post contains affiliate links. This means we may make a small commission if you make a purchase. This doesn't cost you any more, but it does help us to continue publishing helpful content. Thank you for your support!
Rideshare services like Uber and Lyft have changed the way many of us approach short-term or public transportation. In the past, we might have defaulted to calling a taxi or renting a car in cities where public transportation just isn't that available. Now, rideshare has upped the convenience factor, especially on family trips. But do you know how to keep your kids safe using Uber or Lyft and what car seat use?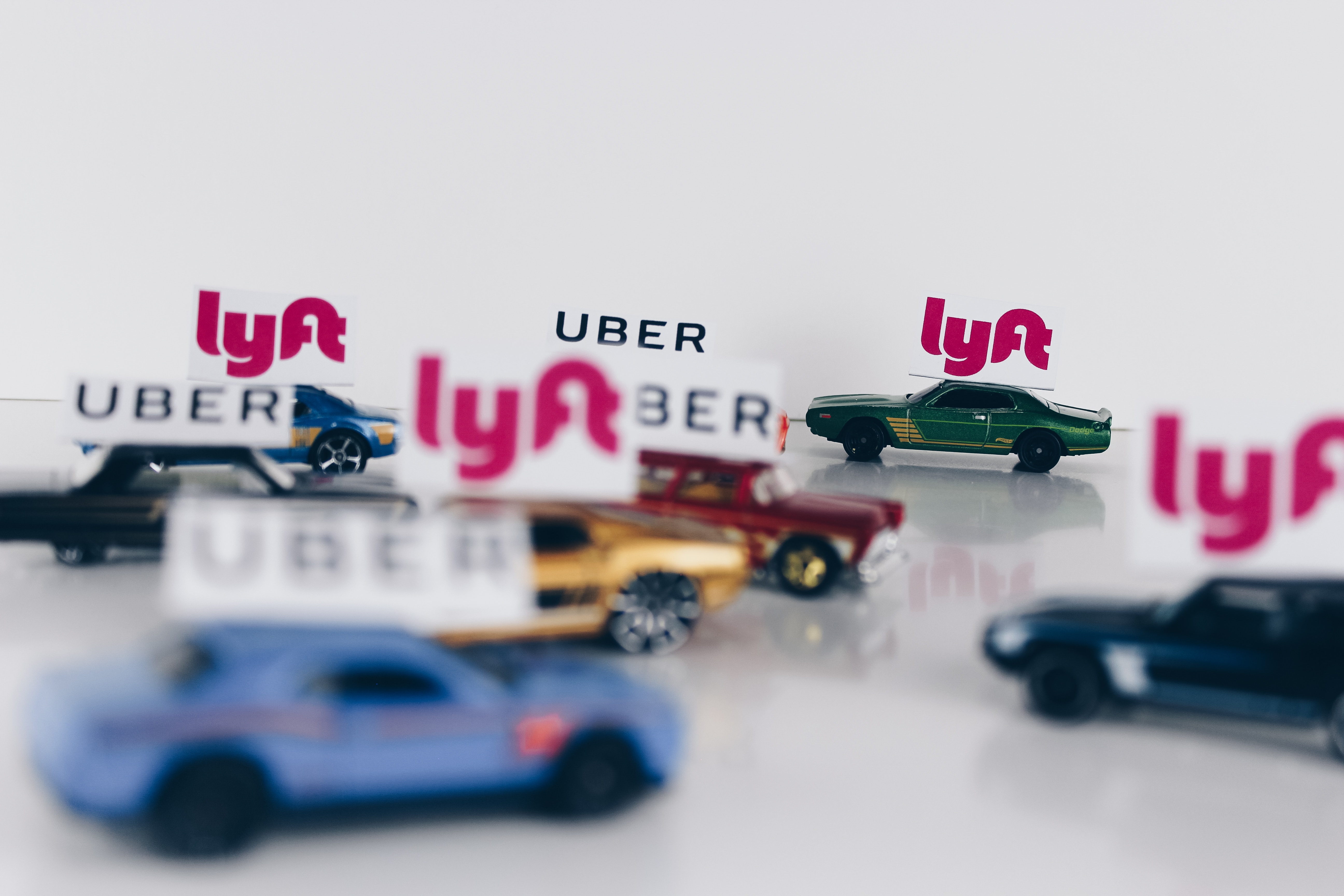 Even with all its popularity, there are quite a few people that haven't used rideshare on family trips even if they have for work or a night out. There's still a lot of misconceptions and misinformation about how to use Uber and Lyft with kids. Here are just a few things you should know before using rideshare services on your next vacation.
Rideshare Basics
If you don't already know, rideshare is a service where a driver allows other passengers to share a ride for a fee. At that level, it's not much different than taking a taxi because you're still the only passengers in the vehicle (unless you want to share the ride with other passengers).
The difference is that drivers are using their own personal vehicles. And you use an app to request the ride. Oh, and let's not forget that it's usually cheaper (sometimes a lot cheaper) than traditional taxis.
Uber and Lyft are the two most popular rideshares apps available. If you've never used rideshare before, here's how to use Uber and Lyft with kids:
Download the Uber or Lyft app to your smartphone.
Set up an account with your credit card. You can get a few dollars off your first few rides using a referral from a friend or feel free to use mine: carlosf507 for Uber or FREITAS67644 for Lyft.
When you're ready to request a ride, open the app on your phone and the GPS will automatically show your location. That's where you're requesting to be picked up.
Input your desired destination. You don't have to have the exact address. The app will search your input and find a few options for you (for example, "airport" might autocomplete to Ronald Reagan National Airport if you're in Washington DC).
Lastly, select the car of your choice based on size and luxury.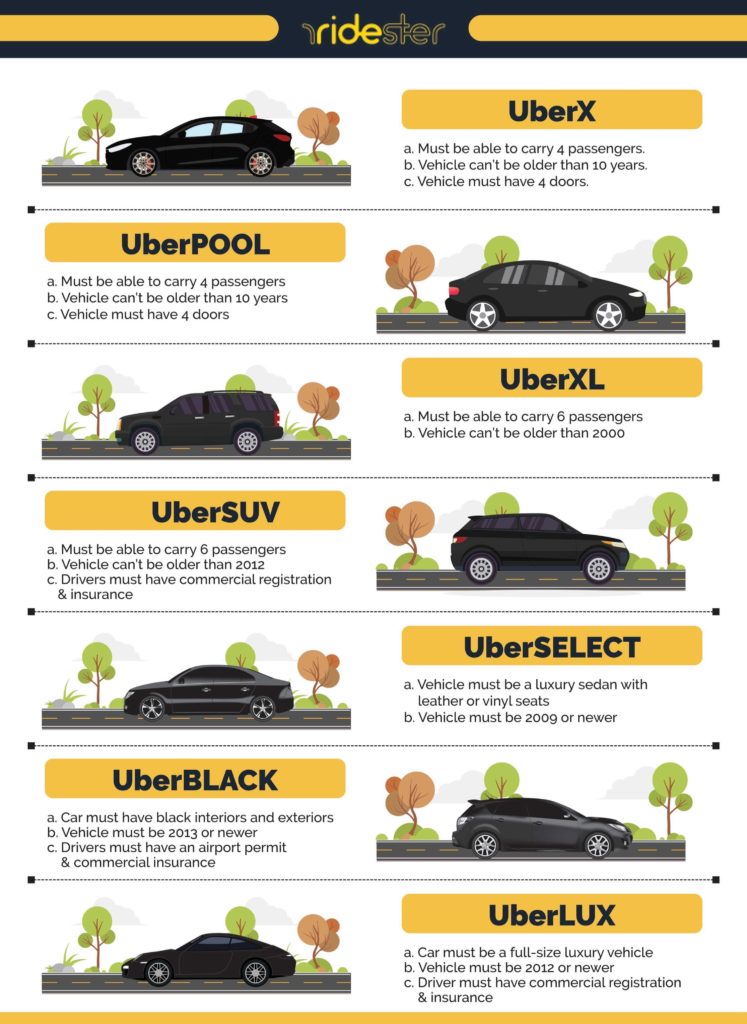 Lyft categorizes vehicles as Lyft (most basic), Lyft XL, Lyft Lux, Lyft Lux Black, and Lyft Lux Black XL (largest and most luxurious).
When your driver arrives, first of all, make sure you have the right driver and car before you hop in and take the ride. After your ride is done, your credit card is charged automatically but not before you have a chance to tip the driver if you want. That's it!
Is Rideshare Safe for My Family?
Most of the time when you're using rideshare, you're riding with a driver who is not a "professional driver" like a taxi or limo driver. There are a few stories you may have read about Uber rides gone wrong. But rideshare is perfectly safe when you take the proper precautions.
Just like in other travel situations, use your best judgment and err on the safe side. One practical tip is to always make sure the driver and vehicle picking you up are the ones you selected on the app. This alone will save you from misunderstandings (or from ending up at the wrong destination).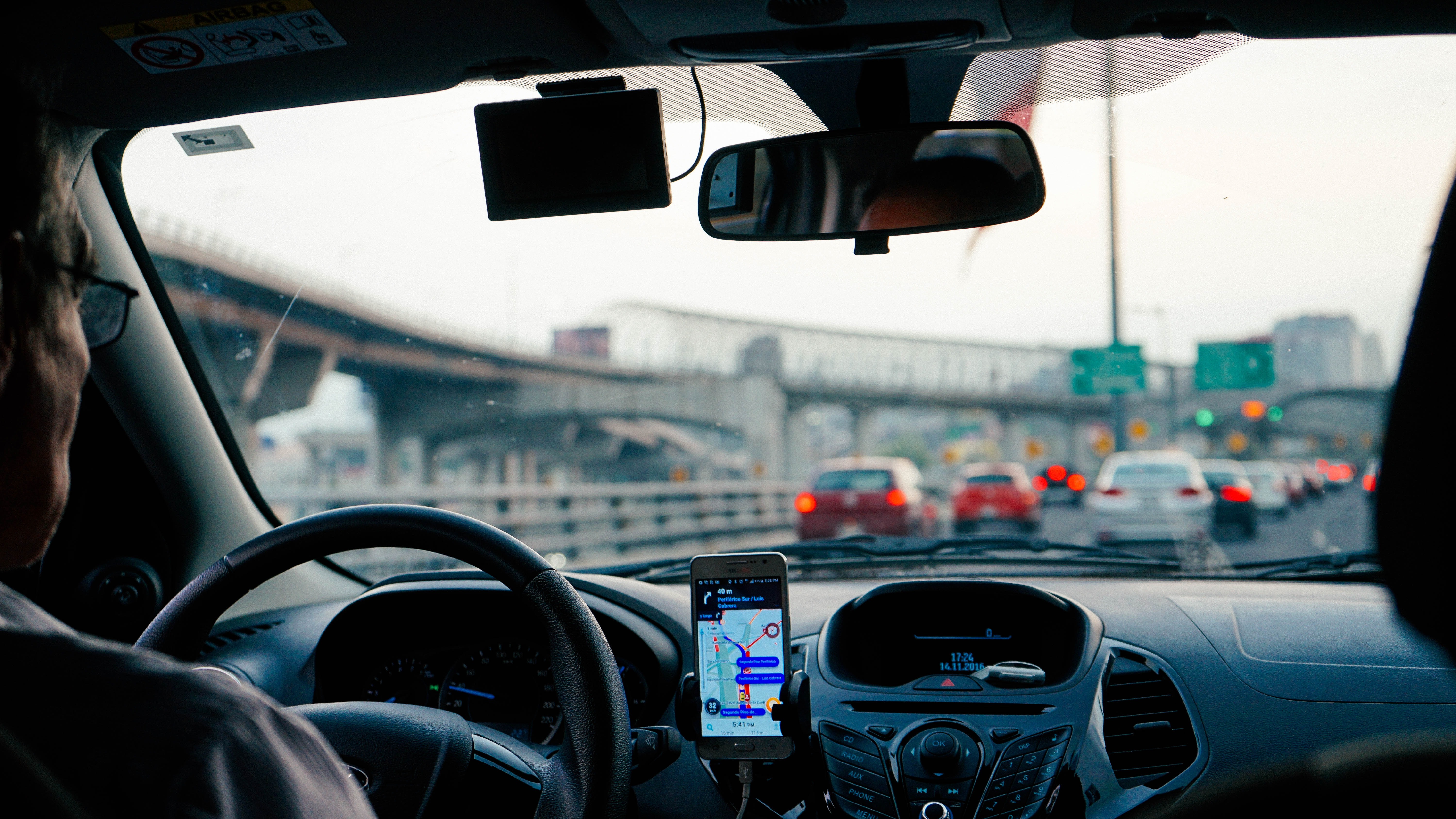 The truth is Uber and Lyft are just as safe as taxis. Maybe even safer if you consider the fact that drivers and passengers self-identify through the app. The Uber app even allows you to share your status with family and friends for some extra peace of mind.
In our experience, using rideshare has made us feel safer in the past, especially when we can't communicate with the driver directly. Because your destination is pre-selected through the app, there's no confusion as to where you're headed, if you're going the right way, and how much the ride costs.
This benefit alone would have saved us two hours of extreme anxiety in Beijing when we took a taxi from the airport to our hotel at 2 am. We were in and out of shady streets for quite a while, not sure if we were getting closer to our hotel or to death itself.
Do I need a Car Seat for the Kids?
If you're ready to use Uber or Lyft with your kids, you're probably asking yourself, "But do I need a car seat?" The answer is… maybe. It sort of depends on what city you're using rideshare.
In New York City, for example, taxis (and passengers) are exempt from having to use car seats. There's some ambiguity as to whether the same exemption applies to rideshare, but many people claim you do not need car seats for Uber or Lyft in NYC.
Regardless, the laws of physics don't change just because you're not required to strap your kids to car seats. If you get in an accident without seat belts, you will be a lot more susceptible to severe injuries. And your kids will too.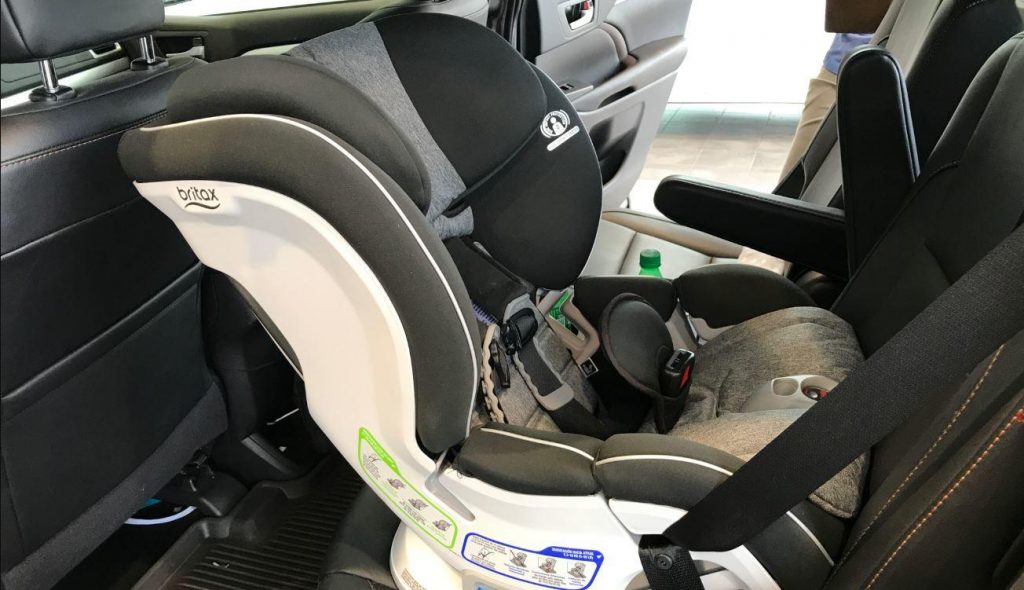 Fortunately, it's easier now than ever to have car seats for your kids in an Uber or Lyft. Here are your options:
1. Uber Car Seat (also UberFAMILY or UberKIDS)
If your kids are old enough, you're in luck. In some cities, Uber provides vehicles conveniently equipped with one car seat. It's a forward-facing car seat that accommodates children who are:
At least 2 years old,
Between 22 and 48 pounds, and
Between 31 and 52 inches
If your child is younger than 2 years old, unfortunately, you will need to bring your own car seat.
The equipment that comes with Uber Car Seat is the IMMI Go car seat. It's installed by the driver who is trained by a Child Passenger Safety (CPS) technician. But since it's your child, I recommend that you check the installation anyway. You are required to strap your kids onto the seat though.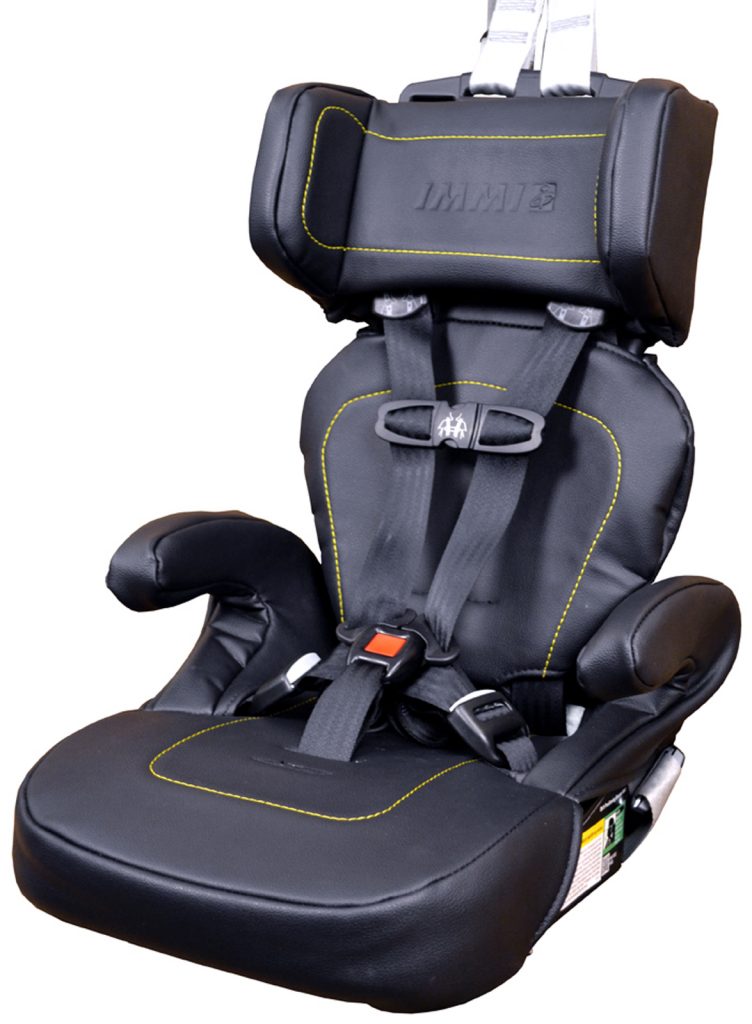 Uber Car Seat is not available in all cities. And it goes by different names depending on where it's offered:
Uber Car Seat

New York City, New York — UberX
Philadelphia, Pennsylvania — UberBlack or SUV
Washington DC — UberX, Black, or SUV
Baltimore, Maryland — UberX, Black, or SUV

UberFAMILY

Orlando, Florida — UberX and XL
Istanbul, Turkey — UberXL
Bucharest, Romania
Cluj, Romania

UberKIDS

Moscow, Russia
Rostov-on-Don, Russia
To request a car, just open the Uber app in one of these cities and choose the Car Seat/Family/Kids option. There's a $10 surcharge on top of the ride cost when you choose to request a car seat.
2. Lyft Car Seat
Lyft has its own car seat program, but it's currently only available in New York City. The car seat provided is also the forward-facing IMMI Go. But Lyft lets kids older than 12 months old ride on the car seat instead of 2 years old like Uber. The weight and height restrictions are still the same: between 22-48 pounds and 31-52 inches.
To request one, open the Lyft app and select the "car seat" ride type. Just like with Uber, you'll be charged a fee of $10 on top of your ride fare.
3. Bring Your Own Car Seat
There's a big chance that your child doesn't meet the size requirements for the car seats provided by Uber and Lyft. Maybe you just prefer to not use them. Or maybe you have more than one kid traveling with you. Whatever the case may be, you can always bring your own car seat(s).
Disclaimer: We do not represent any of the companies and products mentioned below nor are we qualified to provide safety, legal, or regulatory information regarding any of them. You should do your own research to find out if using any of these products is legal in your state or country, and if they have passed safety and regulatory standards for safe use.
If your child is still using a rear-facing car seat, chances are you'll want to use what you already have. There aren't any travel-sized rear-facing car seats on the market. So bring yours and just make sure it can be easily strapped to any car.
If you've moved on to front-facing car seats, there are quite a few travel-sized or portable car seats on the market, ranging from a more traditional booster to harnesses or vests. Here are a few options that still allow you to travel light:
Graco Turbo GO Folding Backless Booster Seat
A slight adaptation of the traditional backless booster, the Graco Turbo GO has one additional feature. The seat slides frontward, collapsing to make it easier to carry, store, and have on-the-go. The car seat is rated for kids weighing between 40-100 lbs. And the seat pad can be removed and machine washed.
BumbleBum Inflatable Travel Booster Seat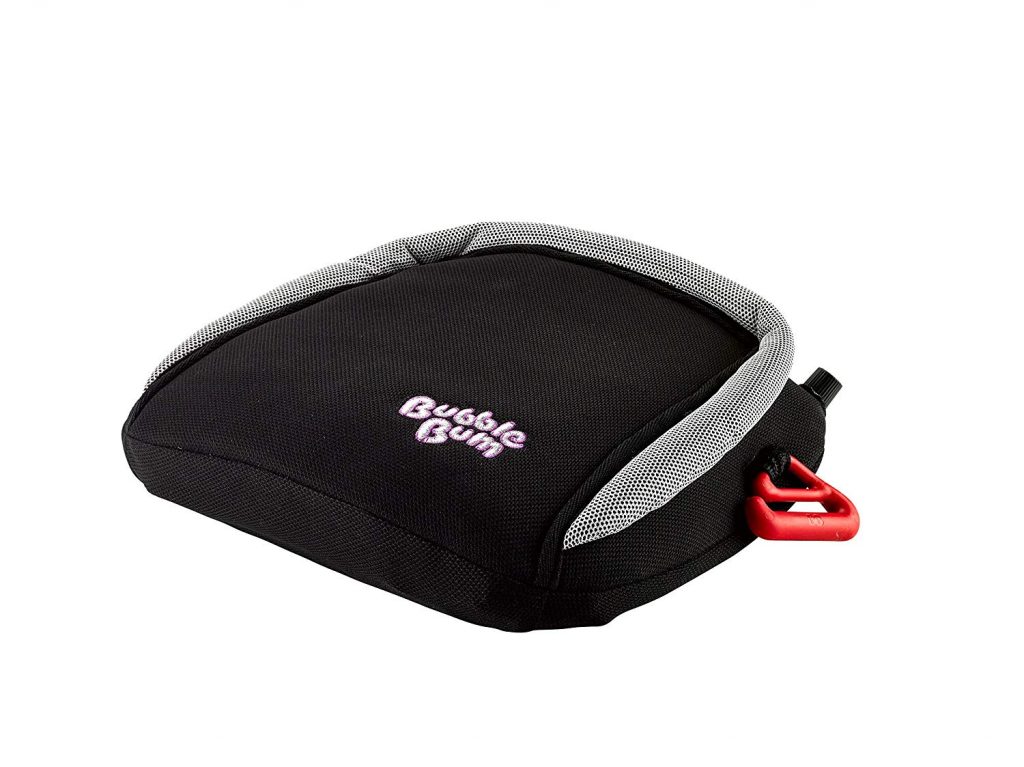 The world's first inflatable, portable booster, the BumbleBum Inflatable Travel Booster Car Seat is one of the most popular travel car seats on the market. It works with a combination of memory foam and air to provide height and stability. Just blow it up when you need it and deflate it to stow away.
Hiccapop UberBoost Inflatable Booster Seat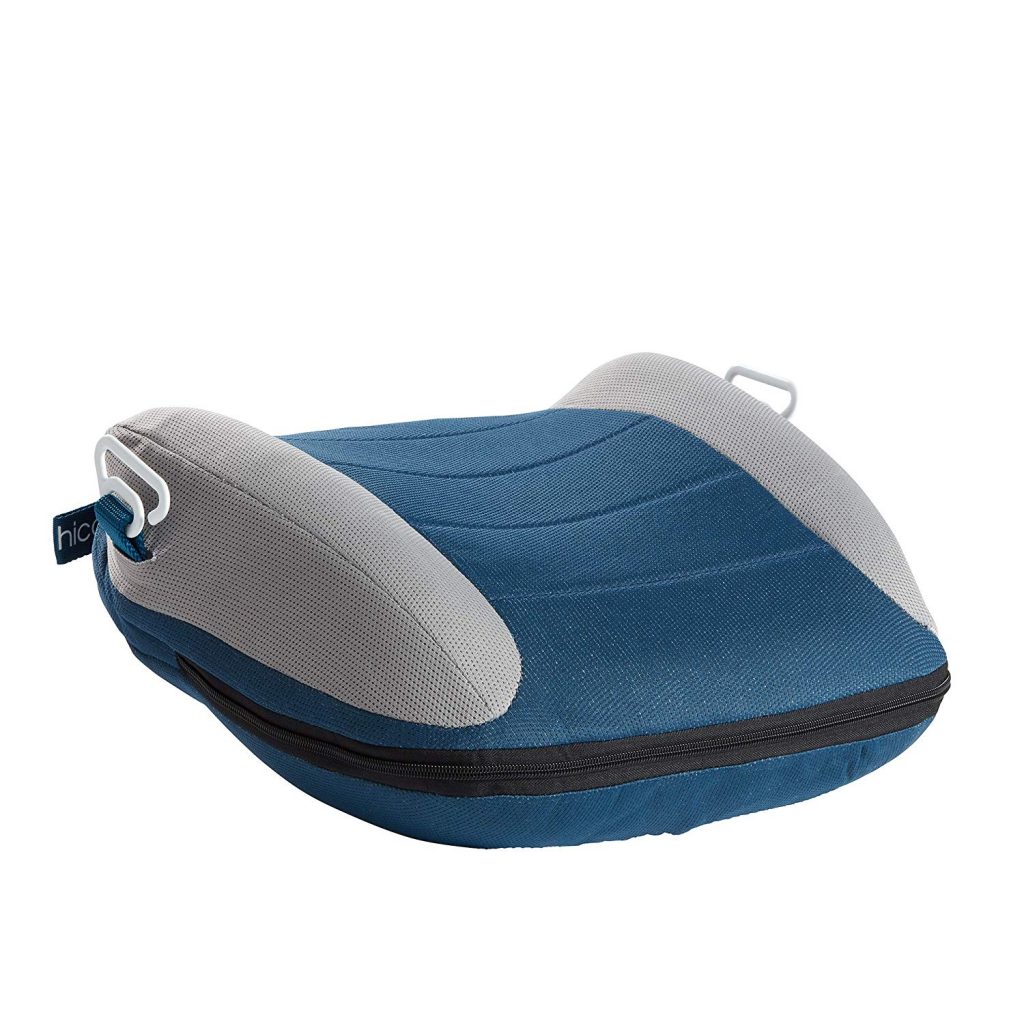 Another super popular option is the Hiccapop UberBoost Inflatable Booster Seat. It's an inflatable booster seat like the BumbleBum, but it fills completely with air (not air and foam). The sear cover is made from non-skid material to make sure it stays put even on leather and vinyl seat. It's also removable, so you can machine wash it.
mifold Grab-and-Go Booster Seat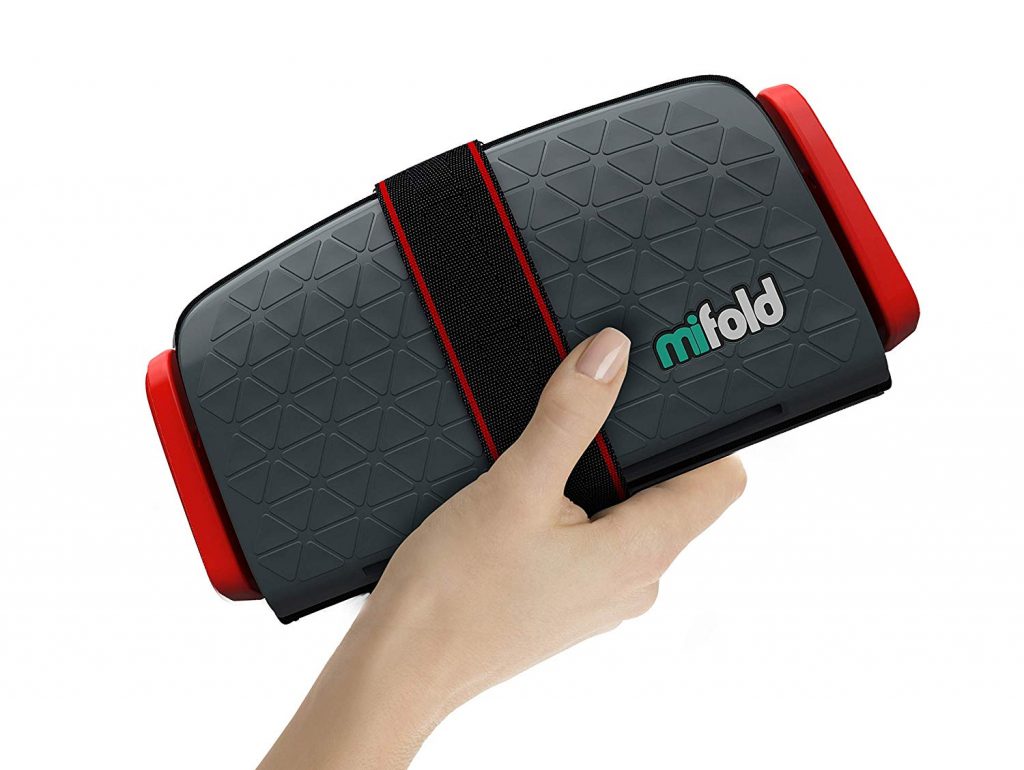 By far, the most popular portable car seat on Amazon is the mifold grab-and-go booster seat. We highly recommend this car seat, and it's the one we pack in our carry-on when we use Uber or Lyft. The mifold grab-and-go is a different take on ultraportable car seats. Instead of lifting your child to the proper seatbelt height, it brings the seatbelts down to properly fit around your child. Both are highly rated on Amazon.
If you end up getting the mifold grab-and-go, you should consider getting a case for it to keep it contained in your bag. The two best options are mifold's own Designer Carry Bag, which is a soft case, or the Aproca Hard Travel Storage Case for a little extra protection.
Ride Safer Delight Travel Vest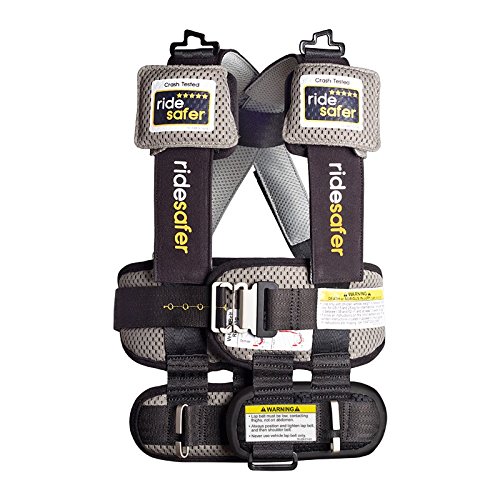 Instead of a seat, you could use a harness to keep your child safe. The Ride Safer Delight Travel Vest does just that. Your child puts on the vest, and the car's seat belt attaches to the harness, keeping the seat belt at a height that is safe. Your child sits directly on the car's seat in that case. The Rider Safe Vest comes in 3 different sizes to fit kids from 3-14 years old.
When to Use Uber and Lyft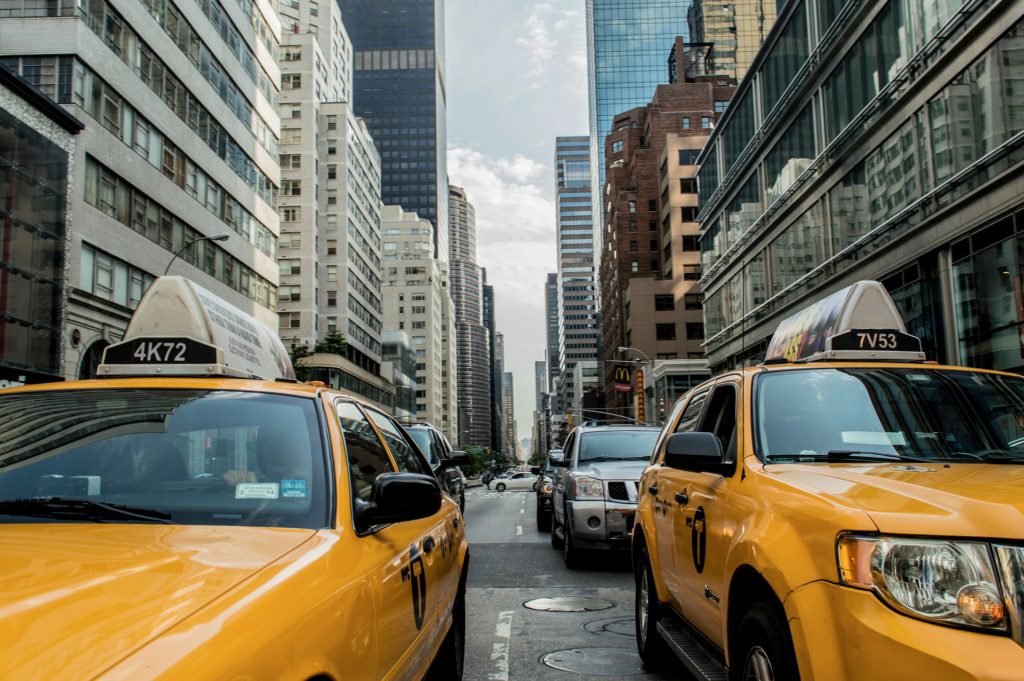 Choosing when to use Uber or Lyft with kids really depends on how often you'll be requiring a car ride as your transportation. We've found that rideshare works exceptionally well for the airport-hotel-airport route. We may also add the occasional ride to a specific location (probably somewhere without convenient public transportation).
We used Uber extensively on our trips to San Juan, Puerto Rico, and Puerto Vallarta, Mexico, because we did not plan on doing much more than enjoying the beach at our resorts.
If your vacation plans require multiple car rides to and from a bunch of different attractions, you're better off renting a vehicle. You'll find that the total cost of multiple Uber or Lyft rides will likely be more than the cost of a rental. And you won't have to wait for your ride to arrive.
We recommend using public transportation whenever you can though. Over the years, our kids have used (and enjoyed) all kinds of public transportation like train, light rail, metro, bus, boats, ferries… It's a great way to expose them to new experiences. And that's what it's all about.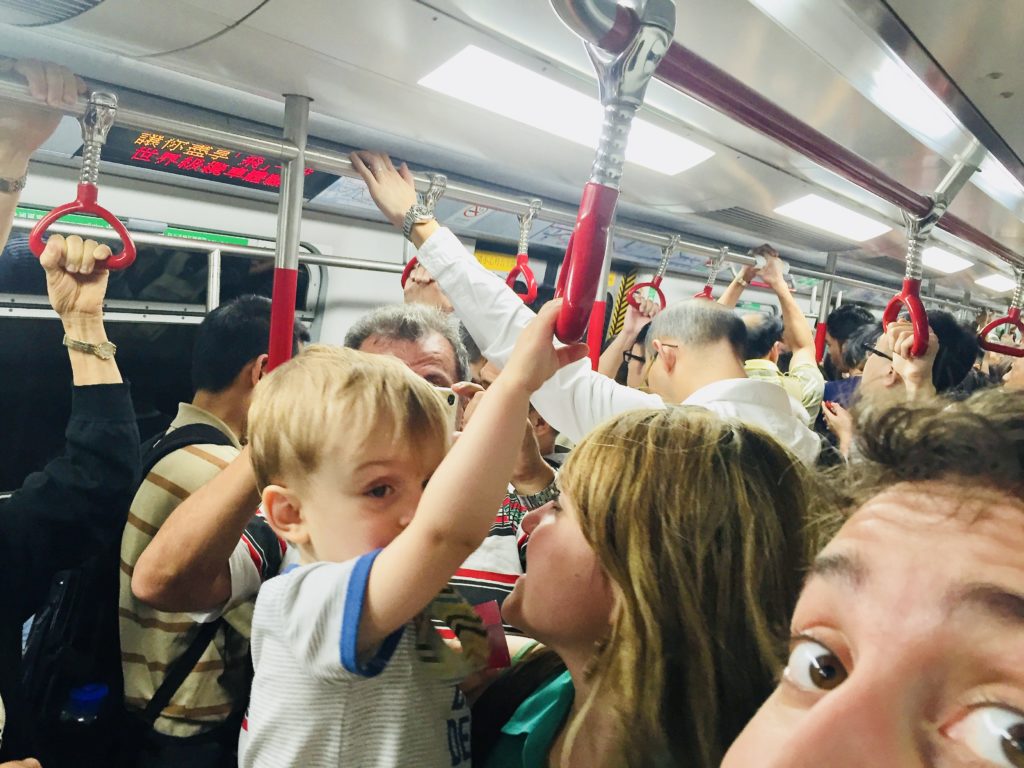 Since we don't use the public transit system much when we're at home, our children have limited opportunities to use public transportation. So doing it on vacations is a novel activity and part of the experience.
---
So think about how you might get around on your next trip. And don't hesitate to use Uber or Lyft, even if you're traveling with your kids. If you've used them before, what was your experience like? Please share and comment below.
Pin Below to Save to Pinterest